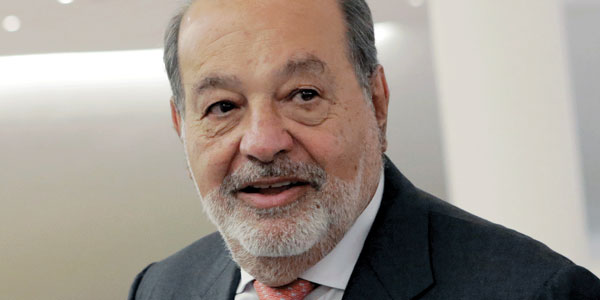 The best "wall" Mexico and the United States can build between them "is investment and creating opportunities in Mexico" to prevent Mexicans from continuing to migrate, according to Mexican business magnate Carlos Slim.
On Tuesday (July 31), Slim challenged the idea of building a physical wall between the countries, as U.S. President Donald Trump has proposed for the past few years. He discussed the wall in Madrid during the Investor Day event organized by the FCC Group, a leading Spanish construction company. Slim is a main shareholder of that company.
As the Mexican newspaper Milenio and other news agencies reported, Slim explained why Mexicans leave Mexico for the United States.
"Mexicans don't go to the United States because they want to go to Disneyland or New York," he was quoted as saying. "They go because they can't find opportunities in Mexico."
He continued by explaining that people also wouldn't leave Mexico if it could produce many of the goods it imports from America.
"That's why I say that the best wall … (is) job opportunities for people," Slim said.
Slim also discussed Mexican President-elect Andres Manuel Lopez Obrador. He said the transfer of power from President Enrique Pena Nieto (Peña Nieto in Spanish) to Lopez Obrador is going smoothly, with Lopez Obrador participating along with the Pena Nieto administration in the NAFTA negotiations.
---
Magnate de negocios cree que la inversión y las oportunidades construirán el mejor "muro" entre EE.UU. y México
El mejor "muro" México y Estados Unidos puede construir entre ellos es el de "la inversión y la creación de oportunidades en México" para evitar que los mexicanos continúen emigrando, de acuerdo Carlos Slim, magnate de negocios mexicanos.
El martes (31 de julio), Slim desafió la idea de construir un muro físico entre los países, como el presidente de EE.UU. Donald Trump ha propuesto en los últimos años. Habló del muro durante el evento Día del Investor (Investor Day en ingles) en Madrid, organizado por el Grupo FCC, una importante empresa constructora de España. Slim es el principal accionista de la compañía.
Como el periódico mexicano Milenio y otras agencias de noticias reportaron, Slim explicó por qué los mexicanos dejan su país por los Estados Unidos.
"Los mexicanos no se van a Estados Unidos porque quieren conocer Disneylandia o Nueva York," fue citado diciendo. "Se van porque no encuentra oportunidades en México."
Continuó explicando que la gente no dejaría México si el país pudiera producir muchos de los bienes que son importados de Estados Unidos.
"Por eso digo que el mejor muro son las oportunidades de empleo para la gente," Slim dijo.
También habló del presidente electo mexicano Andrés Manuel López Obrador. Slim dijo que la transferencia de poder del presidente Enrique Peña Nieto a López Obrador se está moviendo sin inconvenientes, con López Obrador participando junto a la administración de Peña Nieto en las negociaciones del TLCAN.