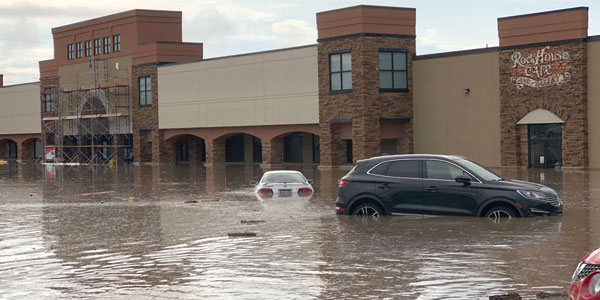 By Angie Baldelomar
The Labor Day weekend (Aug. 31-Sept. 3) ended up on a rainy note for Manhattan, Kansas.
Heavy rain caused a creek to break from its banks and flood the college town. Nearly 9 inches of rain hit Manhattan overnight and continued falling into the day Monday (Sept. 3), causing flash flooding and forcing more than 300 people to evacuate their homes.
The Kansas State University campus was not flooded. As of Tuesday (Sept. 4), however, a help center had been set up to help displaced students.
Pat Collins, director of Riley County Emergency Management, said during a press conference that at least 20 people had been transported out of their homes by boat.
"We're saying it is a 500-year event, perhaps a 700-, 800-year event," said Ron Fehr, Manhattan's municipal government manager, during a press conference Monday.
Fehr also said the city's priority was to make sure things were safe. The city said debris pickup was taking place in flood-affected areas only.
As of early Tuesday afternoon, there were 189 households without power, with the Manhattan Fire Department doing assessments of affected buildings.
"Power will be restored to homes when it is safe to do so," an update posted online by the Riley County Police Department said.
Bridges will continue to be periodically inspected to ensure safety.
People wanting to help are advised to contact the Red Cross.
---
Lluvias intensas inundan Manhattan, causando más de 300 evacuaciones
El fin de semana de Labor Day, o Día del Trabajo, (31 de agosto al 3 de septiembre) terminó en una nota lluviosa para Manhattan, Kansas.
Las fuertes lluvias provocaron que un riachuelo se rompiera e inundó la ciudad universitaria. Casi 9 pulgadas (23 centímetros) de lluvia golpearon Manhattan durante la noche y continuaron cayendo en el día lunes (3 de septiembre), causando inundaciones repentinas y obligando a más de 300 personas a evacuar sus hogares.
El campus de Kansas State University no se inundó. Hasta el martes (4 de septiembre) sin embargo, se había establecido un centro de ayuda para ayudar a estudiantes desplazados.
Pat Collins, director del la Oficina de Administración de Emergencias del Condado de Riley, dijo durante una conferencia de prensa que al menos 20 personas habían sido trasladadas en barco desde sus casas.
"Estamos diciendo que es un evento de 500 años, tal vez un evento de 700, 800 años", dijo Ron Fehr, gerente del gobierno municipal de Manhattan, durante una conferencia de prensa el lunes.
Fehr también dijo que la prioridad de la ciudad es asegurarse de que todo estuviera seguro. La ciudad comunicó que la recolección de escombros se llevaría a cabo sólo en áreas afectadas por las inundaciones.
Hasta el martes por la tarde, habían 189 hogares sin electricidad, con el Departamento de Bomberos de Manhattan realizando valuaciones de los edificios afectados.
"La electricidad se restablecerá en los hogares cuando sea seguro hacerlo", dijo una actualización publicada en línea por el Departamento de Policía del Condado de Riley.
Los puentes continuarán siendo inspeccionados periódicamente para garantizar la seguridad.
A las personas que quieran ayudar se les recomienda ponerse en contacto con la Cruz Roja.