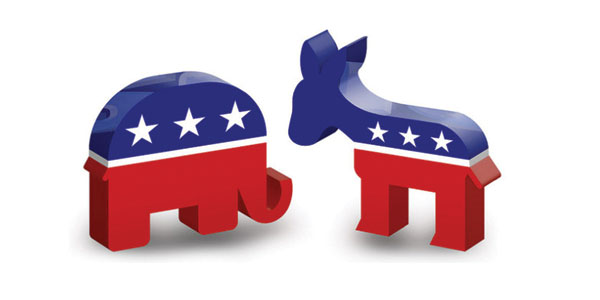 Analysis and commentary by Eulogio JP
With the primary elections complete, the candidates for the anxiously awaited midterm elections for the U.S. Senate are set.
As Dos Mundos and many other news outlets have repeatedly explained, Democrats need a near-perfect November to gain control of the Senate. However, a fresh assessment has revealed several new opportunities for the party in its efforts to stop President Trump from further damaging this nation's democracy. This not only provides all Americans with hope, but it makes every vote that much more important.
Democrats must retain most or all of Missouri, West Virginia, North Dakota, Montana, Indiana and Florida. Additionally, the party will need to win a few of the Republican-held seats in Nevada, Arizona, Tennessee and Texas.
In Missouri, the Democratic candidate is incumbent Claire McCaskill. The Republican candidate is the current state Attorney General Josh Hawley.
When it comes to this race, keep this in mind: In 2016, Trump won Missouri with 56 percent of the vote. Lately, however, his approval ratings have dipped to about 50 percent. Meanwhile, McCaskill's approval ratings also have suffered in recent months, standing at 40 percent approval and 44 percent disapproval.
It'll be a tight race. So tight, in fact, that pollsters predict it'll be the tightest race nationwide. According to current polls, only a 0.2-point margin separates Hawley from McCaskill, with Hawley projected to win.
In short, the Missouri race will be a tossup. With that in mind, it's clear that the only way to prevent another Republican from supporting Trump's odious anti-immigration agenda is by voting in November.
But regardless of who you support, please vote and make your opinions known. Given what's at stake in the Senate and in America in general, not voting in November would be a huge mistake.
---
Missouri podría tener las elecciones de mitad de período más ajustadas de todas
Con las elecciones primarias completas, los candidatos para las ansiadas elecciones de mitad de período para el Senado de los Estados Unidos están listos.
Como Dos Mundos y muchos otros medios de comunicación han explicado en repetidas ocasiones, los demócratas necesitan un noviembre casi perfecto para obtener el control del Senado. Sin embargo, una nueva evaluación ha revelado varias oportunidades nuevas para el partido en sus esfuerzos por evitar que el presidente Trump siga dañando la democracia de esta nación. Esto no sólo brinda esperanza a todos los estadounidenses, sino que hace que cada voto sea mucho más importante.
Los demócratas deben conservar la mayor parte o la totalidad de Missouri, Virginia, Dakota del Norte, Montana, Indiana y Florida. Además, el partido necesitará ganar algunos de los escaños ocupados por los republicanos en Nevada, Arizona, Tennessee y Texas.
En Missouri, el candidato demócrata es la Senadora Claire McCaskill. El candidato republicano es el actual fiscal general del estado Josh Hawley.
Cuando se trata de esta carrera, tenga esto en cuenta: en 2016, Trump ganó Missouri con el 56 por ciento de los votos. Últimamente, sin embargo, sus índices de aprobación han bajado a alrededor del 50 por ciento. Mientras tanto, las calificaciones de aprobación de McCaskill también han sufrido en los últimos meses, con una aprobación del 40 por ciento y un 44 por ciento de desaprobación.
Será una carrera apretada. Tan ajustado, de hecho, que los encuestadores predicen que será la carrera más ajustada a nivel nacional. Según las encuestas actuales, sólo un margen de 0.2 puntos separa a Hawley de McCaskill, con Hawley proyectado para ganar.
En resumen, la carrera de Missouri será un juego de suerte. Con eso en mente, está claro que la única manera de evitar que otro republicano apoye la odiosa agenda antiinmigración de Trump es votando en noviembre.
Pero independientemente de a quién apoye, vote y exprese sus opiniones. Dado lo que está en juego en el Senado y en Estados Unidos en general, no votar en noviembre sería un gran error.