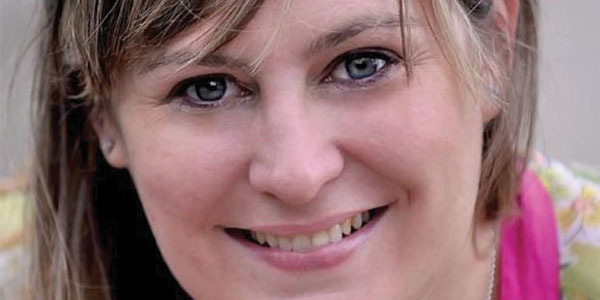 By Angie Baldelomar
The Carlsen Center recently welcomed Kara Armstrong as its new Arts Education program director.
Based at Johnson County Community College (JCCC) in Overland Park, Kansas, the Carlsen Center presents one of the largest multidisciplinary performing arts series in the region. The Arts Education program presents youth performances that cultivate future audiences, learning opportunities to impact teaching practices and artist master classes to connect young people with visiting artists.
Armstrong plans to continue the "great work" done by her predecessor, but also add her personal touch to the programs already in place. To do that, she said "the biggest thing is to have an open mind … to be able to hear to new ideas and be open to them."
A Kansas City area native who got her undergraduate degree in theater from Loyola University Chicago, Armstrong comes to the Carlsen Center from Kansas City Young Audiences. There, she served as director of arts education, focusing on community-based artists. She believes her experiences with local artists will help her in her new role, particularly in terms of programming.
"The idea is to complement what local artists are doing with our programming, not compete against them," she said.
Because the Carlsen Center Arts Education program works with schools to provide art programming to children, it's important to Armstrong that the program continues reaching out to children.
"It's important to me that when children come to the Carlsen Center or we go to their schools, that they find a place within our programming at the center and at JCCC," she said.
Since starting, Armstrong has been busy. She has been "blown away" by the work done at the Carlsen Center, she said.
"(The Arts Education program) works really hard to have diverse programming. … It's an honor to be here," Armstrong said.
---
Carlsen Center da la bienvenida a nueva directora del programa de Educación Artística
El Carlsen Center dio la bienvenida a Kara Armstrong como su nueva directora del programa de Educación Artística.
Con sede en el Johnson County Community College (JCCC) en Overland Park, Kansas, el Carlsen Center presenta una de las series de artes escénicas multidisciplinarias más grandes de la región. El programa de Educación Artística ofrece presentaciones juveniles que cultivan audiencias futuras, oportunidades de aprendizaje para influir en las prácticas de enseñanza y clases maestras de artistas para conectar a los jóvenes con artistas visitantes.
Armstrong planea continuar el "gran trabajo" hecho por su predecesora, pero al mismo tiempo agregar su toque personal a los programas siendo implementados. Para lograr eso, dice que "lo más importante es tener una mente abierta … ser capaz de oír nuevas ideas y estar abiertas a ellas".
Nativa del área de Kansas City que obtuvo su licenciatura en teatro de la Loyola University Chicago, Armstrong llega al Carlsen Center de Kansas City Young Audiences. Allí, se desempeñó como directora de educación artística, centrándose en artistas comunitarios. Ella cree que sus experiencias con artistas locales le ayudarán en su nuevo rol, particularmente en términos de programación.
"La idea es complementar lo que los artistas locales están haciendo con nuestros programas, no competir contra ellos", dijo.
Debido a que el programa de Educación Artística del Carlsen Center trabaja con las escuelas para brindar programación artística a los niños, es importante para Armstrong que el programa continúe llegando a los niños.
"Es importante para mi que cuando los niños vienen al Carlsen Center o nosotros vamos a sus escuelas, que ellos encuentren un lugar dentro de nuestra programación en el centro y en JCCC", dijo.
Desde que comenzó, Armstrong se ha mantenido ocupada. Ella ha quedado "impresionada" por el trabajo realizado en el Carlsen Center, dijo.
"(El programa de Educación Artística) trabaja muy duro para tener una programación diversa. … Es un honor estar aquí ", dijo Armstrong.