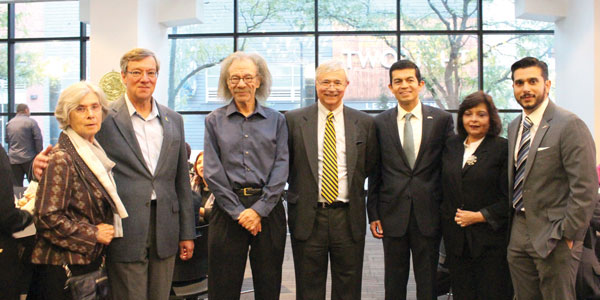 By Angie Baldelomar
On Sept. 26, the Consulate of Mexico in Kansas City, Missouri, presented the Distinguished Mexicans Award to Jorge Soberon, a University of Kansas professor and researcher, during a ceremony at the Kansas City Power & Light headquarters in downtown Kansas City.
Head Consul Alfonso Navarro Bernachi gave a brief introductory speech highlighting the award's importance.
"This award acknowledges those Mexican nationals residing abroad who have performed outstandingly in their respective professional careers – and in this manner, help promote a positive image of Mexico internationally," Navarro Bernachi said.
Navarro Bernachi then discussed the many accomplishments that made Soberon a recipient. Soberon has been a University of Kansas professor and researcher in ecology and evolutionary biology for 13 years. He also has worked for the Mexican government. Later this year, he will join the American Academy of Arts and Sciences Class of 2018.
Soberon joined 30 other Mexicans living in 31 cities and 16 countries in receiving the award in its first edition. The award consists of a diploma and a silver medal minted by the Mint of Mexico.
During his acceptance speech, Soberon thanked his family and friends who had come out that night to support him, and he expressed how honored and grateful he felt for receiving such distinction.
"It's impossible not to think that by awarding this distinction the Mexican government is making a statement. … Mexico is saying, 'Hey look at all these good people that went to live abroad, they are asset to the country they live in now,'" he said.
Soberon concluded by saying he hopes certain people will notice statements like this.
"Unfortunately, the ones who will benefit from hearing this are not in this group," he said.
---
Consulado de México premia a profesor e investigador de KU
El 26 de septiembre el Consulado de México en Kansas City, Missouri presentó el Premio a Mexicanos Distinguidos a Jorge Soberón, un profesor e investigador de la Universidad de Kansas, durante una ceremonia en la sede de Kansas City Power & Light en el centro de Kansas City.
El cónsul titular, Alfonso Navarro Bernachi, dio un breve discurso introductorio resaltando la importancia del premio.
"Este premio reconoce a los ciudadanos mexicanos que residen en el extranjero que se han desempeñado de manera sobresaliente en sus respectivas carreras profesionales, y de esta manera, ayudan a promover una imagen positiva de México a nivel internacional", dijo Navarro Bernachi.
Luego habló de los muchos logros que hicieron de Soberón uno de los premiados. Soberón ha sido profesor e investigador en ecología y biología evolutiva de la Universidad de Kansas durante 13 años. También ha trabajado para el gobierno mexicano. A finales de este año, se unirá a la Academia Estadounidense de Artes y Ciencias de 2018.
Soberón se unió a 30 otros mexicanos que viven en 31 ciudades y 16 países para recibir el premio en su primera edición. El premio consiste en un diploma y una medalla de plata de la Casa de la Moneda de México.
Durante su discurso de aceptación, Soberón agradeció a su familia y amigos que vinieron a apoyarlo, y expresó, también, lo honrado y agradecido que se sentía al recibir tal reconocimiento.
"Es imposible no pensar que al otorgar esta distinción, el gobierno mexicano está haciendo una declaración. … México está diciendo: ‹Oye, mira a todas estas buenas personas que se fueron a vivir en el extranjero, son valiosas para el país en el que viven ahora'", dijo.
Soberón concluyó diciendo que espera que ciertas personas noten declaraciones como esta.
"Desafortunadamente las personas que se beneficiarían de escuchar esto no están en este grupo", dijo.