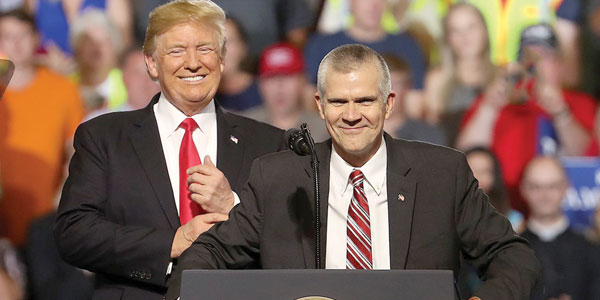 By Yanis De Palma
President Trump wants to ensure his party wins some key midterm elections in Montana.
On Sept. 6, the president kicked off his fall campaign season with a rally in Billings, Montana. It was his second trip to Montana in two months.
Trump has visited the Treasure State to support fellow Republican Matt Rosendale, who's campaigning for a U.S. Senate seat against Democrat and incumbent Jon Tester, a third-generation Montana farmer and a common target of Trump.
"The president is very worried about (the) midterm elections," Jim Acosta, CNN chief White House correspondent, recently stated. "They (Republicans) are scared that (the) Democrats may take control of the House and Senate."
If Democrats take control of both houses of Congress, they also might start impeachment proceedings against the president. Trump has been accused of colluding with the Russian government to fix the 2016 presidential election. He won that election in the Electoral College; however, Democrat Hillary Clinton won the popular vote.
The Trump administration sees Montana as a key state in the midterm elections because Montana has been a Republican-controlled state for decades. Thousands of residents have consistently voted Republican in every presidential election since 1968.
Trump has a few more weeks left to campaign for Rosendale and other Republican candidates. The midterm elections are Nov. 6.
---
El presidente Trump quiere asegurarse de que su partido gane algunas elecciones clave de medio término en Montana.
El 6 de septiembre, el Presidente inició su campaña de otoño con un mitin en Billings, Montana. Este fue su segundo viaje a Montana en dos meses.
Trump visitó el Estado del Tesoro para apoyar al también republicano Matt Rosendale, quien está haciendo campaña por un lugar en el Senado de los Estados Unidos contra el demócrata y titular Jon Tester, un agricultor de Montana de tercera generación y un contrincante común de Trump.
"El Presidente está muy preocupado por las elecciones de medio término", declaró recientemente Jim Acosta, corresponsal de CNN en la Casa Blanca. "Ellos (los republicanos) tienen miedo de que los demócratas puedan tomar el control de la Cámara y el Senado".
Si los demócratas toman el control de ambas cámaras del Congreso, también podrían iniciar procesos de juicio político contra el presidente. Trump ha sido acusado de conspirar con el gobierno ruso para arreglar las elecciones presidenciales del 2016. Ganó esa elección en el Colegio Electoral. Sin embargo, la demócrata Hillary Clinton ganó el voto popular.
El gobierno de Trump ve a Montana como un estado clave en las elecciones de medio término porque Montana ha sido un estado controlado por los republicanos durante décadas. Miles de residentes han votado sistemáticamente por los republicanos en todas las elecciones presidenciales desde 1968.
A Trump le quedan unas pocas semanas más para hacer campaña por Rosendale y otros candidatos republicanos. Las elecciones de medio término se llevaran a cabo el 6 de noviembre.