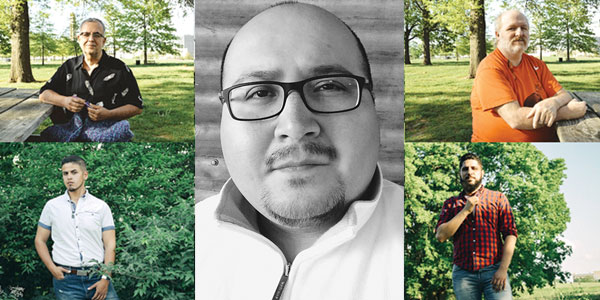 By Angie Baldelomar
For local artist Anthony Marcos Rea, representation is important.
Rea considers himself a community-based artist – someone who examines many media and materials to create something new.
After graduating from the Chicago Institute School of the Arts, Rea returned to the Kansas City area – specifically, Kansas City, Missouri's Westside neighborhood, where he was born and raised – for family reasons, unsure of what career path he would follow.
After years of working for community-based organizations in Chicago that focused on arts integration and youth development, Rea knew the importance of portraying a community's history.
"Being here, seeing the transformation of my own community, the city has changed," he said. "(My work became) a clear observation that it wasn't good, (that) a lot of things … were erased."
Being Latino and gay, representation matters a lot to Rea. He tries to make sure to convey the diversity of human nature in his work.
Some of that work is on display at Open Spaces 2018, the nine-week arts experience open through Oct. 28 in Kansas City. Rea saw the call for artists, so he applied and was accepted.
Rea's work is a series of portraits he started in 2015. The series, called "Where We No Longer Gather," examines the landscapes of queer spaces in urban centers, particularly the recent history of the Liberty Memorial and its historical importance as a safe gathering space for Kansas City's LGBTQ community of Kansas City.
This project was, in a way, also a critique about no longer having a safe space for the LGBTQ community to gather, Rea said.
"I recognize that the content of the project might not be for everybody, but if we don't share it, it might be an injustice for an entire community," he said.
"Where We No Longer Gather" is on exhibit through Oct. 28 at the Pioneer Mother Trail at Penn Valley Park.
---
Rea quiere que la gente recuerde los espacios de la comunidad LGBTQ a través de su arte
Para el artista local Anthony Marcos Rea, la representación es importante.
Rea se considera un artista comunitario: alguien que examina muchos medios y materiales para crear algo nuevo.
Después de graduarse de la Facultad de Artes del Chicago Institute, Rea regresó al área de Kansas City – específicamente al vecindario Westside de Kansas City, Missouri, donde nació y se crió – por razones familiares, sin saber qué trayectoria profesional seguiría.
Después de años trabajando para organizaciones comunitarias en Chicago que se enfocaban en la integración de las artes y el desarrollo de los jóvenes, Rea sabía de la importancia de retratar la historia de una comunidad.
"Estar aquí, viendo la transformación de mi propia comunidad, la ciudad ha cambiado", dijo. "(Mi trabajo se convirtió) en una clara observación que no era buena, (que) muchas cosas … fueron borradas".
Siendo latino y gay, a Rea le importa mucho la representación. Intenta asegurarse de transmitir la diversidad de la naturaleza humana en su trabajo.
Parte de ese trabajo está en exhibición en Open Spaces 2018, la experiencia artística de nueve semanas que estará disponible hasta el 28 de octubre en Kansas City. Rea vio la convocatoria de artistas, así que aplicó y fue aceptado.
El trabajo de Rea es una serie de retratos que comenzó en 2015. La serie, llamada "Donde Ya No Nos Reunimos", examina los paisajes de espacios gays en centros urbanos, en particular la historia reciente del Liberty Memorial y su importancia histórica como espacio seguro para la comunidad LGBTQ de Kansas City.
Este proyecto fue, en cierto modo, también una crítica acerca de no tener un espacio seguro para que se reúna la comunidad LGBTQ, dijo Rea.
"Reconozco que el contenido del proyecto podría no ser para todos, pero si no lo compartimos, podría ser una injusticia para toda la comunidad", explicó.
"Donde Ya No Nos Reunimos" está en exhibición hasta el 28 de octubre en el Pioneer Mother Trail en Penn Valley Park.