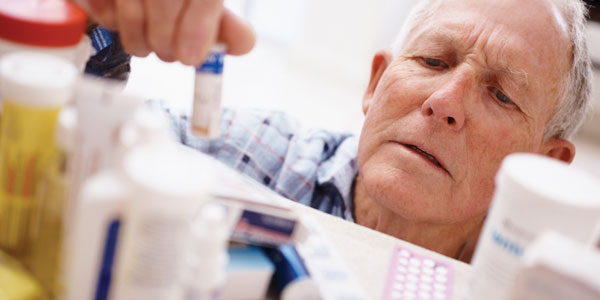 By Peter J. Pitts
Fall has arrived, which means it's time for flannels, football, and finding the perfect health insurance plan.
That's right — nestled amidst all the seasonal festivities is Medicare's open enrollment season, which kicks off October 15. Seniors will have until December 7 to select their Medicare plans for the coming year.  
Seniors have a cornucopia of coverage options to choose from. In particular, they should be thankful for the Medicare Part D prescription drug program, which enables tens of millions of seniors to afford their medications.
Traditional Medicare plans cover physician and hospital visits, among other basic health services. But for many seniors — particularly those battling chronic conditions — basic Medicare coverage isn't enough. That's why many beneficiaries purchase supplemental drug coverage through Medicare Part D stand-alone plans, or Medicare Advantage plans that include Part D benefits.  
Part D is Medicare's privately administered prescription drug program. Since 2006, it has helped seniors fill billions of prescriptions. Currently, three in four Medicare beneficiaries — or more than 40 million people — are enrolled in a Part D plan.
Part D plans aren't one-size-fits-all. In some states, seniors have as many as 30 different plans to choose from, each of which features different premiums, co-pays, and covered drugs.  
However, all plans must meet certain standards. For instance, every plan must cover at least two drugs in six vital categories: immunosuppressants, antidepressants, antipsychotics, anticonvulsants, antiretrovirals, and antineoplastics. This regulation ensures that people with severe chronic diseases have a choice of medications.
Plans are quite affordable. In 2019, the average Part D monthly premium will cost just over $32 — which is even cheaper than the previous year.
These low premiums are no accident. Part D forces private insurers to compete against one another for seniors' business. Indeed, insurers negotiate directly with drug companies — and the government is prohibited from negotiating or setting prices. The end result is quality coverage at an affordable price.
Part D is a literal lifesaver. Seniors who enroll in Part D coverage experience an 8 percent reduction in hospitalizations, according to a recent study by Johns Hopkins University and University of Illinois researchers. A 2016 analysis from North Carolina State University, meanwhile, revealed that Part D shrank beneficiaries' likelihood of developing high blood pressure, which can lead to heart attacks and strokes. Part D has curbed senior mortality by 2.2 percent each year since its implementation, according to a study in the Journal of Health Economics.
Given Part D's ample plan choices, low premiums, and lifesaving results, it's no wonder that 85 percent of seniors are satisfied with their coverage.  
Choosing the right health plan is crucial — seniors shouldn't wait for the foliage to change before signing up this open enrollment season.
Peter J. Pitts, a former FDA associate commissioner, is president of the Center for Medicine in the Public Interest.
---
Adultos mayores: No se olviden de inscribirse en la cobertura de medicamentos de Medicare este otoño
El otoño ha llegado, lo que significa que es tiempo de camisas de franelas, fútbol americano y de encontrar el plan de seguro médico perfecto.
Así es: entre todas las festividades estacionales está la temporada de inscripción abierta de Medicare, que comienza el 15 de octubre. Los adultos mayores tendrán hasta el 7 de diciembre para elegir sus planes de Medicare para el próximo año.
Los adultos mayores tienen una gran variedad de opciones de cobertura para elegir. En particular, deben estar agradecidos por el programa de medicamentos recetados de la Parte D de Medicare, que permite a decenas de millones de adultos mayores costearse sus medicamentos.
Los planes de Medicare tradicionales cubren las visitas al médico y al hospital, entre otros servicios básicos de salud. Sin embargo, para muchas personas mayores, particularmente aquellas que padecen condiciones crónicas, la cobertura básica de Medicare no es suficiente. Es por eso que muchos beneficiarios compran cobertura de medicamentos complementarios a través de los planes independientes de la Parte D de Medicare, o los planes de Medicare Advantage que incluyen los beneficios de la Parte D.
La Parte D es el programa de medicamentos recetados administrado por el sector privado de Medicare. Desde 2006, ha ayudado a las personas mayores a surtir miles de millones de recetas. Actualmente, tres de cada cuatro beneficiarios de Medicare, o más de 40 millones de personas, están inscritos en un plan de la Parte D.
Los planes de la Parte D no son de talla única. En algunos estados, los adultos mayores tienen hasta 30 planes diferentes para elegir, cada uno de los cuales incluye diferentes primas, copagos y medicamentos cubiertos.
Sin embargo, todos los planes deben cumplir con ciertos estándares. Por ejemplo, cada plan debe cubrir al menos dos medicamentos en seis categorías vitales: inmunosupresores, antidepresivos, antipsicóticos, anticonvulsivos, antirretrovirales y antineoplásicos. Esta regulación asegura que las personas con enfermedades crónicas graves tengan una opción de medicamentos.
Los planes son bastante accesibles. En 2019, la prima mensual promedio de la Parte D costará un poco más de $32, lo que es incluso más barato que el año anterior.
Estas primas bajas no son un accidente. La Parte D obliga a las aseguradoras privadas a competir entre sí por el negocio de los adultos mayores. De hecho, las aseguradoras negocian directamente con las compañías farmacéuticas, y el gobierno tiene prohibido negociar o fijar precios. El resultado final es una cobertura de calidad a un precio accesible.
La Parte D es un salvavidas literal. De acuerdo con un estudio reciente realizado por investigadores de la Universidad Johns Hopkins y la Universidad de Illinois, los adultos mayores que se inscriben en la cobertura de la Parte D experimentan una reducción del 8 por ciento en hospitalizaciones. Mientras tanto, un análisis realizado en 2016 por North Carolina State University reveló que la Parte D redujo la probabilidad de que los beneficiarios desarrollaran presión arterial alta, lo que puede provocar ataques cardíacos y accidentes cerebrovasculares. La Parte D ha reducido la mortalidad personas mayores en un 2,2 por ciento cada año desde su implementación, según un estudio publicado en el Journal of Health Economics.
Dadas las amplias opciones de planes de la Parte D, las primas bajas y los resultados que salvan vidas, no es de extrañar que el 85 por ciento de los adultos mayores estén satisfechos con su cobertura.
Elegir el plan de salud correcto es crucial: los adultos mayores no deberían esperar a que cambie el follaje antes de inscribirse en esta temporada de inscripción abierta.
Peter J. Pitts, ex comisionado asociado de la FDA, es presidente del Centro de Medicina para el Interés Público.