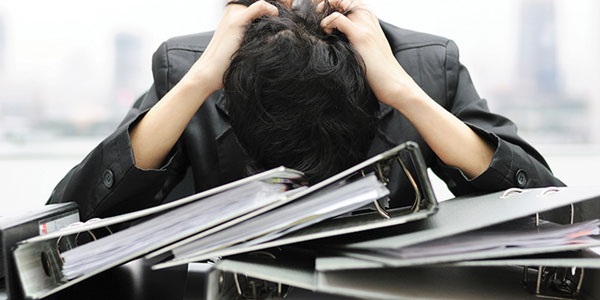 By Angie Baldelomar
People who live a high-stress lifestyle could have memory loss and brain shrinkage before age 50, revealed a new study published on Oct. 24 in the journal Neurology.
Study author Dr. Sudha Seshadri, a neurology professor at University of Texas Health San Antonio, said that higher levels of cortisol, a stress hormone, seem to predict brain function, size and performance.
"We found memory loss and brain shrinkage in relatively young people long before any symptoms could be seen," Seshadri said.
Cortisol is best known for its role in people's "flight-or-fight" instincts. When people are stressed and on high alert, the adrenal glands produce more cortisol. This causes the shutdown of various bodily functions that might hamper one's chances of survival. Once the crisis passes, the levels should drop and the body systems should return to normal. If that does not happen, the body can continue to malfunction, leading to anxiety, depression, heart disease, headaches, weight gain, trouble sleeping, and memory and concentration problems.
Because the brain needs many nutrients, it is more vulnerable to be affected by high cortisol levels. The study found a correlation between high levels of cortisol and amounts of memory loss, with high levels being associated with more damage to the parts of the brain that move information throughout the brain and between the brain's two hemispheres.
The study also found that the two hemispheres – also called cerebrums and responsible for thought, emotions speech and muscle function – were smaller in people with higher cortisol levels.
"I was surprised you would be able to see such a large change in brain structure with high cortisol levels compared to moderate levels of cortisol," said Keith Fargo, scientific programs and outreach director at the Alzheimer's Association, during an interview with CNN. "If you're seeing structural brain changes in midlife, you can imagine what is happening by the time you get old enough to develop dementia."
This pattern seems to affect only women.
Seshadri suggests people consider changing their lifestyles to combat stress and prevent future damage.
---
Estudio revela que estrés puede llevar a pérdida de memoria y contracción del cerebro
Las personas que llevan un estilo de vida de alto estrés podrían sufrir de pérdida de memoria y contracción del cerebro antes de los 50 años, reveló un estudio publicado el 24 de octubre en la revista Neurology.
El autor del estudio, Dr. Sudha Seshadri, docente de neurología en la Universidad de Texas Health San Antonio, dijo en el mismo que altos niveles de cortisol, una hormona del estrés, parecen predecir la función, el tamaño y el rendimiento del cerebro.
"Encontramos la pérdida de memoria y la contracción del cerebro en personas relativamente jóvenes mucho antes que otros síntomas pudieran ser vistos", dijo Seshadri.
El cortisol es mejor conocido por su papel en los instintos de "huida o pelea" de las personas. Cuando las personas están estresadas y en alerta máxima, las glándulas suprarrenales producen más cortisol. Esto ocasiona el cierre de varias funciones corporales que podrían obstaculizar las posibilidades de supervivencia. Una vez que la crisis pasa, los niveles deberían bajar y los sistemas del cuerpo deberían volver a la normalidad. Si eso no sucede, el cuerpo puede continuar funcionando mal, lo que lleva a ansiedad, depresión, enfermedades cardíacas, dolores de cabeza, aumento de peso, problemas para dormir y problemas de memoria y concentración.
Debido a que el cerebro necesita muchos nutrientes, es más propenso a ser afectado por los altos niveles de cortisol. El estudio encontró una relación entre los altos niveles de cortisol y las cantidades de pérdida de memoria, y los altos niveles se asocian con más daño en las partes del cerebro que mueven información a través del cerebro y entre los dos hemisferios cerebrales.
El estudio también encontró que los dos hemisferios, también llamados cerebros y responsables del pensamiento, el habla y las funciones corporales, eran más pequeños en personas con niveles más altos de cortisol.
"Me sorprendió que se pudiera ver un cambio tan grande en la estructura del cerebro con altos niveles de cortisol comparado con los que tienen niveles moderados de cortisol", dijo Keith Fargo, director de programas científicos y divulgación de la Asociación de Alzheimer, durante una entrevista con CNN. "Si estás viendo cambios estructurales en el cerebro en la mediana edad, puedes imaginar lo que está sucediendo para cuando tenga la edad suficiente para desarrollar demencia".
Este patrón parece sólo afectar a las mujeres, el estudio reveló.
Seshadri sugiere que las personas consideren cambiar sus estilos de vida para combatir el estrés y prevenir daños a futuro.