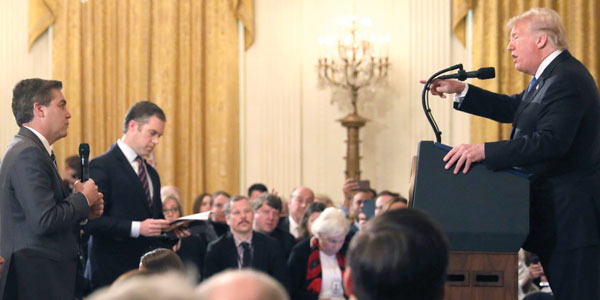 By Jorge Ramos
The next two years will be difficult
The divide between red states and blue states in this country is very wide. And after the results of the recent midterm elections — with Republicans keeping control of the Senate and Democrats winning the House of Representatives — there's little chance of finding common ground in the near future. Purple no longer exists.
Meanwhile, President Donald Trump continues to destroy political norms. What we used to consider extremist behavior has suddenly become common. During Trump's postelection news conference last week, he attacked and mocked journalists, and afterward pulled CNN reporter Jim Acosta's White House press pass. That's called censorship, intimidation and repression, in both democracies and dictatorships.
Trump lies frequently, according to running records kept by The New York Times and The Washington Post. This is why Trump's press coverage is so critical, not because the media is the enemy of the people, as he has claimed. Furthermore, racism has been normalized under Trump, who has likened Mexican immigrants to criminals and rapists and now describes himself as a nationalist, paying no mind to the terrible historical connotations of that word. This "nationalist" president has spoken repeatedly of the "invasion" headed toward our southern border with Mexico, despite the fact that it consists only of thousands of Central American refugees and their children, who are still hundreds of miles away in their caravan.
Welcome to Trump's bizarre universe.
The Republican Party, as reluctant as it was to embrace Trump when he was a candidate, now bows down to him. These days the party does what he wants; we might as well call the GOP Trump's Party. Sen. Ted Cruz, for instance, accepted Trump's offer to campaign for him in Texas despite the fact that the president had insulted both the senator's wife and father in the past. After the elections, Trump seemed to rejoice in the losses of fellow Republicans who didn't accept his "embrace" during their campaigns.
Trump now says he is willing to negotiate with House Democrats to get legislation passed, as long as they don't start launching investigations against him. But that is bound to happen. Democrats, eager for a victory, and perhaps even for a little revenge, will surely be investigating Trump. Everything from his tax returns to who stays in his hotels will be on the table. And they won't be forgetting that Russia interfered with the 2016 presidential election.
This means we're in for two years of fighting.
Congress is going to be paralyzed, so I don't see the prospect of an immigration bill being approved anytime soon, nor do I see any prospects for bipartisan cooperation with regard to lowering the price of health insurance. This is, indeed, the beginning of the battle for the White House. The only thing that will matter between now and Nov. 3, 2020, is whether Trump is to stay or go. It will be a historic fight.
Meanwhile, the country continues to change. Bigotry within the presidency hasn't infected everything.
Over 100 women were elected to Congress in the midterms, including Alexandria Ocasio-Cortez, 29, who will become the youngest congresswoman in U.S. history, and she's open to the idea of impeaching Trump (You can watch my interview with Ocasio-Cortez here: bit.ly/2OxnzgS).
In this aptly named "Year of the Woman," we will see the first two Muslim congresswomen, the first two Hispanic congresswomen from Texas, the first two Native American women elected to Congress and the first representative born in South Korea. Meanwhile, Colorado elected an openly gay governor.
And there's more: The number of Hispanic representatives increased to 37. We should have twice that, since we Latinos constitute almost 20% of the population, but we are gradually winning more power.
Something odd is happening in the United States. The more the country diversifies, the more bigoted and extremist Trump becomes. The next two (or maybe six) years will be a battle. But in the end, inexorably, Trump will lose.
The United States is much better than its president.
________________________________________________________________________________________________
Rojos Contra Azules
Vienen dos años muy difíciles
Estados Unidos está totalmente dividido entre rojos y azules. En las pasadas elecciones para el Congreso, los Republicanos mantuvieron el control del Senado. Pero los Demócratas recuperaron la Cámara de Representantes. Y no hay posibilidades de encontrar un camino en común. El color morado no existe. El presidente Donald Trump rompió el jarrón de la civilidad política y no hay manera de pegar sus partes.
Lo que antes nos parecía extremista, de pronto, se ha convertido en común y corriente en Estados Unidos. Durante su última conferencia de prensa, Trump atacó duramente y se burló de cuatro periodistas. Además, le quitó su credencial de acceso a la Casa Blanca al corresponsal de CNN, Jim Acosta. Eso se llama censura, intimidación y represión; igual en una democracia que en una dictadura.
Trump miente frecuentemente, según las listas que tienen The New York Times y el Washington Post. Por eso hay una férrea cobertura de prensa: porque no dice la verdad, no porque los periodistas seamos el "enemigo del pueblo", como asegura Trump.
El racismo se ha normalizado. Trump — quien les llamó criminales y "violadores" a los inmigrantes mexicanos — ahora se autodefine como un "nacionalista", sin importarle las terribles connotaciones histórica de esa palabra. Y este presidente "nacionalista" se acaba de inventar una "invasión" en la frontera con México, a pesar de que miles de refugiados centroamericanos y sus niños se encuentran a cientos de millas de distancia en una caravana.
Bienvenidos al universo bizarro de Trump.
El partido Republicano, que tanta resistencia tuvo al candidato Trump, se ha doblado por completo. Ahora hacen lo que él quiere. Podría llamarse el Partido Trump. El senador Ted Cruz, para poner un ejemplo, aceptó que Trump hiciera campaña por él en Texas a pesar de que insultó personalmente a su esposa y a su padre. Y el Presidente, en su más reciente conferencia, pareció disfrutar de la derrota de los Republicanos que no aceptaron su "abrazo" en la campaña.
Trump dice que está dispuesto a negociar con los Demócratas, siempre y cuando la Cámara de Representantes no inicie una investigación en su contra. Pero eso viene. Los Demócratas, deseosos de una victoria, y un poquito de venganza, seguramente investigarán al Presidente desde sus declaraciones de impuestos hasta sus negocios de hoteles. Y no lo van a soltar ni un centímetro en el caso de la interferencia rusa en las pasadas votaciones presidenciales.
¿El pronóstico? Dos años de peleas.
Viene una parálisis en el Congreso en Washington. No me imagino ningún acuerdo migratorio. Tampoco habrá cooperación bipartidista para hacer más accesibles los seguros de salud. Éste es, de hecho, el inicio de la batalla por la Casa Blanca. Lo único que importará desde ahora hasta las votaciones del 3 de noviembre del 2020 es si Trump se queda o se va. Será un combate histórico.
Pero mientras esto ocurre, el país está cambiando desde abajo. La intolerancia en la presidencia no lo ha infectado todo.
Más de 100 mujeres fueron elegidas para el Congreso en las elecciones intermedias, incluyendo a Alexandria Ocasio-Cortez, de origen puertorriqueño, quien se convertirá a los 29 años de edad en la congresista más joven en la historia de Estados Unidos. Y entre las ideas de Ocasio-Cortez está buscar la destitución del presidente Trump. (Aquí está mi entrevista con ella: bit.ly/2OxnzgS.)
El bien llamado "año de la mujer" envió al Congreso en Washington a las primeras dos mujeres musulmanas, a las primeras dos hispanas de Texas, a las primeras dos nativo-americanas y a la primera representante nacida en Corea del Sur. También en Colorado fue elegido el primer gobernador abiertamente homosexual.
Hay más. El número de congresistas hispanos aumentó a 37. Deberíamos tener el doble, debido a que los latinos somos casi el 20% de la población, pero poco a poco estamos accediendo a puestos de poder.
Algo raro está ocurriendo en Estados Unidos. Mientras más se diversifica el país, más intolerable y extremista se vuelve Donald Trump. Serán dos años de lucha. (O quizás seis.) Pero al final, irremediablemente, Trump va a perder.
Estados Unidos es mucho mejor que su Presidente.