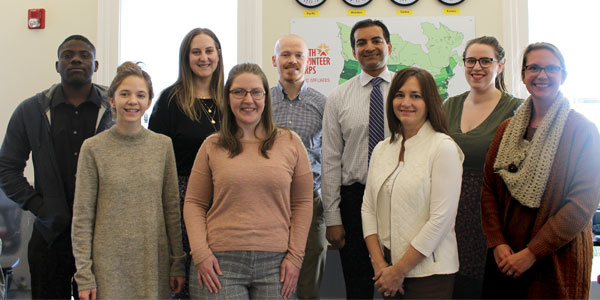 Story and photos by Angie Baldelomar
An organization in the Kansas City area offers volunteer opportunities for middle school and high school-aged students.
The Youth Volunteer Corps (YVC), a national non-profit network focused on volunteering, offers youth ages 11-18 the opportunity to improve their communities through volunteering.
"We offer service-learning opportunities; … they also learn about the social problem they are addressing," said Chelan David, YVC director of development.
David said volunteering exposes children to a diverse group of people facing different realities.
"We have found people don't interact a lot with their peers, … so they come in and learn to work towards a greater good," he said.
The YVC partners with multiple organizations around the community. In Kansas City, for example, the local YVC has a partnership with the YMCA. The partnership operates year-round, with more programs available over the summer.
David said it is important to expose the children to volunteering early in their lives.
"If they start early, they are more likely to continue making an impact," he said. "They can make a difference in (other people's) lives, (realizing that) not everyone has the same opportunities."
Zoe Thompson, vice president of the YVCKC Youth Advisory Board, started volunteering with her parents when she was very young. As part of the Youth Advisory Board, Thompson and the board – composed of young volunteers – help plan many of the projects to find better ways to connect with the community.
"I've learned a lot," Thompson said about her experience with the YVC. "I have been able to learn ways to connect with the community."
For Thompson, service and volunteering is a great way to help somebody whose situation might be different to hers.
"I think it's a really good way to bridge the gap," she said. "Many people go about their lives without realizing what else is out there and who else is out there. … I think (volunteering) is a good way to (change) that."
For more information about the Youth Volunteer Corps and how to volunteer, visit www.yvc.org or http://www.yvckc.org/contact-us.html.
---
Programa de voluntariado apunta a ayudar a jóvenes a mejorar las comunidades
Una organización en el área de Kansas City ofrece oportunidades de voluntariado para estudiantes de intermedio y secundaria.
El Youth Volunteer Corps (YVC), una red nacional sin fines de lucro centrada en el voluntariado, ofrece a los jóvenes de 11 a 18 años la oportunidad de mejorar sus comunidades a través del voluntariado.
"Ofrecemos oportunidades de servicio y aprendizaje; … también aprenden sobre el problema social que están abordando", explicó Chelan David, director de desarrollo de YVC.
David dijo que el voluntariado expone a los niños a un grupo diverso de personas que enfrentan realidades distintas.
"Encontramos que las personas no interactúan mucho con sus compañeros, … así que vienen (aquí) y aprenden a trabajar por un bien mayor", dijo.
El YVC se asocia con múltiples organizaciones alrededor de la comunidad. En Kansas City, por ejemplo, el YVC local tiene una sociedad con el YMCA. La sociedad opera año completo, con más programas disponibles en el verano.
David indicó que es importante exponer a los niños al voluntariado desde una temprana edad.
"Si comienzan temprano, es probable que sigan haciendo un impacto", dijo. "Pueden hacer una diferencia en la vida (de otras personas), (dándose cuenta que) no todos tienes las mismas oportunidades."
Zoe Thompson, vice presidenta de la Junta Asesora de Jóvenes de YVCKC, comenzó a trabajar como voluntaria con sus padres cuando era muy joven. Como parte de la Junta Asesora de Jóvenes, Thompson y el resto de la junta, compuesta por jóvenes voluntarios, ayudan a planificar muchos de los proyectos para encontrar mejoras formas de conectarse con la comunidad.
"He aprendido bastante", Thompson dijo acerca de su experiencia con YVC. "He podido aprender muchas formar de conectar con la comunidad".
Para Thompson, el servicio y voluntariado es una gran manera de ayudar a alguien cuya situación sea diferente a la de ella.
"Creo que es una gran manera de acortar la brecha", explicó. "Muchas personas van por la vida sin darse cuenta de qué más hay por ahí y quién más está por ahí. … Creo que (el voluntariado) es una buena manera de (cambiar) eso".
Para más información sobre Youth Volunteer Corps y cómo ser voluntario, visite www.yvc.org o http://www.yvckc.org/contact-us.html.