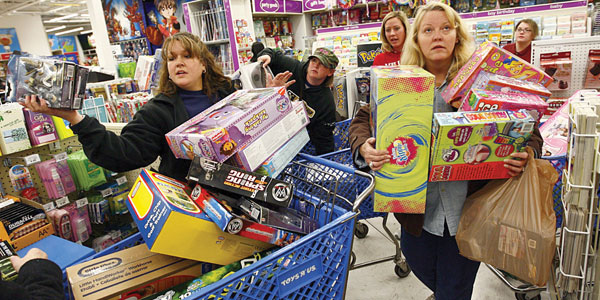 Black Friday is almost here.
Traditionally the busiest shopping day of the year, Black Friday takes place the day after Thanksgiving and kicks off the holiday shopping season. This year, it will take place on Nov. 23.
Often, shopping on Black Friday is hectic and stressful. To help you relax and enjoy your shopping, try the following tips:
*Know what you can afford: Before you spend all your money on Black Friday, set a budget and stick to it. Make a list of everyone you will shop for, what you will buy them and about how much you expect those items to cost. Always stretch your dollars. I am crossing my fingers for you to finish the day under budget.
*Research pre-Black Friday and holiday pricing: Remember, when a discount merely reduces a wildly inflated sticker price to something approaching fair market value, it is not a deal. Set your price alerts for exact matches and for similar products you plan to buy. Watch how they change over time and what pre-holiday sale prices look like. With any luck, you will spot suspicious pre-holiday price spikes and avoid falling for gimmicks masquerading as deals.
*Follow retailers on social media: This tip pays dividends throughout the year, but it is especially great during the holiday season, when retailers ramp up their promotional activities and offer many last-minute deals. On Twitter, you can follow a private Twitter list of retailers. Check your list for Black Friday and holiday flyers, and one-off sale announcements. On Facebook, follow your favorite retailers. Depending on your privacy settings and browsing habits, your retail Facebook ads might be well-targeted to your preferences.
*Use discount gift cards: This is one of the least-appreciated ways to significantly reduce your holiday shopping expenses. You can find discount gift cards online at popular (and legitimate) clearinghouses such as Raise and Card Cash. Both offer discounts of anywhere from 2 percent to 35 percent face value. But before you buy discount gift cards, however, make sure you are getting the right types of them.
*Stay healthy: Getting adequate sleep can increase your productivity and focus by up to 32 percent. Remember, hydrate during the hustle and bustle by having a bottle of water handy. Good hydration will help avoid fatigue, cramps and dizziness. Have a healthy snack handy, too. Snacks such as nuts, fruits and complete nutrition bars are excellent energy boosters, and will fill you up with nutrients and vitamins.
---
Consejos de compras para la temporada festiva
El Black Friday ya está casi aquí.
Tradicionalmente, el día de compras más intenso del año, el Black Friday se lleva a cabo el día después del día de Acción de Gracias y comienza la temporada de compras navideñas. Este año, tendrá lugar el 23 de noviembre.
A menudo, las compras del Black Friday son agitadas y estresantes. Para ayudarlo a relajarse y disfrutar de sus compras, pruebe los siguientes consejos:
* Sepa lo que puede pagar: Antes de gastar todo su dinero en el Black Friday, establezca un presupuesto y sígalo. Haga una lista de todas las personas que comprará, lo que comprará y sobre cuánto espera que cuesten esos artículos. Siempre estire sus dólares. Cruzando los dedos terminará el día debajo de su presupuesto.
* Investigue los días anteriores al Black Friday y los precios de los días festivos: Recuerde que cuando un descuento simplemente reduce el precio de una etiqueta inflada a un valor justo de mercado, no es un trato. Establezca sus alertas de precios para coincidencias exactas y para productos similares que planea comprar. Observe cómo cambian con el tiempo y cómo se ven los precios de venta antes de las festividades. Con un poco de suerte, detectará alzas sospechosas en los precios antes de las fiestas y evitará que las trampas se hagan pasar por descuentos.
* Siga a las tiendas en las redes sociales: Este consejo te ayuda a ahorrar durante todo el año, pero es especialmente bueno durante la temporada navideña, cuando los minoristas incrementan sus actividades promocionales y ofrecen muchas ofertas de última hora. En Twitter, puedes seguir una lista privada de tiendas. Revise su lista para ver el Black Friday, los folletos de las festividad y anuncios de venta únicos. En Facebook, sigue a tus tiendas favoritas. Dependiendo de la configuración de tu privacidad y hábitos de navegación, los anuncios de tiendas de Facebook podrían estar orientados a sus preferencias.
* Utilice tarjetas de regalo con descuento: Esta es una de las formas menos apreciadas para reducir significativamente sus gastos de compras de festividades. Puede encontrar tarjetas de regalo con descuento en línea en centros de información populares y legítimos como Raise y Card Cash. Ambos ofrecen descuentos de entre el 2 y el 35 por ciento del valor nominal. Sin embargo, antes de comprar tarjetas de regalo con descuento, asegúrese de obtener el tipo correcto.
* Manténgase saludable: Dormir adecuadamente puede aumentar su productividad y concentración hasta en un 32 por ciento. Recuerde, hidratarse durante el ajetreo y el bullicio teniendo una botella de agua a mano. Una buena hidratación ayudará a evitar la fatiga, los calambres y los mareos. Tenga a mano un snack saludable. Los bocadillos como nueces, frutas y barras de nutrición completas son estimulantes excelentes de energía y te llenarán de nutrientes y vitaminas.