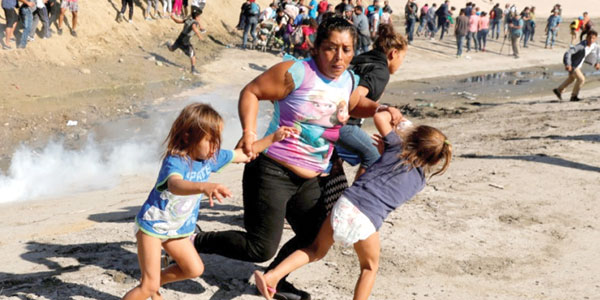 By Angie Baldelomar
On Sunday (Nov. 25), tensions between migrants and local authorities on the Mexican side of the southern U.S. border escalated into violence.
As migrants tried to cross the border, authorities on the U.S. side used tear gas to disperse them, as was reported by multiple news outlets. U.S. Customs and Border Protection said the migrants threw projectiles at several agents.
"Border Patrol agents deployed tear gas to dispel the group because of the risk to agents' safety," the agency tweeted.
That day, about 500 migrants on the Mexican side tried getting past police blockades near the San Ysidro Port of Entry, which forced a temporary closure of the port.
On the U.S. side, 69 people were arrested for illegally crossing the border while the Tijuana, Mexico, police said they arrested 39 people, who face deportation processes.
U.S. President Donald Trump threatened to close the border permanently.
"Mexico should move the flag-waving Migrants, many of whom are stone cold criminals, back to their countries," Trump tweeted on Monday (Nov. 26). "Do it by plane, do it by bus, do it anyway you want, but they are NOT coming into the U.S.A. We will close the Border permanently if need be. Congress, fund the WALL!"
More than 5,600 migrants have taken shelter in the Benito Juarez Sports Complex in Tijuana, according to Mexico's Social Development Secretariat.
A peaceful march planned for Sunday turned into violence when some protesters split off toward multiple locations, trying to cross the border, which ultimately led to the tear gas incident.
Amid this situation, Mexico will have a new president on Saturday (Dec. 1), when Andres Manuel Lopez Obrador takes office. Defusing the tension will be among the new administration's top priorities.
______________________________________________________________________________________________
Disparan gas lacrimógeno a migrantes intentando entrar a los Estados Unidos
El domingo (25 de noviembre), las tensiones entre migrantes y autoridades locales en el lado mexicano de la frontera sur de los Estados Unidos se convirtieron en violencia.
Cuando los migrantes intentaron cruzar la frontera, las autoridades del lado de los Estados Unidos utilizaron gas lacrimógeno para dispersarlos, como lo reportaron varios medios de comunicación. La agencia de Aduanas y Protección Fronteriza de Estados Unidos dijo que los migrantes lanzaron proyectiles a varios agentes.
"Agentes de la Patrulla Fronteriza desplegaron gas lacrimógeno para disipar al grupo debido al riesgo para la seguridad de los agentes", la agencia tuiteó.
Ese día, unos 500 migrantes en el lado mexicano trataron de pasar los bloqueos policiales cerca del Puerto de Entrada de San Ysidro, lo que forzó al cierre temporal del puerto.
En el lado estadounidense, 69 personas fueron arrestadas por cruzar la frontera ilegalmente, mientras que la policía de Tijuana en México dijo que arrestaron 39 personas, que ahora enfrentan procesos de deportación.
El presidente de Estados Unidos, Donald Trump, amenazó con cerrar la frontera permanentemente.
"México debería llevar a los migrantes que ondean banderas, muchos de los cuales son criminales de piedra fría, de regreso a sus países", Trump tuiteó el lunes (26 de noviembre). "Háganlo por avión, háganlo por autobús, háganlo de la manera que deseen, pero NO van a ingresar a los EE.UU. Si es necesario, cerraremos la frontera de forma permanente. ¡Congreso, financia la PARED!"
Más de 5,600 migrantes están albergados en el Complejo Deportivo Benito Juárez en Tijuana, según la Secretaría de Desarrollo Social de México.
En medio de esta situación, México tendrá un nuevo presidente el sábado (1 de diciembre), cuando Andrés Manuel López Obrador asuma el cargo. Reducir la tensión será una de las principales prioridades del nuevo gobierno.