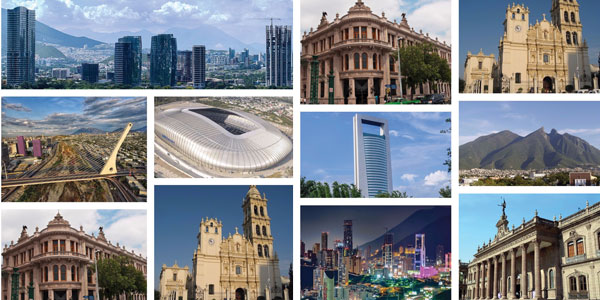 By Tom Sawyer
Welcome tourists! In this edition, we will talk about Monterrey the third most important city of our neighboring country Mexico and that is also considered their industrial capital. Founded in 1596 by Diego de Montemayor and has 1 and a half million residents, while its large metropolitan area has about 4 and a half million.
Monterrey is one of the most developed cities and one of the most important business centers in Mexico, which is considered by some studies as the second city with the best quality of life in the country. The historic center of the city remains intact, this in order not to forget the roots from which it comes and making this practically a magical town within a large and sophisticated city.
The round flights from Kansas to Monterrey have an average price of $800, but I recommend you to look for options from Kansas to Mexico City and from Mexico City to Monterrey, you could save several hundred dollars. The best way to get around the city is by Uber or taxi. Although the subway service is quite agile and cheap, it only has 2 lines that do not cover much of the city. While the trucks are not very comfortable to use for the lack of signs of stops and routes that pass through each place. Another great option is the rental of a car.
The accommodation of a 3-star hotel has an average price per room of $40 per night and a 5-star hotel for $100. The gastronomy of Monterrey is amazing. One of its main dishes is the kid, which is seasoned to the shepherd and roasted to the fathoms. You also must try the famous roast meats, given the high quality of the meat with which is counted in this region of the country. The price of a full meal is around $20 and with dessert included.
These are some of the places you should visit during your next visit to the "Sultan of the North":
The old quarter is the historic downtown of the city. A site where buildings from the Spanish viceroyalty period remain, with wide, cobbled streets and spacious single-level houses. A place where you can enjoy a wide range of art galleries and craft shops and at night it becomes a place to socialize, where the places to dance and have a drink are located.
Fundidora Park is a site where the Fundidora de Fierro y Acero de Monterrey was formerly located, which remained in operation for 86 years and is now a public park where you can enjoy a pleasant walk or a boat ride on the Santa Lucia Walk. You should take to take a picture with the famous Cerro de la Silla (named after having the similar shape to a horse saddle). A visit to the Museum of Steel Oven 3 where you can see how the kilns with which they melted and created pieces of iron and steel. The admission fee is $5. You can also go to the movies in this same complex, Parque Plaza Sésamo where you can find mainly aquatic attractions and mechanical games. The admission to the foundry park is free and the cost of each of the attractions is charged individually.
Macroplaza is the site that denotes the cosmopolitan city. It is one of the public squares and the fifth largest in the world to be precise. Here you can find ancient monuments and colonial buildings that make a perfect contrast with modern buildings. One of the most remarkable monuments is the Faro del Comercio, 70 meters high and that in its highest part has a team of lasers that illuminate the sky of the city and can be seen practically from any part of it. You should also take the opportunity to visit the Museum of Contemporary Art where you can see exhibitions of Latin American artists and it has an entrance fee of $4. The Museum of Mexican History, the Museum of the Northeast and the Palace Museum, which are mainly focused on raising awareness of the national, regional and local history. They also have a very unique architectural design, with a cost of $4 entry for the first 2 and the third has free access.
Goodbye! I hope you had happy holidays, greetings and have a good trip.
________________________________________________________________________________________________
Conoce Monterrey
Bienvenidos turistas, en esta edición nos toca hablar de la tercera ciudad más importante de nuestro país vecino México y que además es considerada la capital industrial de México, nos referimos a Monterrey, México. Fundada en 1596 por Diego de Montemayor y cuenta con 1 millón y medio de habitantes, mientras que su amplia área metropolitana cuenta con cerca de 4 millones y medio de habitantes.
Monterrey es una de las ciudades más desarrolladas y uno de los más importantes centros de negocios de México, por lo cual es considerada según algunos estudios como la segunda ciudad con mejor calidad de vida del país. El casco histórico de la ciudad permanece intacto, esto con el fin de no olvidar las raíces de las que proviene y haciendo de este prácticamente un pueblo mágico dentro de una gran y sofisticada ciudad.
Los vuelos redondos de Kansas a Monterrey tienen un costo promedio de $800, pero te recomiendo busques opciones de Kansas a Ciudad de México y de Ciudad de México a Monterrey, verás que te podrías ahorrar varios cientos de dólares. La mejor manera de moverse dentro de la ciudad es en uber o taxi, ya que aunque el servicio del metro es bastante ágil y barato cuenta con sólo 2 líneas que no alcanzan a cubrir gran parte de la ciudad, mientras que los camiones son poco cómodos de utilizar por la falta de buena señalización de paradas y rutas que pasan por cada lugar, otra gran opción es la de renta de un automóvil. El hospedaje de un hotel 3 estrellas tiene un costo promedio por habitación de $40 por noche y de un hotel 5 estrellas por $100. La gastronomía de Monterrey es digna de destacarse, teniendo como uno de sus principales atractivos el cabrito, el cual va sazonado al pastor y asado a la brazas, además debes probar las famosas carnes asadas, dado a la altísima calidad de la carne con la que se cuenta en esta región del país, el costo de una comida completa es de alrededor de los $20 ya con postre incluido.
Estos son algunos de los lugares que deberás conocer en tu próxima visita por la "Sultana del Norte":
Barrio antiguo, se trata del casco histórico de la ciudad, sitio en el que permanecen edificaciones de la época del virreinato español, con calles anchas y empedradas, con amplias casas de 1 solo nivel. Un lugar donde podrás disfrutar de una amplia cantidad de galerías de arte y tiendas de artesanías y que de noche se transforma en un lugar para socializar, en donde los lugares para bailar y tomar una copa sobran.
Parque fundidora, es un sitio donde antiguamente se encontraba la compañía Fundidora de Fierro y Acero de Monterrey, que permaneció funcionando por 86 años y que ahora es un parque público en donde podrás disfrutar de una amena caminata, un paseo en bote por el Paseo Santa Lucía en donde deberás aprovechar para tomarte una foto con el famoso Cerro de la Silla (llamado así por la forma que tiene similar a la de una silla de montar a caballo) justo detrás de ti, una visita del Museo del Acero Horno 3 en donde podrás ver cómo es que funcionaban los hornos con los que se fundía y creaban piezas de fierro y acero el costo de entrada es de $5, también podrás ir al cine dentro de este mismo complejo, el Parque Plaza Sésamo en donde podrás encontrar principalmente atracciones acuáticas y juegos mecánicos. La entrada al parque fundidora es gratuita y el costo de cada una de las atracciones en las que desees participar tendrás que hacerlo de manera individual.
Macroplaza, sitio en el que se denota lo cosmopolita de la ciudad, siendo así una de las plazas públicas más grandes de todo el mundo la quinta para ser precisos, aquí podrás encontrar antiguos monumentos y edificios coloniales que hacen un perfecto contraste con las modernas edificaciones actuales, uno de los monumentos más destacables es el Faro del Comercio que cuenta con 70 metros de altura y que en su parte más alta cuenta con un equipo de rayos láser que iluminan el cielo de la ciudad y se pueden ver prácticamente desde cualquier parte de la misma. También deberás aprovechar para visitar el Museo de Arte Contemporáneo en donde podrás conocer exposiciones de artistas latinoamericanos y un costo de entrada de $4, el Museo de Historia Mexicana, el Museo del Noreste y el Museo del Palacio, que están enfocados principalmente en dar a conocer la historia tanto nacional, regional y local, pero que además cuentan con un diseño arquitectónico muy singular, con un costo de $4 la entrada por los primeros 2 y el tercero tiene acceso gratuito.
Sin más por el momento me despido esperando hayan tenido unas felices fiestas, saludos y buen viaje.