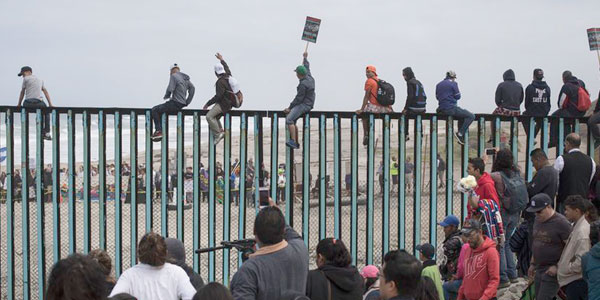 By Angie Baldelomar
The biggest hurdle for many immigrants arriving at the U.S. southern border might come on the other side of the border.
A new report by The New York Times found that the wait to have their cases heard is the largest barrier many immigrants will face. Asylum seekers' cases are likely to wind up in court, where they would join more than 800,000 other cases waiting to be resolved.
The backlog in immigration courts has grown in the past decade. Pending cases have increased by nearly 50 percent since Trump took office in 2017. According to the report, about one in every 40 cases is criminal or related to national security or terrorism. The rest are civil immigration cases, which can include people arrested for crossing the border illegally, people who have overstayed their visas and many asylum seekers.
The backlog also has caused the wait time for hearings and decisions to increase. Now, the average case takes 578 days to complete, the report said.
Many asylum seekers who wait can remain in the country, but they are in legal limbo.
"No one benefits from this current system," Aaron Reichlin-Melnick of the non-profit American Immigration Council told The Times.
The Times investigation also found that, under Trump, a greater proportion of grants have been denied. Moreover, under Trump, more cases have resulted in deportation. Two policies in particular resulting from Trump's hardline stance on immigration have greatly contributed to this backlog.
In 2017, Trump rescinded an Obama-era policy that relaxed prosecution for some immigrants who were in the country illegally, resulting in Immigration and Customs Enforcement (ICE) ramping up arrests.
Before that, ICE prioritized arresting immigrants with criminal records. Now, anyone who is caught in the country illegally gets a court date, which has caused the backlog to grow by more than 293,000 cases.
In May 2018, then-Attorney General Jeff Sessions moved to reopen more than 300,000 cases that had previously been closed.
Though immigration courts have hired more judges to handle the caseload, the current number of 395 judges is still not enough to get through the current backlog.
In addition, the latest government shutdown caused more than 80,000 scheduled hearings to be cancelled, according to data from the Transactional Records Access Clearinghouse at Syracuse University. 
---
Retraso judicial es la mayor barrera para los inmigrantes
El mayor obstáculo para muchos inmigrantes que llegan a la frontera sur de los Estados Unidos podría venir al otro lado de la frontera.
Un nuevo informe por The New York Times descubrió que esperar para que sus casos sean atendidos es la barrera más grande que enfrentarán muchos inmigrantes. Es probable que los casos de solicitantes de asilo terminen en los tribunales, donde se unirían a más de 800,000 casos que esperan ser resueltos.
El retraso en los tribunales de inmigración ha crecido en la última década. Los casos pendientes han aumentado en casi un 50 por ciento desde que Trump asumió el cargo en 2017. Según el informe, aproximadamente 1 de cada 40 casos es criminal o está relacionado con seguridad nacional o terrorismo. El resto son casos de inmigración civil, que pueden incluir personas arrestadas por cruzar la frontera ilegalmente, personas que se quedaron después de la expiración de sus visas y muchos solicitantes de asilo.
El retraso también ha provocado que el tiempo de espera por audiencias y decisiones aumente. Ahora, el caso promedio tarda 578 en completarse, según el informe.
Muchos solicitantes de asilo que esperan pueden permanecer en el país, pero están en un limbo legal.
"Nadie se beneficia del sistema actual", dijo a The Times Aaron Reichlin-Melnick, de American Immigration Council, una organización sin fines de lucro.
La investigación de The Times también encontró que, bajo Trump, una mayor proporción de subvenciones han sido negadas. Además, bajo Trump, más casos resultaron en deportación. Dos políticas en particular resultantes de la postura de línea dura de Trump sobre la inmigración han contribuido enormemente a este retraso.
En 2017, Trump rescindió una política de la era de Obama que relajó el procesamiento de algunos inmigrantes que estaban en el país ilegalmente, lo que resultó en un aumento de los arrestos por parte de la Oficina de Inmigración y Control de Aduanas (ICE, por sus siglas en inglés).
Antes de eso, ICE priorizó el arresto de inmigrantes con antecedentes penales. Ahora, cualquier persona que es encontrada en el país ilegalmente obtiene una cita en el tribunal, lo que ha causado que el retraso crezca en más de 293,000 casos.
En mayo de 2018, el entonces Fiscal General Jeff Sessions reabrió más de 300,000 casos que se habían cerrado anteriormente.
Aunque los tribunales de inmigración han contratado a más jueces para manejar la cantidad de casos, el número actual de 395 jueces todavía no es suficiente para superar el retraso actual.
Además, el último cierre del gobierno provocó la cancelación de más de 80,000 audiencias programadas, de acuerdo con los datos de Centro de Información de Acceso a Registros Transaccionales en Syracuse University.