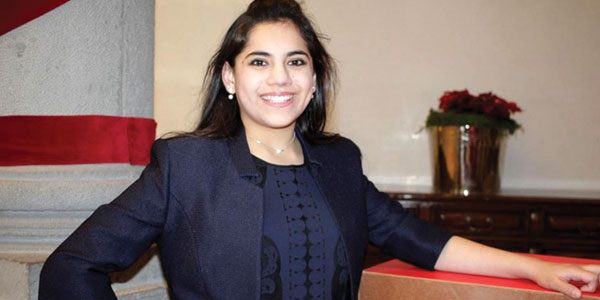 By Chara
At age 13, Dafne Almazan became the youngest psychologist in the world.
At age 17, the Mexican national is starting a master's degree program in mathematics at Harvard University, as multiple news outlets have reported.
According to information from Harvard, Almazan is the first Mexican under the age of 18 to pursue a master's degree at the Cambridge, Massachusetts-based university in 100 years. She plans to graduate from Harvard when she is 18.
"My plan is to design and work with models for teaching mathematics to gifted children, which is one of the focuses of the degree," she said in a statement.
Almazan herself is considered a gifted student. She was 10 years old when she finished high school. Then, she began studying psychology in college in Mexico.
Despite what many people might believe, Almazan had a normal life. In several interviews, Almazan has stated that she liked to play, walk her dogs and play musical instruments when she was younger. Now, the teen – who is fluent in four languages and has been recognized as one of Forbes' 50 Most Powerful Women in Mexico – has a range of hobbies that include ballet, gymnastics, ice skating, taekwondo and oil painting.
Many people stereotype gifted children, suggested Dr. Asdrubal Almazan, her dad and the director of the CEDAT Foundation.
"They are children just like any other, only with an IQ that is way higher than the … rest of the population," her father was quoted by Newsbeezer.com as saying.
---
Adolescente de México hará estudios de postgrado en Harvard
A los 13 años, Dafne Almazán se convirtió en la psicóloga más joven del mundo.
A los 17 años, la ciudadana mexicana está comenzando un programa de maestría en matemáticas en la Universidad de Harvard, como lo han informado varios medios de comunicación.
Según información de Harvard, Almazán es la primera mexicana menor de 18 años en obtener una maestría en la universidad ubicada en Cambridge, Massachusetts en 100 años. Planea graduarse de Harvard cuando tenga 18 años.
"Mi plan es diseñar y trabajar con modelos para enseñar matemáticas a niños superdotados, que es uno de los enfoques de la maestría", dijo en un comunicado.
La propia Almazán es considerada una estudiante superdotada. Tenía 10 años cuando terminó la escuela secundaria. Luego, comenzó a estudiar psicología en una universidad en México.
A pesar de lo que muchas personas crean, Almazán tuvo una vida normal. En varias entrevistas, Almazán ha declarado que le gustaba jugar, pasear a sus perros y tocar instrumentos musicales cuando era más pequeña. Ahora, la adolescente, que habla cuatro idiomas con fluidez y ha sido reconocida como una de las 50 Mujeres Más Poderosas de México en Forbes, tiene una variedad de pasatiempos que incluyen ballet, gimnasia, patinaje sobre hielo, taekwondo y pintura al óleo.
Muchas personas tienen estereotipos sobre los niños superdotados, sugirió el Dr. Asdrúbal Almazán, su padre y el director de la Fundación CEDAT.
"Son niños como cualquier otro, sólo con un coeficiente intelectual que es mucho más alto que el … resto de la población", dijo su padre a Newsbeezer.com.