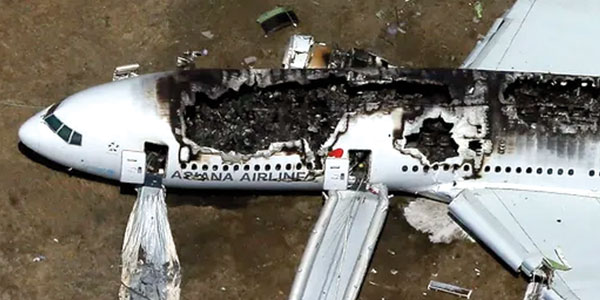 By Roberta Pardo
In 2018, the number of people killed in plane crashes jumped compared to 2017, with more than 500 deaths recorded.
The Netherlands-based Aviation Safety Network (ASN) recorded 15 fatal airliner accidents in 2018, leading to 556 deaths. In 2017, for comparison, 44 lives were lost in 10 accidents. It was the safest year in aviation history.
Regardless of the increase, plane accidents are still rare, and 2018 was one of the safest years for commercial aviation on record.
"If the accident rate had remained the same as 10 years ago, there would have been 39 fatal accidents last year," Harro Ranter, ASN chief executive, told CNN.
The deadliest single incident for the year was the Lion Air crash off Indonesia in October, where 189 people died, according to the ASN report.
Europe and North America remain the safest parts of the world to fly.
The report also highlighted "major safety concerns" over "loss of control" accidents over the past five years. This type of accident has caused at least 10 of the 25 worst accidents.
"Most of those accidents were not survivable," the report said.
---
Muertes por accidentes de avión aumentan en 2018, pero accidentes siguen siendo poco frecuentes
En 2018, la cantidad de personas que murieron en accidentes aéreos se disparó en comparación con 2017, con más de 500 muertes registradas.
La Red de Seguridad de la Aviación (ASN, por sus siglas en inglés), con sede en los Países Bajos, registró 15 accidentes mortales en aviones de pasajeros en 2018, lo que provocó 556 muertes. En 2017, en comparación, se perdieron 44 vidas en 10 accidentes. Fue el año más seguro en la historia de la aviación.
Pese al aumento, los accidentes aéreos siguen siendo poco frecuentes, y el 2018 fue uno de los años más seguros para la aviación comercial.
"Si la tasa de accidentes hubiera permanecido igual que hace 10 años, habría habido 39 accidentes fatales el año pasado", dijo Harro Ranter, director ejecutivo de ASN, a CNN.
El incidente más letal del año fue el accidente de Lion Air en Indonesia en octubre, donde murieron 189 personas, según el informe de ASN.
Europa y América del Norte siguen siendo los lugares más seguros del mundo para volar.
El informe también destacó los "problemas de seguridad más grandes" sobre los accidentes de "pérdida de control" en los últimos cinco años. Este tipo de accidente ha causado al menos 10 de los 25 peores accidentes.
"La mayoría de esos accidentes no brindaron la capacidad de sobrevivir", el informe decía.