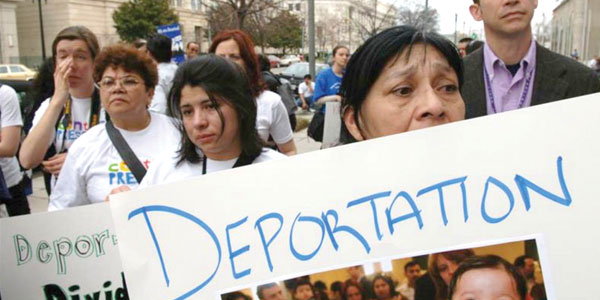 By Roberta Pardo
Deportation processes are not exclusive to undocumented immigrants.
There are instances where permanent residents have been deported, though it is difficult to know how many green card holders are deported because U.S. Immigration and Customs Enforcement does not track statistics on arrests of immigrants who are in the United States legally.
However, immigration lawyers and activists recognize it is a rare situation. For that to happen, immigration officials must have strong legal reasons to request a removal of immigration status — such as committing crimes like obtaining a green card or citizenship through fraudulent means or committing terrorist acts.
In 2018, new guidelines by U.S. Citizenship and Immigration Services said that documented immigrants could be deported if they break the rules of any federal and state "program related to the reception of public benefits."
Rarer still is the revocation of citizenship. Allan Wernick, a Daily News columnist, explained in a recent column how rare it is, even if the person commits a crime after obtaining citizenship.
"Assuming that the criminal act occurred after the naturalization, immigration (officials) cannot deport him for the crime," he wrote.
Wernick also wrote that the only instance where a person can lose citizenship is if the person renounces it or committed fraud in the process of becoming a citizen.
"The denaturalization of a citizen is extremely difficult for the government," he said.
__________________________________________________________________________
Deportaciones de residentes permanentes y ciudadanos es posible pero no común
Los procesos de deportación no son exclusivos de inmigrantes indocumentados.
Existen casos en los que se ha deportado a residentes, aunque es difícil saber cuántos portadores de tarjetas verdes son deportados porque el Servicio de Inmigración y Control de Aduanas de los Estados Unidos (ICE, por sus siglas en inglés) no rastrea las estadísticas de arrestos de inmigrantes que se encuentran legalmente en los Estados Unidos.
Sin embargo, los abogados de inmigración y activistas reconocen que es una situación que no sucede a menudo. Para que eso suceda, los funcionarios de inmigración deben tener fuertes razones legales para solicitar la eliminación de su estatus migratorio, como cometer delitos como obtener una tarjeta verde o ciudadanía a través de medios fraudulentos o cometer actos terroristas.
En 2018, las nuevas pautas de los Servicios de Ciudadanía e Inmigración de los Estados Unidos (USCIS, por sus siglas en inglés) dijeron que los inmigrantes documentados podrían ser deportados si infringen las reglas de cualquier "programa federal y estatal relacionado con la recepción de beneficios públicos".
Más raro aún es la revocación de la ciudadanía. Allan Wernick, un columnista de Daily News, explicó en una columna reciente lo raro que es, incluso si la persona comete un delito después de obtener la ciudadanía.
"Suponiendo que el acto criminal ocurrió después de la naturalización, (los funcionarios de) inmigración no pueden deportarlo por el crimen", escribió.
Wernick también escribió que la única instancia en la que una persona puede perder la ciudadanía es si la persona renuncia a ella o si cometió un fraude en el proceso de convertirse en ciudadano.
"La desnaturalización de un ciudadano es extremadamente difícil para el gobierno", dijo.