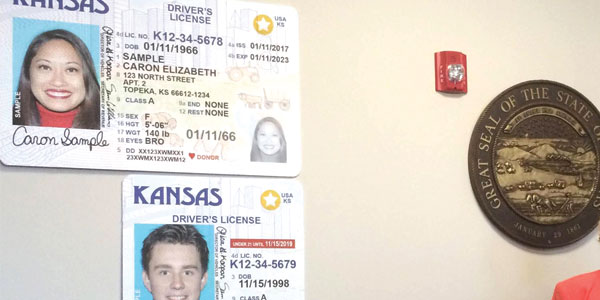 By Roberta Pardo
Beginning in October 2020, every traveler must present a REAL ID-compliant driver's license or another acceptable form of identification to fly within the United States.
Passed by Congress in 2005, the REAL ID Act "establishes minimum security standards for license issuance and production and prohibits federal agencies from accepting for certain purposes driver's licenses and identification cards from states not meeting the act's minimum standards."
Generally, REAL ID-compliant cards are marked with a star located in the upper part of the card. However, conspiracy theories have emerged about having federal requirements for driver's licenses and ID cards.
A frequent conspiracy is that the Department of Homeland Security (DHS) wants to use the REAL ID to create a unique database to have more control over people. The theory is so spread out that the DHS addresses it in its website.
The question "Is DHS trying to build a national database with all of our information?" appears on its FAQ page.
Answer: No.
"REAL ID is a national set of standards, not a national identification card," the website states. "REAL ID does not create a federal database of driver license information."
The website explains that each jurisdiction issues "its own unique license, maintains its own records, and controls who gets access to those records and under what circumstances."
It goes on to say that the ID is designed to make identity documents more consistent and secure, such as driver's licenses.
Only U.S. citizens, permanent residents and documented immigrants can obtain a driver's license.
For more information about REAL ID, visit https://www.dhs.gov/real-id.
---
REAL IDs incitan teorías de conspiración
A partir de octubre de 2020, todos los viajeros deberán presentar una licencia de conducir que cumpla con el REAL ID u otra forma aceptable de identificación para volar dentro de Estados Unidos.
Aprobada por el Congreso en 2005, la Ley del REAL ID "establece estándares mínimos de seguridad para la emisión y producción de licencias y prohíbe a las agencias federales aceptar para ciertos propósitos licencias de conducir y tarjetas de identificación de estados que no cumplan con los estándares mínimos de la ley".
En general, las tarjetas que cumplen con la REAL ID están marcadas con una estrella en la parte superior de la tarjeta. Sin embargo, han surgido teorías de conspiración sobre tener requisitos federales para las licencias de conducir y las tarjetas de identificación.
Una conspiración frecuente es que el Departamento de Seguridad Nacional (DHS, por sus siglas en inglés) quiere usar la REAL ID para crear una base de datos única para tener control sobre las personas. La teoría se ha esparcido tanto que el DHS lo menciona en su sitio web.
La pregunta "¿DHS está tratando de construir una base de datos nacional con toda nuestra información?" aparece en su página de preguntas frecuentes.
La respuesta: no.
"REAL ID es un conjunto nacional de estándares, no una tarjeta nacional de identificación", afirma el sitio web. "REAL ID no crea una base de datos federal de información de licencias de conducir".
El sitio web explica que cada jurisdicción emite "su propia licencia única, mantiene sus propios registros y controla quién obtiene acceso a esos registros y bajo qué circunstancias".
Continúa diciendo que la identificación está diseñada para hacer que los documentos de identificación sean más consistentes y seguros, como las licencias de conducir.
Sólo los ciudadanos estadounidenses, residentes permanentes e inmigrantes documentados pueden obtener una licencia de conducir.
Para obtener más información sobre REAL ID, visite https://www.dhs.gov/real-id.