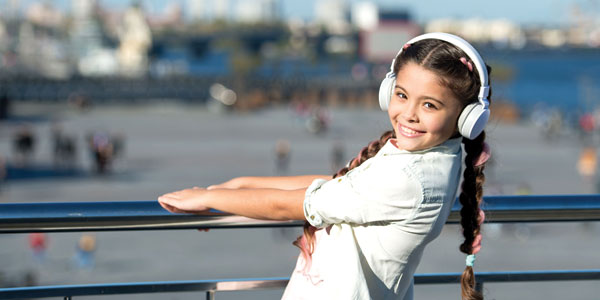 Music is everywhere, and today's tech-enabled world makes it easy to enjoy the sounds of your favorite artists and storytellers no matter where you go.
"In the connected world we live in, consumers want to be able to listen to their favorite music and podcasts wherever they are and however they choose to listen, whether that's at home, in the car or on the run," said Sten Garmark, vice president of product for Spotify.
Learn about the many ways you can access music and podcasts while on the go with these tips that can make it easy to bring your audio library with you from the family room, to the car, to the gym and virtually anywhere else life takes you:
At Home
Smart technology isn't just for improving security or managing your home's energy use. An increasing number of smart devices designed for the home make it easy to listen to your favorite music and podcasts in every room.
Smart speakers are a must for any music-lover's home with a wide range of devices that come in all shapes and sizes. Whether it's listening to motown while you cook, turning up the jazz while you entertain or queuing up your favorite podcasts as you wind down for the night, smart speakers are equipped to stream all types of audio across your home. There are other sources for accessing your music, too. Smart TVs have become true information and entertainment hubs; going far beyond the music channels many cable and satellite providers offer, you can now access an array of apps, including streaming music, on many smart TV models. Another option: game consoles that integrate apps and features beyond their basic gaming function, such as streaming music for the best gaming soundtrack experience.
Also keep in mind that smart home hub capabilities often extend beyond simple device management, such as allowing you to use voice commands to play music and podcasts from streaming services.
In the Car
For most newer vehicle models, standard audio systems offer a wealth of handy music features like favorites lists, Bluetooth integration with your smartphone and access to various apps. Voice-activated controls even let you adjust volume and switch tracks while keeping your eyes on the road and hands on the wheel. Just say the word to turn up the volume on premade playlists such as "70s Road Trip" and podcasts like "The Joe Budden Podcast" with a streaming service like Spotify.
It's no secret that there are dozens, if not hundreds, of apps designed to make driving easier and more enjoyable. You're probably familiar with apps that provide directions or help you locate the cheapest gas nearby, but don't overlook entertainment apps that can add a little fun to all that function.
If music apps like Spotify aren't already integrated into your car's audio system, you can access them through your smartphone then connect via an auxiliary cord or through Bluetooth with Apple CarPlay or Android Auto, which have in-car display options that make streaming audio simple and stress-free.
On the Run
One of the fastest growing tech segments is wearable technology, which spans everything from smartwatches to electronic devices integrated into clothing or shoes. Fitness enthusiasts may find that in addition to offering health and fitness functions, many of these devices are also able to stream music. Some wearables come with music apps pre-installed, but many also offer options to add your own custom app selections after purchase.
Streaming music directly from your smartphone's built-in speaker is almost always an option as well, even without any other device. When you want or need to keep your music to yourself, wireless headphones are an increasingly affordable, hassle-free option. Simply pair the headphones with your smartphone for a private music experience even when you're in a crowded place.
Explore more options to take your music everywhere you go at Spotify-Everywhere.com.
---
La música y los adolesentes el mejor antídoto contra la depresión
La música está en todas partes, y el mundo de la tecnología actual te permite disfrutar de los sonidos de tus artistas y narradores favoritos, sin importar a dónde vayas.
"En el mundo conectado en el que vivimos, los consumidores quieren poder escuchar su música y podcasts favoritos dondequiera que estén y como quieran escucharlos, ya sea en casa, en el auto o en la carrera", dijo Sten Garmark. Vicepresidente de Spotify.
Conozca sobre las muchas maneras en que puede acceder a la música y los podcasts mientras está en movimiento con estos consejos que pueden facilitarle el llevar su biblioteca de audio desde la sala familiar, el automóvil, el gimnasio y prácticamente a cualquier otro lugar al que la vida lo lleve:
En casa
La tecnología inteligente no es solo para mejorar la seguridad o administrar el uso de energía de su hogar. Un número cada vez mayor de dispositivos inteligentes diseñados para el hogar facilitan la escucha de su música y podcasts favoritos en cada habitación.
Las bocinas inteligentes son una necesidad para el hogar de cualquier amante de la música con una amplia gama de dispositivos que vienen en todas las formas y tamaños. Ya sea que escuches a Motown mientras cocinas, le subas al jazz para entrenarte o hagas listas de tus podcasts favoritos para pasar la noche, las bocinas inteligentes están equipados para transmitir todo tipo de audio en tu hogar. También hay otras fuentes para acceder a tu música. Las televisiones inteligentes se han convertido en verdaderos centros de información y entretenimiento. Más allá de los canales de música que ofrecen muchos proveedores de cable y satélite, en muchos modelos de televisores inteligentes puedes acceder a una gran variedad de aplicaciones, incluida la transmisión de música. Otra opción: videojuegos que integran aplicaciones y funciones más allá de su función básica de juego, como la transmisión de música para la mejor experiencia de banda sonora en juegos.
También ten en cuenta que las capacidades de los centros de control de dispositivos para una casa inteligente se extienden más allá de la simple administración de dispositivos, pueden permitirle usar los comandos de voz para reproducir música y podcasts desde los servicios de transmisión.
En el coche
Para la mayoría de los modelos de vehículos más nuevos, los sistemas de audio estándar ofrecen una gran cantidad de funciones musicales útiles como listas de favoritos, integración de Bluetooth con su teléfono inteligente y acceso a varias aplicaciones. Los controles activados por voz incluso te permiten ajustar el volumen y cambiar de pista mientras mantiene la vista en la carretera y las manos en el volante. Solo diga la palabra para subir el volumen en listas de reproducción prefabricadas como "70s Road Trip" y podcasts como "The Joe Budden Podcast" en un servicio de transmisión como Spotify.
No es ningún secreto que hay docenas, si no cientos, de aplicaciones diseñadas para hacer que la conducción sea más fácil y agradable. Probablemente estés familiarizado con las aplicaciones que brindan instrucciones o lo ayudan a ubicar la gasolinera más barata y cercana, pero no ignore las aplicaciones de entretenimiento que pueden agregar un poco de diversión.
Si las aplicaciones de música como Spotify aún no están integradas en el sistema de audio de su automóvil, puedes acceder a ellas a través de su teléfono inteligente y luego conectarse mediante un cable auxiliar o Bluetooth con Apple CarPlay o Android Auto, que tienen opciones de visualización en el automóvil que hacen que la transmisión de audio sea simple y libre de estrés.
Al correr
Uno de los segmentos tecnológicos de más rápido crecimiento es la tecnología portátil, que abarca desde relojes inteligentes hasta dispositivos electrónicos integrados en ropa o calzado. Los entusiastas del ejercicio físico pueden encontrar que, además de ofrecer funciones de salud y bienestar físico, muchos de estos dispositivos también pueden transmitir música. Algunos wereables (dispositivos que se usan) vienen con aplicaciones de música preinstaladas, pero muchos también ofrecen opciones para agregar tus propias selecciones de aplicaciones personalizadas después de la compra.
Transmitir música directamente desde la bocina integrada a su teléfono inteligente es también una opción, incluso sin ningún otro dispositivo. Cuando quieras o necesites guardar su música, los auriculares inalámbricos son una opción cada vez más accesible y sin complicaciones. Simplemente conecta los auriculares con su teléfono inteligente para una experiencia musical privada, incluso cuando estás en un lugar lleno de gente.
Explora más opciones para llevar tu música a donde sea que vayas en Spotify-Everywhere.com.