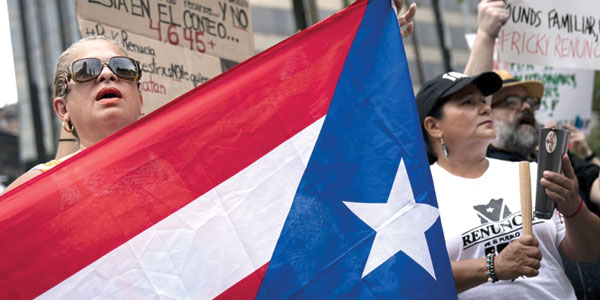 Puerto Rico's beleaguered Gov. Ricardo Rosselló is set to leave office tomorrow, nine days after he announced his resignation. Following weeks of mass protests throughout the Caribbean island country of 3.2 million, Rosselló capitulated to demands that he step down, effective Aug. 2.
Immediate relief and elation among Puerto Ricans has been replaced by anxiety and uncertainty. As late as July 30, it isn't clear who will succeed Rosselló. According to Puerto Rico's constitution, the secretary of state takes over as governor, but the office is currently vacant. Former Secretary of State Luis Rivera Marín resigned on July 16. Puerto Rico's constitutionally established line of succession makes Justice Secretary Wanda Vázquez next in line to be governor. But there's widespread antipathy for Vázquez, who said on July 28 that she doesn't even want the job.
Next in line would be Treasury Secretary Francisco Parés, but he's only 31 years old, and the constitution requires a governor to be at least 35 years old. So it would fall to Education Secretary Eligio Hernández to become governor. The 71-year-old hasn't said whether he would accept the position.
After Hernández in the line of succession comes another official who doesn't meet the minimum age requirement to be governor. Rosselló's New Progressive Party is pressing him to nominate a successor before he leaves office. He doesn't have much time.
The unprecedented succession impasse and absence of leadership in Puerto Rico threatens the country's economy and stability, political scientists and academics are warning.
"These uncertainties are dangerous in a democracy because they tend to strengthen the extremes," Héctor Luis Acevedo, a university professor and former secretary of state, told the Associated Press and others on July 29.
This constitutional crisis brings into sharp relief the territory's perennial quandary over its destiny. Should it remain a self-governed commonwealth of the United States? Is U.S. statehood the answer to its many problems? (Puerto Rico filed for bankruptcy in 2017; 7.7 percent of Puerto Ricans are unemployed; and 44 percent of the population lives in poverty.) Or would Puerto Rico fare best as an independent nation?
The immediate issue is who will take charge when Rosselló steps down tomorrow. By all accounts, Puerto Ricans are unanimous in wanting the leadership vacuum filled without delay. Surely Rosselló can come up with a candidate for the vacant secretary of state post who could win the approval of Puerto Ricans and the nation's congress to succeed him.
Nota bene:
On July 29, President Trump signed into law H.R. 1327 to permanently authorize the September 11 Victim Compensation Fund. (Issue 29, July 18 – July 24, 2019)
---
El asediado gobernador de Puerto Rico, Ricardo Rosselló, dejará el cargo mañana, nueve días después de anunciar su renuncia. Tras semanas de protestas masivas en todo el país insular caribeño de 3,2 millones, Rosselló cedió ante las demandas de que renunciara, lo que sucederá el 2 de agosto.
El alivio inmediato y la euforia entre los puertorriqueños ha sido reemplazado por ansiedad e incertidumbre. Hasta el 30 de julio, no está claro quién sucederá a Rosselló. Según la constitución de Puerto Rico, el secretario de Estado asume el cargo de gobernador, pero la oficina está actualmente vacante.
El ex secretario de Estado Luis Rivera Marin renunció el 16 de julio. La línea de sucesión constitucionalmente establecida de Puerto Rico convierte a la secretaria de Justicia, Wanda Vázquez, en la siguiente en línea para ser gobernadora. Pero existe una antipatía generalizada por Vázquez, quien dijo el 28 de julio que ni siquiera quiere el trabajo.
El siguiente en línea sería el secretario del Tesoro, Francisco Parés, pero sólo tiene 31 años, y la constitución requiere que un gobernador tenga al menos 35 años. Por lo tanto, le correspondería al Secretario de Educación, Eligio Hernández, convertirse en gobernador. El hombre de 71 años no ha dicho si aceptaría el puesto.
Después de Hernández en la línea de sucesión viene otro funcionario que no cumple con el requisito de edad mínima para ser gobernador. El nuevo partido progresista de Rosselló lo está presionando para que nomine a un sucesor antes de que deje el cargo. No tiene mucho tiempo.
El estancamiento de sucesión sin precedentes y la ausencia de liderazgo en Puerto Rico amenaza la economía y la estabilidad del país, advierten los politólogos y académicos.
"Estas incertidumbres son peligrosas en una democracia porque tienden a fortalecer los extremos", le dijo Héctor Luis Acevedo, un catedrático universitario y ex secretario de estado, a la Associated Press y otros el 29 de julio.
Esta crisis constitucional pone de relieve el dilema perenne del territorio sobre su destino. ¿Debería seguir siendo una comunidad autónoma de Estados Unidos? ¿Es la estadidad estadounidense la respuesta a sus muchos problemas? (Puerto Rico se declaró en bancarrota en 2017; el 7.7 por ciento de los puertorriqueños están desempleados; y el 44 por ciento de la población vive en la pobreza). ¿O a Puerto Rico le iría mejor como una nación independiente?
El problema inmediato es quién se hará cargo cuando Rosselló renuncie mañana. Según todos los informes, los puertorriqueños son unánimes al querer que el liderazgo se vacíe sin demora. Seguramente Rosselló puede llegar a un candidato para el puesto de secretario de estado vacante que podría ganar la aprobación de los puertorriqueños y el Congreso de la nación para sucederlo.
Nota bene:
El 29 de julio, el presidente Trump firmó la ley H.R. 1327 para autorizar permanentemente el Fondo de Compensación de Víctimas del 11 de septiembre. (Número 29, 18 de julio – 24 de julio de 2019)