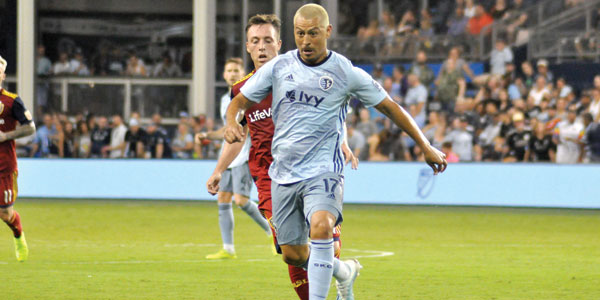 (Medranda-Far Side): Colombian-born defender Jimmy Medranda, No. 94, possesses the ball during Sporting Kansas City's 2-1 loss to Real Salt Lake Aug. 10 at Children's Mercy Park. (Photo by Julian Draper)
By Julian Draper
Jimmy Medranda's latest return to playing professional soccer was bittersweet.
The Sporting Kansas City defender and native Colombian was sidelined for about nine months following an injury in August 2018. Late this spring, he was sidelined again for about two months because of an injured hamstring. On Aug. 10, he saw action again, coming off the bench to relieve Seth Sinovic in the 82nd minute of Sporting's 2-1 loss to Real Salt Lake at Children's Mercy Park.
"(I was) happy to come back to play, but sad for the result," Medranda said after the MLS Western Conference defeat.
Medranda did not have much time to contribute, manager and Sporting director Peter Vermes said during his postgame press conference.
"He tried – tried to whip a few balls in – but … he never really got into the game, unfortunately," Vermes said. "At that point, we were thinking that we would put another more attacking-minded guy on the left to see if we could get some service in the (18-yard) box or just create something a little bit more direct to goal. But we just didn't have the ball enough, and they did a good job of managing the game at the end."
As of this writing, Medranda had two more opportunities to see playing time – and help Sporting achieve a "happy" result. At press time, Sporting was preparing to play Orlando City SC Wednesday (Aug. 14) in interconference action at Exploria Stadium. The guys in blue (and sometimes black) will face San Jose Saturday night (Aug. 17) in conference action at Children's Mercy Park.
Sporting was in 10th place in the Western Conference with 28 standings points entering Wednesday's game – three places away from securing an MLS Cup playoff spot. With less than two months left in the regular season, the club is treating each game as if it were a playoff game, Medranda said, an opinion shared by teammate Graham Zusi.
"(We will) play hard and try to get the most wins possible," Medranda said.