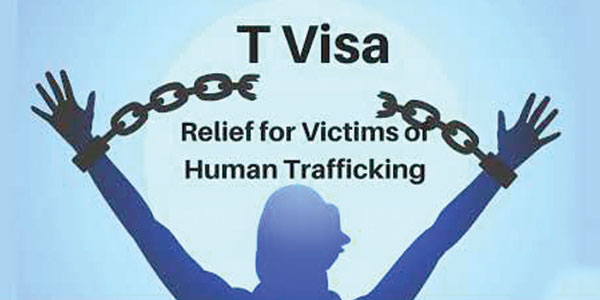 A T visa is similar in some ways to the more familiar U visa – it is a "humanitarian visa." If you are approved, you receive a four-year work permit and a path to permanent residency. However, fewer people apply for the T visa, so it is faster to obtain and many can go directly to permanent residency without waiting years and years. Another advantage is that we do not have to obtain a certification from a law enforcement agency to move forward.
To qualify for a T visa, you have to be a "victim of a severe form of trafficking in persons". That sounds extreme, but it applies to many immigrants in their journey. It can be sex trafficking such as prostitution. It can also be through employment when the person is subjected by force, fraud, or coercion to work involuntarily, to pay off large travel debts, or in slave-like conditions.
Examples could be a woman who was enticed to come to the United States by a romantic boyfriend with promises of a happy life. Once she arrives, the happy dream turns into a nightmare of being treated like a slave with forced housework and sexual activity. She is isolated from her support systems and embarrassed by her situation. It could also be a man who takes a job with promises of a certain wage and duties, but finds that not to be true. Often, the employer threatens to call ICE/police if the workers complain about long hours or poor living conditions.
Many immigrants have suffered abuses related to trafficking. Don't be shy in telling your story to your lawyer. We can only help if we know what you have suffered. Have questions about a T visa? Attend one of our community events or call us to set up an appointment at 816-895-6363!
__________________________________________________________________________________________
¿Califica para una visa T?
Una visa T es similar en algunos aspectos a la visa U más familiar: es una "visa humanitaria". Si se aprueba, recibirá un permiso de trabajo de cuatro años y un camino hacia la residencia permanente. Sin embargo, menos personas solicitan la visa T, por lo que es más rápido obtenerla y muchas pueden ir directamente a la residencia permanente sin esperar años y años. Otra ventaja es que no tenemos que obtener una certificación de las policías /el fiscal para avanzar.
Para calificar para una visa T, debe ser "víctima de una forma severa de trata de personas". Eso suena extremo, pero se aplica a muchos inmigrantes en su viaje. Puede ser tráfico sexual, como la prostitución. También puede ser a través del empleo cuando la persona es sometida por la fuerza, el fraude o la coerción para trabajar involuntariamente, pagar grandes deudas de viaje o en condiciones de esclavitud.
Los ejemplos podrían ser una mujer que fue atraída a venir a los Estados Unidos por un novio romántico con la promesa de una vida feliz. Una vez que llega, el feliz sueño se convierte en una pesadilla de ser tratado como un esclavo con tareas domésticas y actividad sexual forzada. Está aislada de sus sistemas de apoyo y avergonzada por su situación. También podría ser un hombre que toma un trabajo con promesas de un determinado salario y deberes, pero considera que eso no es cierto. A menudo, el empleador amenaza con llamar a ICE/policía si los trabajadores se quejan de largas horas o de malas condiciones de vivienda.
Muchos inmigrantes han sufrido abusos relacionados con la trata. No sea tímido al contar su historia a su abogada. Sólo podemos ayudar si sabemos lo que ha sufrido. ¿Tiene preguntas sobre una visa T? ¡Asista a uno de nuestros eventos comunitarios o llámenos para programar una cita al 816-895-6363!