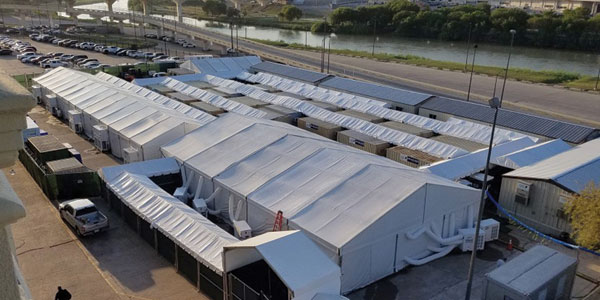 By Chara
The Trump administration has opened tent courts in Brownsville and Laredo, Texas; and Yuma, Arizona, to conduct hearings in the cases of asylum-seekers on the U.S.-Mexico border.
The problem, according to immigration rights activists, is that the courts are not open to the public or the media. Only government contractors and lawyers with clients that have a hearing on that day are allowed inside.
A U.S. Department of Homeland Security (DHS) officer told BuzzFeedNews.com that the hearings are private because of law enforcement-sensitive issues at ports of entry. But according to a statement from the DHS, the public and the media may watch the proceedings from a video link that is generated in a court in San Antonio, where immigration judges will hear the cases of 42,000 asylum seekers.
The Laredo court can host from 200 to 250 cases a day, and the Brownsville court can host 720 a day, according to the Los Angeles Times.
Many immigration lawyers have condemned the tent courts. Laura Lynch, senior policy counsel for the American Immigration Lawyers Association, recently told MSN.com that Trump's administration is violating its own regulations because the administration is not providing the times and locations for the hearings or the judges' names.
"It seems that the administration is blocking legal observers from monitoring the due process deficiencies," Kennji Kizuka, a senior researcher and policy analyst at Human Rights First, told BuzzFeedNews.com. "They are hiding human rights abuses."
Ashley Huebner from the National Immigrant Justice Center told BuzzFeedNews.com that she had entered the courts before they opened. Their setup confirms how absurd they are, Huebner said.
Amnesty International has announced it has plans to visit Texas to seek access to the courts.
__________________________________________________________________________________________
Tribunales de carpas abiertos para solicitantes de asilo
La administración de Trump ha abierto tribunales de carpas en Brownsville y Laredo, Texas; y Yuma, Arizona, para llevar a cabo audiencias sobre los casos de solicitantes de asilo en la frontera entre Estados Unidos y México.
El problema, según los activistas de los derechos de inmigración, es que los tribunales no están abiertos al público ni a los medios de comunicación. Sólo los contratistas y abogados del gobierno con clientes que tengan una audiencia ese día pueden entrar.
Un funcionario del Departamento de Seguridad Nacional le dijo a BuzzFeedNews.com que las audiencias son privadas debido a problemas delicados de aplicación de la ley en los puertos de entrada. Pero según una declaración del DHS, el público y los medios pueden ver los procedimientos desde un enlace de video que se genera en un tribunal en San Antonio, donde los jueces de inmigración escucharán los casos de 42,000 solicitantes de asilo.
El tribunal de Laredo puede atender de 200 a 250 casos por día, y el tribunal de Brownsville puede atender 720 por día, según Los Ángeles Times.
Muchos abogados de inmigración han condenado los tribunales de carpas. Laura Lynch, asesora principal de políticas de la Asociación Estadounidense de Abogados de Inmigración, dijo recientemente a MSN.com que la administración de Trump está violando sus propias regulaciones porque la administración no proporciona los horarios y lugares para las audiencias o los nombres de los jueces.
"Parece que la administración está bloqueando a los observadores legales de monitorear las deficiencias del debido proceso", dijo a BuzzFeedNews.com Kennji Kizuka, investigador principal y analista de políticas de Human Rights First. "Están escondiendo abusos contra los derechos humanos".
Ashley Huebner, del Centro Nacional de Justicia para Inmigrantes, le dijo a BuzzFeedNews.com que había ingresado a los tribunales antes de que abrieran. Su configuración confirma lo absurdos que son, dijo Huebner.
Amnistía Internacional ha anunciado que tiene planes de visitar Texas para buscar acceso a los tribunales.