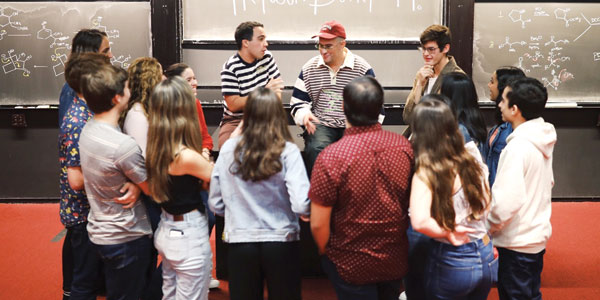 Cambridge (Oct. 25, 2019) – Multiplatinum artist Bad Bunny joined students, aspiring musicians and creatives to give a talk at Harvard University on Oct. 25.
Benito Antonio Martinez Ocasio, best known as "Bad Bunny," is a young musician, singer-songwriter and producer who has become the most important Latin Trap music artist of this generation. Recognized as "the king of Latin Trap," Bad Bunny has dominated the world with his music, collecting billions of views in his music videos on his official YouTube page, positioning himself at the top of the popularity listings of all digital platforms of music. The New York Times has hailed its debut album "X 100PRE" as "better than any album in recent memory," praising the way it "speaks to the fluidity of contemporary Latin music."
In this talk, Bad Bunny discussed the way he opens the space for activism and protest within his music and his presentations. Also, he explored his musical genre and his gender-flexible art, and talked about his vision to create artistic and socially inclusive spaces. The talk was directed by Professor Petra Rivera-Rideau, writer of the book "Remixing Reggaeton: The Cultural Politics of Race in Puerto Rico," which studies the political history of reggaeton in Puerto Rico.
The event was part of the monthly 'Uncut' series from No Label. No Label is a creative agency with a primary focus on the artist, which directs non-traditional spaces for artists to share their ideas. For more information, visit www.nolabel.live.
__________________________________________________________________________________________
Bad Bunny realizará una charla en Harvard para la serie Uncut de No Label
CAMBRIDGE (25 de octubre de 2019) – El artista multi-platino, Bad Bunny, se unió a los estudiantes, aspirantes músicos y creativos para dar una charla en la Universidad de Harvard el 25 de octubre a las 2:30pm.
Benito Antonio Martínez Ocasio, mejor conocido como "Bad Bunny", es un joven músico urbano, cantautor y productor, que se ha desarrollado como el artista de música Trap latino más importante de esta generación. Reconocido como "El Rey del Trap Latino", Bad Bunny ha dominado el mundo con su música, recaudando billones de visitas en sus videos musicales dentro de su página oficial de YouTube, posicionándose en el tope de los listados de popularidad de todas las plataformas digitales de música. El New York Times ha aclamado su álbum debut, "X 100PRE" como, "mejor que cualquier álbum en memoria reciente", elogiando la manera en que, "habla hacia la fluidez de la música latina contemporánea".
En esta charla, Bad Bunny discutió la manera en que abre el espacio para el activismo y la protesta dentro de su música y sus presentaciones. También, exploró su género musical y su arte género-flexible, y habló sobre su visión para crear espacios artísticos y socialmente inclusivos. La charla fue dirigida por la profesora Petra Rivera-Rideau, escritora del libro "Remixing Reggaeton: The Cultural Politics of Race in Puerto Rico", el cual estudia la historia política del reggaetón en Puerto Rico.
El evento fue parte de la serie mensual Uncut de No Label. No Label es una agencia creativa de enfoque primordial hacia el artista, que dirige espacios no tradicionales para que los artistas compartan sus ideas. Para más información, visita www.nolabel.live.