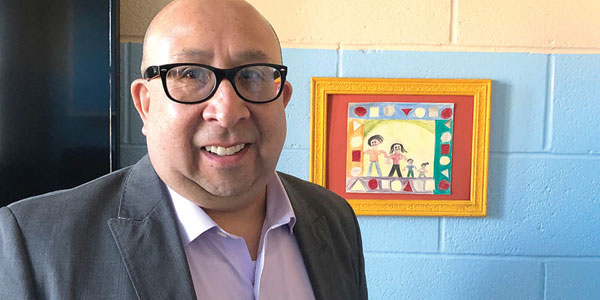 By Roberta Pardo
Mattie Rhodes CEO John Fierro has received criticism over the presence of U.S. Immigration and Customs Enforcement (ICE) personnel at a July community event.
On July 22, Fierro called a meeting to address the violent ICE arrest of undocumented immigrant Florencio Millan. His arrest sparked outrage after a video showed an ICE agent smashing Millan's car window and dragging him out. Millan was deported two days later.
The invitation of ICE personnel generated immediate backlash. More than a month after the meeting, Fierro apologized in a Facebook comment on a Mattie Rhodes post, which also apologized for the situation. He took full responsibility for inviting the agents, and explained he did so trying to "increase (his) own understanding of the policies."
On Oct. 31, KCUR-FM (89.3) released a report indicating the nonprofit had seen a decrease in visits and calls after the event because of the backlash, according to Mattie Rhodes staff members. Fierro, however, said the report was inaccurate — particularly when examining the latest data.
"When you look at our numbers (from) the most recently completed third quarter, we are seeing more individuals in for counseling and case management services than the first two quarters of the year," he said.
Fierro also said the ICE personnel were not allowed to wander the building alone, or given access to participant records or personnel files.
"They never came in close contact with participants that were in the waiting area," he said.
Fierro did not expect the backlash he got when he invited ICE personnel to the meeting after Millan's violent arrest.
"My sole purpose in bringing the meeting together was to hold both the police department and ICE accountable for how they conducted themselves," he said.
A group of staff members met with Fierro to share their concerns about ICE being present at the meeting. He said he listened and followed their suggestions.
The staff that spoke with KCUR under the condition of anonymity gave their reasons for commenting.
"This is not about hurt feelings; it's about betrayal," one staff member said of Fierro to the radio station. "The trust that he has broken within the community, with our participants, with his own staff."
Calls for Fierro's resignation began on social media almost immediately after the July meeting. Weeks later, the Kansas/Missouri Dream Alliance joined the call that has collected more than 700 signatures to date.
Fierro, who has been at Mattie Rhodes for more than 21 years, said he would work to "rebuild the trust with the community."
"That starts with me listening, … partnering and collaborating with others," he said.
_________________________________________________________________________________________
Director de Mattie Rhodes niega rumores de que hay menos llamadas y visitas en el Centro
El director de Mattie Rhodes, John Fierro, recibió críticas sobre la presencia del personal de Inmigración y Control de Aduanas (ICE, por sus siglas en inglés) en un evento comunitario en julio.
El 22 de julio, Fierro convocó una reunión para abordar el violento arresto de ICE del inmigrante indocumentado Florencio Millán. Su arresto provocó indignación después de que un video mostrara a un agente de ICE rompiendo la ventana del auto de Millán y arrastrándolo. Millán fue deportado dos días después.
La invitación del personal de ICE generó críticas inmediatas. Más de un mes después de la reunión, Fierro se disculpó en un comentario de Facebook en una publicación de Mattie Rhodes, que también se disculpó por la situación. Asumió la plena responsabilidad de invitar a los agentes y explicó que lo hizo tratando de "aumentar (su) propia comprensión de las políticas".
El 31 de octubre, KCUR-FM (89.3) publicó un informe que indica que la organización sin fines de lucro había visto una disminución en las visitas y llamadas después del evento debido a la reacción violenta, según los miembros del personal de Mattie Rhodes. Fierro, sin embargo, dijo que el informe era inexacto, particularmente al examinar los últimos datos.
"Cuando revisas nuestros números (del) tercer trimestre completado más recientemente, estamos viendo más personas para recibir servicios de asesoramiento y gestión de casos que los dos primeros trimestres del año", dijo.
Fierro también dijo que no se permitió al personal de ICE deambular sólo por el edificio, ni se les dio acceso a los registros de los participantes o los archivos de personal.
"Nunca entraron en contacto cercano con los participantes que estaban en el área de espera", dijo.
Fierro no esperaba la reacción negativa que recibió cuando invitó al personal de ICE a la reunión después del arresto violento de Millán.
"Mi único propósito al organizar la reunión fue responsabilizar tanto al departamento de policía como a ICE de cómo se comportaron", explicó.
Un grupo de miembros del personal se reunió con Fierro para compartir sus preocupaciones sobre la presencia de ICE en la reunión. Dijo que escuchó y siguió sus sugerencias.
El personal que habló con KCUR bajo condición de anonimato dio sus razones para comentar.
"No se trata de sentimientos heridos; se trata de traición", dijo un miembro del personal sobre Fierro a la estación de radio. "La confianza que ha roto dentro de la comunidad, con nuestros participantes, con su propio personal".
Los llamados a la renuncia de Fierro comenzaron en las redes sociales casi inmediatamente después de la reunión de julio. Semanas después, la Alianza de los Sueños de Kansas/Missouri se unió al llamado que ha recolectado más de 700 firmas hasta la fecha.
Fierro, quien ha estado en Mattie Rhodes por más de 21 años, dijo que trabajaría para "reconstruir la confianza con la comunidad".
"Eso comienza conmigo escuchando, … asociándome y colaborando con otros", dijo.