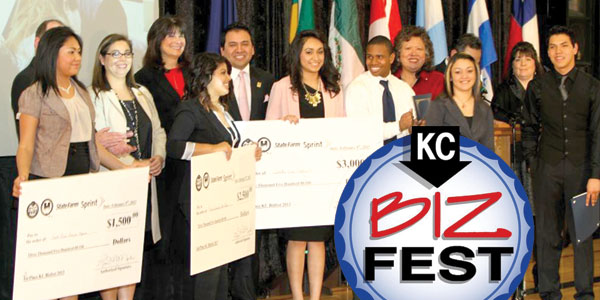 By Chara
Some Kansas City area students will soon have an opportunity to learn multiple skills and business techniques.
The application process has begun for KC BizFest 2020, a training period scheduled for Feb. 12-14, with a graduation ceremony set for Feb. 15. During the training, students will learn about entrepreneurship, leadership, business plans, communication and team roles.
During the program, students will have to create a business plan with the help of mentors and present it. The top six presenters will receive scholarship funding to be used to attend colleges, universities or technical schools.
Available to 100 high school sophomores, juniors and seniors, BizFest is organized every year by the Greater Kansas City Hispanic Collaborative; the Hispanic Chamber of Commerce of Greater Kansas City; and corporations, businesses, colleges and universities. It is co-hosted by Kansas City, Kansas, Community College; and Johnson County (Kansas) Community College.
Students who wish to apply are advised to call (816) 472-6767 or visit http://www.gkchc.com/kc-bizfest/. The application deadline is Nov. 30. The students who are selected will receive a confirmation email by Dec. 16. Students who wish to participate are advised to secure recommendation letters from their teachers, counselors, employers and community leaders.
Previous BizFest participants may not apply. If they want to participate, however, they may do so as mentors.
---
Aplicaciones abiertas para el KC BizFest 2020
Algunos estudiantes del área de Kansas City pronto tendrán la oportunidad de aprender múltiples habilidades y técnicas empresariales.
El proceso de aplicación ha comenzado para el KC BizFest 2020, un período de capacitación programado del 12 al 14 de febrero, con una ceremonia de graduación programada para el 15 de febrero. Durante la capacitación, los estudiantes aprenderán sobre emprendimiento, liderazgo, planes de negocios, comunicación y roles de equipo.
Durante el programa, los estudiantes deberán crear un plan de negocios con la ayuda de mentores y presentarlo. Los seis mejores presentadores recibirán fondos para becas que se utilizarán para asistir a colegios, universidades o escuelas técnicas.
Disponible para 100 estudiantes de segundo año de secundaria, de tercer y cuarto año, BizFest es organizado cada año por la Colaboración Hispana del Gran Kansas City; la Cámara de Comercio Hispana del Gran Kansas City; y corporaciones, empresas, colegios y universidades. Es co-organizado por Kansas City, Kansas, Community College; y Johnson County (Kansas) Community College.
Se recomienda a los estudiantes que deseen aplicar que llamen al (816) 472-6767 o visiten http://www.gkchc.com/kc-bizfest/. La fecha límite para la solicitud es el 30 de noviembre. Los estudiantes seleccionados recibirán un correo electrónico de confirmación antes del 16 de diciembre. Se aconseja a los estudiantes que deseen participar que obtengan cartas de recomendación de sus maestros, consejeros, empleadores y líderes de la comunidad.
Los participantes anteriores de BizFest no pueden aplicar. Sin embargo, si quieren participar, pueden hacerlo como mentores.