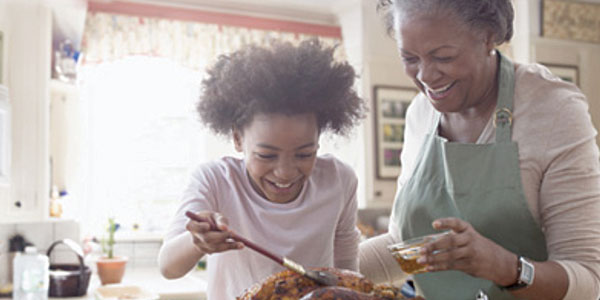 Any time can be the right time to enjoy memorable moments with family members, but the holidays present a special opportunity to have meaningful conversations and interactions with loved ones.
One of the best ways to spark creativity and generate memories is through activities that get the conversation started, whether it's remembering favorite moments from the past or simply sharing notes of appreciation. This holiday season, consider these activity ideas from the Funeral and Memorial Information Council, which created the "Have the Talk of a Lifetime" initiative to encourage families to facilitate conversations that become invaluable when the time comes to honor a loved one.
While these conversations can be difficult to engage in and even harder to begin, the natural bonding moments that stem from activities like these can help make the process easier.
Gratitude Tree
Start a new tradition by creating a gratitude tree, a simple decoration you can look forward to using each year as a reminder of what you and your family are thankful for.
To make a gratitude tree, collect twigs or branches, dry them out and cut them to the desired lengths. Put the branches in a vase or decorative container. Punch holes at the tops of fall-colored paper to be used as tags then instruct guests to write what they're grateful for on each tag.
Take turns reading the tags and tie them to the branches then keep the handwritten tags in a safe place until they can be read again each holiday season. Over the years, as the tree fills up, you'll have a lifetime of memories to share.
Time Capsule
Making a holiday-inspired time capsule can help strengthen family bonds while preserving treasured memories and creating opportunities for future holidays when it's time to reopen the contents.
Use a sealed container or plastic bag to protect items from moisture and mold then place the container in a box that can be decorated and stored in a safe place with related holiday decorations. Mark on the container the date it was created for future reference, and pack it with items like family-favorite recipes; notes about significant events from that year like births, weddings, graduations and more; copies of newspapers detailing high-profile happenings; and pictures, drawings and notes from the year.
If you're patient enough to wait, try leaving the contents undisturbed at least five years to give the memories even more meaning when the time comes to relive those special moments.
Memories Tablecloth
To help keep important family footnotes front and center during future celebrations, a memorial tablecloth provides each person an opportunity to personalize a piece of popular decor. As you gather around the table for holiday meals, ask each family member to jot down a favorite memory or something he or she is thankful for along with a signature and date.
You can make it an annual event by using the same tablecloth each year and, before long, it will be filled with personal memories as a way to cherish relationships as time goes on. Just use an appropriately sized, inexpensive white canvas drop cloth. Place fabric markers in the center of the table before inviting guests to participate, and to help distinguish each year, try using different colored markers.
Find more ways to celebrate the holidays with your loved ones at talkofalifetime.org.
____________________________________________________________________________________________
3 actividades navideñas para compartir con sus seres queridos
Cualquier momento puede ser el momento adecuado con la familia, pero las fiestas presentan una oportunidad especial para tener conversaciones e interacciones con sus seres queridos.
Una de las mejores formas de despertar la creatividad y generar recuerdos es a través de actividades que inicien la conversación, ya sea recordando momentos favoritos del pasado o simplemente compartiendo notas de agradecimiento. Esta temporada festiva, considere estas ideas de actividades del Consejo de Información sobre Funerales y Conmemorativos, que creó la iniciativa "Hablemos de toda una vida" para alentar a las familias a facilitar conversaciones que se vuelven invaluables cuando llega el momento de honrar a un ser querido.
Si bien estas conversaciones pueden ser difíciles de entablar e incluso más difíciles de comenzar, los momentos de unión natural que surgen de actividades como estas pueden ayudar a facilitar el proceso.
Árbol de Gratitud
Comience una nueva tradición creando un árbol de gratitud, una decoración simple que puede usar cada año como recordatorio de lo que usted y su familia están agradecidos.
Para hacer un árbol de gratitud, junte palos o ramas, séquelas y córtelas a la longitud deseada. Ponga las ramas en un jarrón o recipiente decorativo. Haga agujeros en la parte superior del papel de color de otoño para usar como etiquetas y luego indique a los invitados que escriban lo que agradecen en cada etiqueta.
Cápsula del tiempo
Hacer una capsula del tiempo inspirada en las fiestas pueden ayudar a fortalecer los lazos familiares al tiempo que preserva los recuerdos atesorados y crea oportunidades para futuras fiestas cuando llegue el momento de volver a abrir los contenidos.
Use un contenedor sellado o una bolsa plástica para proteger los artículos de la humedad y el moho, luego coloque el recipiente en una caja que pueda decorarse y almacenarse en un lugar seguro con adornos navideños relacionados. Marque en el contenedor la fecha en que se creó para referencia futura, y empaquételo con artículos como recetas favoritas de la familia; notas sobre eventos importantes de ese año, como nacimientos, bodas, graduaciones y más; copias de periódicos que detallan acontecimientos de alto perfil; e imágenes, dibujos y notas del año.
Si tiene la paciencia suficiente para esperar, intente dejar los contenidos intactos durante al menos cinco años para que los recuerdos tengan aún más sentido cuando llegue el momento de revivir esos momentos especiales.
Un mantel de memorias
Para ayudar a mantener importantes notas al pie de la familia al frente y al centro durante futuras celebraciones, un mantel conmemorativo brinda a cada persona la oportunidad de personalizar una pieza de decoración popular. Mientras se reúnen alrededor de la mesa para las comidas festivas, pídale a cada miembro de la familia que anote un recuerdo favorito o algo por lo que esté agradecido junto con una firma y una fecha.
Puede convertirlo en un evento anual usando el mismo mantel cada año y, en poco tiempo, estará lleno de recuerdos personales como una forma de apreciar las relaciones a medida que pasa el tiempo. Sólo use un paño de lona blanco, económico y de tamaño apropiado. Coloque marcadores de tela en el centro de la mesa antes de invitar a los invitados a participar, y para ayudar a distinguir cada año, intente usar marcadores de diferentes colores.
Encuentre más formas de celebrar las fiestas con sus seres queridos en talkofalifetime.org.