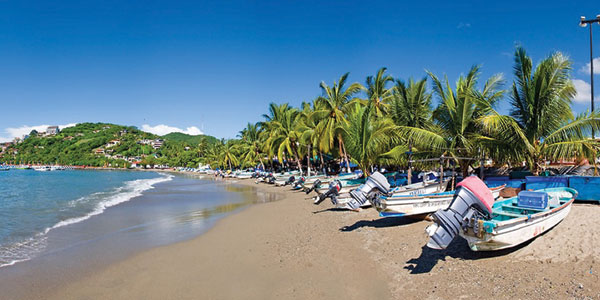 By Tom Sawyer
Welcome tourists! In this edition, we have to talk about one of the preferred tropical paradises of Mexicans. This small but beautiful city is found on the shores of the Pacific Ocean in our neighboring country of Mexico. We refer to Ixtapa Zihuatanejo, Mexico. This town became a city (tourist complex) until 1970 and it actually has a little over 8,000 inhabitants.
For some decades, the new tourist destinations of Mexico have been assigned a name in one of the native languages of the country, in this specific case the name of the city comes from the Nahuatl word "Ixtapa" which means "place that has white," referring to the color of the sand, while Zihuatanejo comes from Purépecha language and means "water from the yellow hill."
Round-trip flights from Kansas to Ixtapa have an average cost of $650 and most flights have two stops. The best way to get around this city is by foot because this tourist corner is relatively small, but if you want to be visiting its wide variety of beaches I recommend you rent a vehicle so you do not waste much time in the transfer of one beach to the other. Regarding lodging, in the city most hotels are 4 or 5 stars, having an average cost of $150 per night. But if you wish to find more options in 3-star hotels with an average cost of $50 per night, I recommend you stay in the neighboring city of Zihuatanejo, which is located only 15 minutes away. If you are looking for international food, I recommend any of the many options offered by the restaurants of both the hotels and those found throughout the city for an average cost of $15 for a full meal. If you want to try a little more of the seasoning state coastal food, I recommend you visit Zihuatanejo and see the many options that are presented there, in addition to an even more accessible price having an average cost of $8 per meal. Do not forget to try the famous fish strips with lemon, purple onion and chili.
The places and things you should not miss during your next visit for this Mexican coastal city are the following:
*Paseo del Pescador: this picturesque route enjoys a beautiful view of the beach, as well as several craft shops and a variety of restaurants, almost all with specialties in seafood.
*El Palmar Beach: the main city of Ixtapa. It measures more than 1.2 miles, which also makes it the longest beach and one of the cleanest and most maintained in all of Mexico. On this beach, one of its main attractions is that you can surf or swim with caution since the waves are moderate. There is a part where its waters are calmer but you must be more careful since they are surrounded by rocks, a nice place to take panoramic photos.
*Quieta Beach: one of the best beaches if you don't know how to swim or if you don't have much experience. The tranquility of its waters make it one of the favorite places to go for families that have small children or people who do not have much experience swimming. Here one of the most accomplished water sports is kayaking.
*Linda Beach: the beach par excellence for couples. On this beach you can take a horse ride, so it makes it very romantic; it also has very calm waters to swim without problems with your partner. Also on this beach there is a crocodile.
*Ixtapa Island: this picturesque island is only 5 minutes away by speedboat. Here you can find four beautiful beaches: the first one is Cuachalalate Beach, that's where all the boats arrive and where you can enjoy a great variety of restaurants, enjoy banana and kayak rides; El Varadero Beach is the ideal place to rest and the best to enjoy the sunsets; Coral Beach is the best for snorkeling and free diving since here is a coral reef that is always full of colors for the flora and fauna of the area; Sacrificio Beach is the most isolated and distant of all, it is the ideal choice if what you want is to be practically alone and with a lot of calmness to relax with the sound of the waves. The boats that take you to the island leave from Linda Beach for less than $10 round trip.
Along almost all beaches you can find the following water activities: parachute, banana ride, kayak, skimboard, surf, fishing and much more.
Without more for the moment I say goodbye not before wishing you have an excellent adventure. Greetings and have a safe trip!
__________________________________________________________________________________________
Conoce Ixtapa
Bienvenidos turistas, en esta edición nos toca hablar de uno de los paraísos tropicales preferidos de los mexicanos, esta pequeña pero hermosa ciudad se encuentra en las costas del Océano Pacífico en nuestro país vecino México. Nos referimos a Ixtapa Zihuatanejo, México. Esta población pasó a ser ciudad (complejo turístico) hasta el año de 1970 y actualmente cuenta con poco más de 8 mil habitantes.
Desde hace algunas décadas, a los nuevos destinos turísticos de México se les asigna un nombre en alguna de las lenguas nativas del país. En este caso en específico el nombre de la ciudad proviene de la palabra en náhuatl "Ixtapa", que significa "lugar que tiene blanco" haciendo referencia al color de la arena de este sitio, mientras que Zihuatanejo proviene de la lengua purépecha y que significa "agua del cerro amarillo".
Los vuelos redondos de Kansas a Ixtapa tienen un costo promedio de $650 y la gran mayoría de los vuelos cuentan con dos escalas. La mejor manera de moverse dentro de esta ciudad es a pie, debido a que este rincón turístico es relativamente pequeño. Pero si deseas estar conociendo su gran variedad de playas te recomiendo rentar un vehículo para que no pierdas mucho tiempo en el traslado de una playa a otra. En cuanto a hospedaje en la ciudad la mayoría de los hoteles son de 4 o 5 estrellas teniendo como costo promedio de $150 por noche, pero si deseas encontrar mayores opciones en hoteles 3 estrellas y a un costo promedio de $50 por noche te sugiero te quedes hospedado en la ciudad vecina de Zihuatanejo, que se encuentra a sólo 15 minutos de distancia. Si buscas comida internacional te recomiendo cualquiera de las muchas opciones que ofrecen los restaurantes tanto de los hoteles como los que se encuentran a lo largo de la ciudad por un costo promedio de $15 por comida completa. Si deseas probar un poco más del sazón de la comida costeña del estado te recomiendo que visites Zihuatanejo y veas las muchas opciones que ahí se presentan. Además, por un precio aún más accesible teniendo un costo promedio de $8 por comida, no dejes de probar las famosas tiritas de pescado con limón, cebolla morada y chile.
Los sitios y cosas que no deberás perderte en tu próxima visita por esta ciudad costera mexicana son los siguientes:
*Paseo del pescador: este pintoresco recorrido goza de una linda vista de la playa, además de que cuenta con varias tiendas de artesanías y una gran variedad de restaurantes, casi todos con especialidad en mariscos.
*Playa el Palmar: se trata de la playa principal de Ixtapa. Mide más de 1.2 millas, lo que la hace además la playa más larga y una de las más limpias y cuidadas de todo México. En esta playa uno de sus principales atractivos es que se puede surfear o nadar con precaución ya que las olas son moderadas. Hay una parte en donde sus aguas son más calmadas pero debes tener más cuidado ya que están rodeadas de rocas; un lindo lugar para tomar fotos panorámicas.
*Playa Quieta: es una de las mejores playas si no sabes nadar o si no tienes mucha experiencia. La tranquilidad de sus aguas la hacen uno de los lugares preferidos para ir las familias que cuentan con niños pequeños o personas que no tienen mucha experiencia nadando. Aquí uno de los deportes acuáticos más realizados es el kayak.
*Playa Linda: es la playa por excelencia para parejas. En esta playa puedes realizar un recorrido a caballo, por lo que la hace muy romántica. También cuenta con aguas muy tranquilas para poder nadar sin inconvenientes con tu pareja. Además en esta playa se encuentra un cocodrilario.
*Isla Ixtapa: esta pintoresca isla se encuentra a tan sólo 5 minutos en lancha de distancia. Aquí podrás encontrar cuatro hermosas playas. La primera es Playa Cuachalalate, que es donde arriban todas las embarcaciones y donde podrás disfrutar de una gran variedad de restaurantes, disfruta de los paseos en banana y en kayak. Playa el Varadero es la ideal para descansar, además que es la mejor para disfrutar de los atardeceres. Playa Coral es la mejor para practicar esnórquel y buceo libre ya que aquí se encuentra un arrecife de coral que siempre está lleno de colores por la flora y fauna de la zona. Playa Sacrificio es la más aislada y lejana de todas, es la ideal si lo que quieres es estar prácticamente a solas y con mucha tranquilidad para relajarte con el sonido de las olas. Desde Playa Linda salen las lanchas que llevan hasta la Isla por un costo inferior a los $10 viaje redondo.
A lo largo de casi todas las playas podrás encontrar las siguientes actividades acuáticas: volar en parachute, paseo en banana, kayak, skimboard, surf, pesca y mucho más.
Sin más por el momento me despido no sin antes desearles tengan una excelente aventura, saludos y buen viaje.