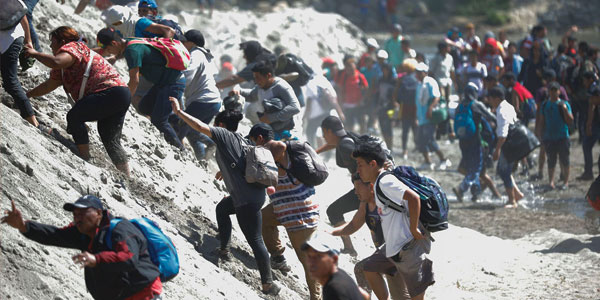 By Angie Baldelomar
Central American immigrants traveling in a caravan tried to force their way through the Mexico-Guatemala border Monday (Jan. 20) after the Mexican government had rejected their petition to transit through the country toward the United States.
According to the Washington Post, about a dozen people appeared to push through the gate of a bridge between the two countries. A larger group crossed the Suchiate River, which separates Guatemala and Mexico. Mexican National Guard troops deployed along the riverbanks tried to stop them.
Monday's caravan was the largest Mexican authorities have seen in a more than a year, with roughly 4,000 people seeking permission to cross through Mexico to the United States. They tried to enter the country by force after a request for permission was denied.
Mexico's migration agency said it was "committed to maintaining a safe, orderly and regular migration," the Post reported.
"The legal provisions do not allow for transitory migration," the agency said.
Video posted on social media showed men throwing rocks and bottles at uniformed security forces. In a video from the news agency Reuters, one immigrant said that they "only want to cross to the United States."
"Let me pass. I only want to work. I'm a single mom and I don't want to return to my country, where there is nothing," she said in the video.
Mexico has ramped up its efforts to enforce immigration after facing pressure from President Trump, including more checkpoints and border controls, and the deployment of the National Guard to Mexico's southern border.
__________________________________________________________________________________________
Migrantes se enfrentan con autoridades mexicanas en la frontera sur de México
Inmigrantes centroamericanos que viajaban en una caravana intentaron abrirse paso a través de la frontera México-Guatemala el lunes (20 de enero) después de que el gobierno mexicano rechazara su petición de tránsito por el país hacia Estados Unidos.
Según el Washington Post, alrededor de una docena de personas parecían empujar a través de la puerta de un puente entre los dos países. Un grupo más grande cruzó el río Suchiate, que separa a Guatemala y México. Las tropas de la Guardia Nacional Mexicana desplegadas a lo largo de las riberas trataron de detenerlos.
La caravana del lunes fue la más grande que las autoridades mexicanas han visto en más de un año, con aproximadamente 4,000 personas buscando permiso para cruzar México a Estados Unidos. Intentaron ingresar al país por la fuerza después de que se les denegara una solicitud de permiso.
La agencia de migración de México dijo que estaba "comprometida a mantener una migración segura, ordenada y regular", reportó el Post.
"Las disposiciones legales no permiten una migración transitoria", dijo la agencia.
El video publicado en las redes sociales mostró a hombres arrojando piedras y botellas a las fuerzas de seguridad uniformadas. En un video de la agencia de noticias Reuters, una inmigrante dijo que "sólo quieren cruzar a Estados Unidos".
"Déjenme pasar. Sólo quiero trabajar. Soy madre soltera y no quiero volver a mi país, donde no hay nada", dijo en el video.
México ha intensificado sus esfuerzos para hacer cumplir la inmigración después de enfrentar la presión del presidente Trump, que incluye más puntos de control y controles fronterizos, y el despliegue de la Guardia Nacional en la frontera sur de México.