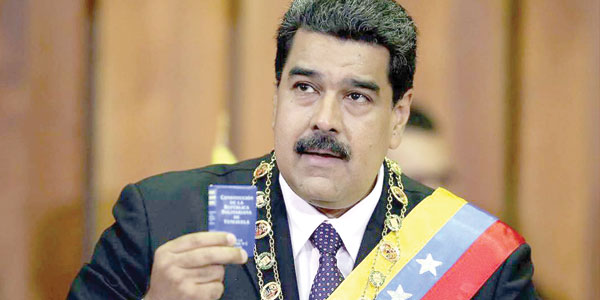 By Jorge Ramos
It's been a little over a year since I interviewed Nicolás Maduro, the Venezuelan dictator, in Caracas — an interview that ended, after some tough questioning, with the confiscation of the video footage and my team's film equipment.
To this day, Maduro hasn't returned a thing to us. So I thought it might be worthwhile to take a close look at what has changed, and what hasn't, in Venezuela in the 12 months since our brief conversation.
On Feb. 25, 2019, I sat down at the Miraflores presidential palace to talk to Maduro. I fully expected our conversation to be contentious, but I was ready. After all, it's not every day you get the chance to interview a dictator widely accused of electoral fraud: More than 50 countries, including the United States, do not recognize the results of the May 2018 vote in which Maduro won reelection, and instead support the opposition leader, Juan Guaidó, as the nation's interim president.
I decided to challenge Maduro with my very first question: "You are not the legitimate president. So how should I address you? They [the opposition] think you are a dictator."
Then I asked him about Venezuela's hundreds of political prisoners, and the failures of Hugo Chávez's Bolivarian Revolution of the late 1990s. The country is now crumbling under the weight of extreme hyperinflation and external debt. Approximately 5 million Venezuelans have left the country, fleeing corruption, hunger, violence and a collapsing health care system.
Then I showed Maduro a video clip recorded on my cellphone in which three Venezuelans can be seen rummaging for food in a garbage truck. There is no doubt that similar scenes can be witnessed in many countries around the world. But in Venezuela such acts of desperation contradict the official narrative of a "Chavista" government, supposedly dedicated to protecting the most vulnerable.
The video was the last straw; Maduro couldn't take it anymore. After just 17 minutes, the president called the whole thing off. His communications minister, Jorge Rodríguez, said the interview "wasn't authorized" and ordered his agents to seize our equipment, including our video cameras and memory cards.
Never before in my career had I been robbed that way of an interview; never before had I been held and searched for two hours, as I was with the six other journalists in my Univision crew. No one had ever forcibly taken my phone and bag; never before had I been deported from a country simply because I had asked uncomfortable questions.
Luckily, the interview wasn't entirely lost. Last June, unnamed sources provided us with a copy of some footage that officials in the Maduro administration had recorded at the same time we were recording.
So what has happened in Venezuela since the interview? Although the country's crisis has worsened, Maduro has managed to hold on to power. The military — the strongest pillar of his regime — still stands beside him. As for the ruling class, and the regime's financial allies, they've come to depend so much on Maduro's survival that they fear losing everything if there's a change in leadership.
Neither the economic sanctions imposed by the United States and other countries nor the protests in Venezuela's major cities have succeeded in bringing down the regime. Despite the growing humanitarian tragedy, Maduro remains in power aided by his government's brutal suppression of his opponents: According to a United Nations report, the administration has criminalized its political opposition and detained and tortured dissidents. In 2019, when people took to the streets in mass protests, 5,286 people died as a result of their "resistance to authority."
Unfortunately, the opposition has failed to rise above the stalemate. Guaidó recently told me that it had "underestimated" the regime. As a result, it has suffered two major defeats: the unsuccessful effort in February 2019 to deliver humanitarian aid to Venezuela in the face of government opposition; and the failed call on April 30 for a military uprising (when some of the alleged conspirators reportedly backed out at the last minute). "We underestimated at some point their capacity for evil, their readiness to destroy our country, to persecute," Guaidó said of the regime.
The situation could still take a turn for the worse if hasty decisions are made. A U.S.-led military invasion would be a terrible mistake. The history of U.S. interventions in Latin America is not one of successes. America's efforts in the region, such as those in Guatemala in 1954 and Chile in 1973, failed to strengthen democracy, instead bolstering long-standing dictatorships and leading to many deaths.
What, then, lies ahead for Venezuela? The United States plans to move ahead with a "maximum pressure" policy to oust Maduro. During a press call last month with reporters — coordinated by the White House the same day Guaidó met with President Donald Trump in Washington — senior administration officials warned that Venezuela had become a narco-state. However, they believed the stress on Maduro caused by "maximum pressure" would ultimately create an opportunity for a democratic transition.
That, anyway, is America's plan for promoting democracy in Venezuela. It includes additional economic sanctions on the regime — the seizure of its accounts and assets — as well as travel bans on government representatives and allies. But this requires patience, and so far Maduro has shown an unexpected resilience.
Regardless of what the U.S. does or doesn't do, it is ultimately only the Venezuelans who can decide the future of their country. And they are determined to push for change: When Guaidó recently traveled to Madrid, thousands of Venezuelans welcomed him with chants of "Freedom!" Nothing can stop an idea with such power behind it, and Venezuela is not alone in its fight for democracy.
In the end, all dictators fall. Without exception. But they don't fall on their own; somebody has to be there to push.
______________________________________________________________________________________________
Venezuela, ¿a dónde vas?
Hace poco más de un año, en Caracas, el dictador venezolano Nicolás Maduro nos robó una entrevista y todo nuestro equipo de filmación. Hoy, todavía, no nos ha regresado nada. Pero vale la pena ver qué ha cambiado —y qué no— en Venezuela en los últimos 12 meses.
Así como he hecho con decenas de líderes en todo el mundo, el lunes 25 de febrero de 2019 me senté en el Palacio de Miraflores para conversar con Maduro. Sabía que iba a ser un encuentro difícil; no todos los días se entrevista a un dictador acusado de realizar un fraude electoral: más de medio centenar de países, incluido Estados Unidos, no reconocieron los resultados de las elecciones de mayo de 2018, en las que resultó reelegido, y prefirieron apoyar al líder de la oposición, Juan Guaidó, como presidente interino de la nación. Por eso decidí confrontarlo desde la primera pregunta: "Usted no es el presidente legítimo. Entonces ¿cómo le llamo? Para ellos [la oposición] usted es un dictador".
La entrevista duró 17 minutos. Además de su falta de legitimidad, lo cuestioné sobre la detención de cientos de prisioneros políticos y el fracaso de la Revolución bolivariana. El país se desmorona con una hiperinflación desbordada y una deuda externa colosal. Casi cinco millones de venezolanos han huido de su país por la corrupción, el hambre, la violencia y el colapso del sistema de salud.
Al final le mostré a Maduro un video que yo grabé con mi celular de tres venezolanos comiendo de un camión de basura. Claro, esto se puede ver en muchos países del mundo. Pero en Venezuela va en contra de la narrativa oficial de que el gobierno chavista protege a los más desamparados. Y ahí el dictador se quebró.
Maduro se levantó de su silla, dio por terminada la entrevista y su ministro de Comunicación, Jorge Rodríguez —argumentando que esa entrevista "no estaba autorizada"— le ordenó a sus agentes confiscar las cámaras de Univision, todo nuestro equipo y las tarjetas de video.
Nunca en mi carrera me habían robado una entrevista, ni detenido y cacheado por dos horas junto con otros seis periodistas de Univision, ni despojado por la fuerza de mi celular y mochila, ni deportado del país al día siguiente, sólo por hacer preguntas difíciles. Afortunadamente, la entrevista no se perdió. En junio pasado obtuvimos, de fuentes confidenciales, una copia que había sido filmada simultáneamente a la nuestra por funcionarios del gobierno venezolano.
¿Qué ha pasado desde entonces en Venezuela? Aunque la crisis venezolana se acentúa, Maduro sigue en el poder. Los militares —el principal pilar de su dictadura— aún lo apoyan. Y la clase gobernante y sus aliados financieros están tan involucrados en ese colapso que temen perderlo todo con un cambio de gobierno.
Ni las sanciones económicas de Estados Unidos y otros países, ni las protestas en las principales ciudades de Venezuela han ocasionado la caída del régimen. Maduro se aferra al poder mientras la tragedia humanitaria continúa y la represión de su gobierno se mantiene férrea: según un informe de la alta comisionada de las Naciones Unidas para los derechos humanos, el gobierno de Maduro ha criminalizado a la oposición, encarcelado y torturado a disidentes y, sólo en 2019, cuando surgieron manifestaciones sociales multitudinarias, murieron 5286 personas por "resistirse a la autoridad". Y la oposición no ha sabido descifrar este estancamiento.
El propio Guaidó recientemente reconoció que habían subestimado al régimen. Como resultado, la oposición arrastra dos fracasos importantes: el intento infructuoso en febrero de 2019 de distribuir ayuda humanitaria internacional en Venezuela a pesar de la negativa del gobierno a recibirla (quedó atorada en un puente de Colombia) y el levantamiento militar fallido del 30 de abril de ese mismo año (según consta, algunos de los presuntos conspiradores se arrepintieron de participar en el último minuto). "Subestimamos en algún momento la capacidad de hacer mal, de destruir a nuestro país, de perseguir", me dijo Guaidó en referencia al régimen.
El problema se podría hacer aún más grande si se consideran alternativas apresuradas. Como una invasión militar liderada por Estados Unidos. Sería un gran error. El historial de las intervenciones estadounidenses en América Latina no ha tenido buenos saldos. Como muestran los casos de Guatemala en 1954 o de Chile en 1973, la intervención de Estados Unidos no contribuyó a fortalecer las democracias y sí derivó en la instauración de largas dictaduras y un exceso de muertos y abusos.
¿Cuál es, entonces, la salida en Venezuela? La nueva estrategia de Estados Unidos para sacar a Maduro del poder fue descrita como de "máxima presión". En una conferencia telefónica con reporteros —coordinada por la Casa Blanca el mismo día en que Guaidó se reunió con Trump en Washington— un alto funcionario del gobierno estadounidense advirtió que Venezuela se había convertido en un narco-Estado pero que la política de presión aplicada por Estados Unidos sería insostenible a la larga para el gobierno de Maduro, lo que abriría una oportunidad para una transición democrática.
Ese es el plan de Estados Unidos para una transición democrática en Venezuela. Una política de "incrementalismo". Eso significa más sanciones económicas al régimen y confiscación de cuentas, propiedades y prohibiciones de viaje a sus representantes y aliados. Hasta ahora, ese plan ha exigido paciencia y Maduro ha probado tener una capacidad de resiliencia inesperada.
Pero al margen de lo que haga Estados Unidos, el futuro de Venezuela es sólo de los venezolanos. De nadie más. El reciente viaje de Guaidó a Madrid, en el que miles de venezolanos lo recibieron con gritos de "¡Libertad!", es una muestra de que el deseo de cambio está intacto. No hay nada que pueda parar una idea poderosa. Y Venezuela no está sola.
Al final —y esto no falla— todos los dictadores caen. Pero no caen solos; hay que empujarlos.