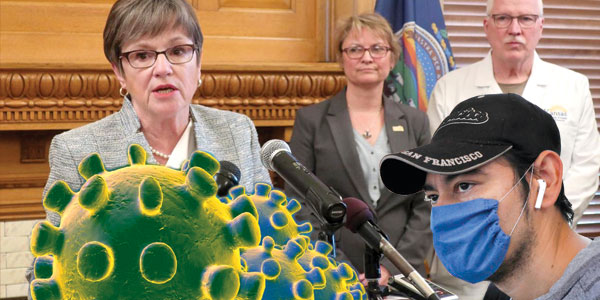 By Chara
There is one confirmed case of the coronavirus in the Kansas City area, according to the U.S. Centers for Disease Control and Prevention (CDC).
Health authorities in Kansas City, Kansas, have confirmed that a patient with COVID-19 was admitted recently to KU Medical Center. The patient is a female from Johnson County, Kansas, who is in a specialized area to receive treatment.
"KDHE (Kansas Department of Health and Environment) continues to work with the local health department and (the) CDC to identify and contact people who may have come into contact with the individual while they were infectious, and will monitor them for fever and respiratory symptoms," a statement from Kansas Gov. Laura Kelly read. "The patient is a female under the age of 50 years old. No other information will be provided about the patient."
The government of Kansas City, Missouri, claims it is monitoring the number of cases in Kansas City and in Missouri's second largest city, St. Louis.
"Our health department is leading our preparation and is working closely with several other city health departments across the nation," Kansas City Mayor Quinton Lucas said in a statement. "Additionally, cities and counties across our state are working together to share information, and we will keep working with our regional partners to keep the public safe."
At press time, most of the coronavirus cases in the United States were on the West Coast. The state of Washington had reported 136 cases. California had reported 110 cases.
To avoid contacting the coronavirus, people are advised to wash their hands before they cook and eat, and after using the bathroom and nose blowing. They also are advised to avoid traveling if they feel feverish or sick, particularly to affected countries, including Italy, Japan and Iran. In addition, people are advised to avoid wearing a medical mask, unless they feel sick. Self-medication is discouraged, too.
Anyone who feels ill is advised to pay attention to their symptoms. Anyone whose symptoms consist of a fever, coughing and shortness of breath is advised to see a doctor.
______________________________________________________________________________________________
El coronavirus llegó al área de Kansas
Hay un caso confirmado de coronavirus en el área de Kansas City, según los Centros para el Control y la Prevención de Enfermedades (CDC, por sus siglas en inglés).
Las autoridades de la salud en Kansas City, Kansas, confirmaron que un paciente con COVID-19 fue admitido recientemente al KU Medical Center. La paciente es una mujer del Condado de Johnson, Kansas, quien está en una área especializada para recibir tratamiento.
"KDHE (las siglas en inglés del Departamento de Salud y Medio Ambiente de Kansas) continúa trabajando con el departamento de salud local y (los) CDC para identificar y contactar a las personas que pudieron haber estado en contacto con la persona mientras eran infecciosas, y las controlará para detectar fiebre y síntomas de enfermedades respiratorias", se lee en un comunicado de la gobernadora de Kansas, Laura Kelly. "La paciente es una mujer menor de 50 años. No se proporcionará ninguna otra información sobre el paciente".
El gobierno de Kansas City, Missouri, afirma que está monitoreando el número de casos en Kansas City y en la segunda ciudad más grande de Missouri, St. Louis.
"Nuestro departamento de salud lidera nuestra preparación y está trabajando en estrecha colaboración con otros departamentos de salud de la ciudad en todo el país", dijo el alcalde de Kansas City, Quinton Lucas, en un comunicado. "Además, las ciudades y los condados de nuestro estado están trabajando juntos para compartir información, y seguiremos trabajando con nuestros socios regionales para mantener al público seguro".
Al cierre de esta edición, la mayoría de los casos de coronavirus en Estados Unidos estaban en la costa oeste. El estado de Washington había reportado 136 casos. California había reportado 110 casos.
Para evitar contraer el coronavirus, se aconseja a las personas que se laven las manos antes de cocinar y comer, y después de usar el baño y sonarse la nariz. También se les aconseja que eviten viajar si se sienten con fiebre o enfermos, especialmente en los países afectados, como Italia, Japón e Irán. Además, se aconseja a las personas que eviten usar una máscara médica, a menos que se sientan enfermas. Tampoco se aconseja la automedicación.
Se recomienda a cualquiera que se sienta enfermo que preste atención a sus síntomas. Cualquier persona cuyos síntomas consisten en fiebre, tos y falta de aliento se recomienda consultar a un médico.