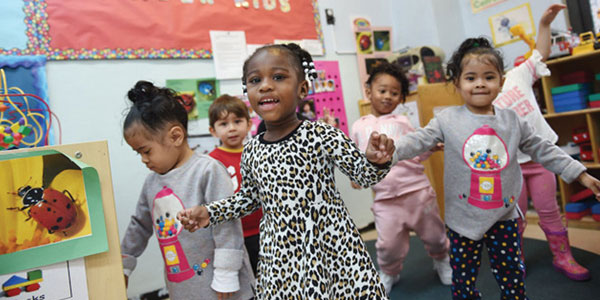 TOPEKA – With essential businesses still open and schools closed, some parents are searching for daytime childcare. YWCA Northeast Kansas is working to meet the greater Topeka community's crucial needs for childcare in their Early Learning Center (ELC).
"Understanding and responding to community needs is just who we are as an organization," CEO Kathleen Marker said, "Even though our world seems to be filled with unknowns, YWCA Northeast Kansas is rising to the challenge of adapting our programs and services to continue supporting families in our community."
Marker said they currently have spots available for at least 10 children, ages 1 and walking through pre-kindergarten, in their facility at 12th and VanBuren. The YWCA Early Learning Center is open Monday-Friday from 6:30 a.m. – 6 p.m. with tuition costing between $130 and $160 each week.
"Childcare should not be a concern at this moment in time when folks are needed to take care of the rest of us. YWCA is on a mission to improve access to quality, affordable, and accessible early childhood programs," Marker said.
Marker also mentioned that normal sources of revenue are not coming in due to COVID-19, therefore donations are important right now. To learn more about how to support YWCA Northeast Kansas and a list of their current needs, visit https://www.ywcaneks.org/get-involved/.
---
YWCA Northeast Kansas continúa brindando cuidado infantil asequible y de calidad en medio de Covid-19
TOPEKA: Con negocios esenciales aún abiertos y escuelas cerradas, algunos padres están buscando cuidado infantil durante el día. YWCA Northeast Kansas está trabajando para satisfacer las necesidades cruciales de cuidado infantil de la comunidad de Topeka en su Early Learning Center (ELC).
"Comprender y responder a las necesidades de la comunidad es sólo lo que somos como organización", dijo la directora ejecutiva Kathleen Marker. "Aunque nuestro mundo parece estar lleno de incógnitas, YWCA Northeast Kansas se enfrenta al desafío de adaptar nuestros programas y servicios para continuar apoyando a las familias en nuestra comunidad".
Marker dijo que actualmente tienen plazas disponibles para al menos 10 niños, de 1 año de edad y que caminan por el prejardín de infantes, en sus instalaciones en 12th y VanBuren. El YWCA Early Learning Center está abierto de lunes a viernes de 6:30 a.m. a 6 p.m. con matrícula que cuesta entre $130 y $160 por semana.
"El cuidado de niños no debería ser una preocupación en este momento cuando se necesita gente para cuidar al resto de nosotros. YWCA tiene la misión de mejorar el acceso a programas para la primera infancia de calidad, asequibles y accesibles", dijo Marker.
Marker también mencionó que las fuentes normales de ingresos no están llegando debido a COVID-19, por lo tanto, las donaciones son importantes en este momento. Para obtener más información sobre cómo apoyar a YWCA Northeast Kansas y una lista de sus necesidades actuales, visite https://www.ywcaneks.org/get-involved/.