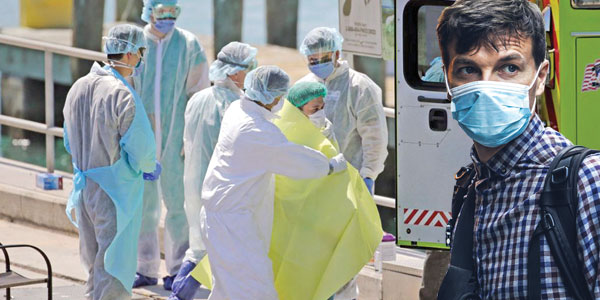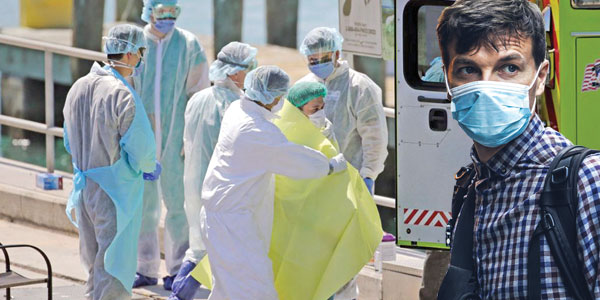 COVID-19 cases reach more than 1,100 in Kansas, more than 3,300 in Missouri
By Roberta Pardo
The Kansas Department of Health and Environment has confirmed Wednesday (April 8) that Kansas has reached 1,046 COVID-19 cases.
As of Wednesday, Wyandotte and Johnson counties had the highest number of cases in the state, with 245 and 244, respectively. Other counties also reporting a high number of cases included Sedgwick County, where Wichita is located, with 134; Leavenworth County with 59; and Shawnee County, where Topeka is, with 43.
Almost half of confirmed cases—around 45.6 percent—have led to hospitalization, according to state data. The state's health department reported 38 total deaths related to COVID-19.
Dr. Sanmi Areola, Johnson County public health director, confirmed the county numbers at a virtual press conference Wednesday while confirming a random drive-thru coronavirus testing.
The current data they have, Areola said, shows that 4 out of 5 people with COVID-19 are infected by people without symptoms.
Across the state line, Missouri officials reported 3,327 positive cases for COVID-19, as of Wednesday. Officials also confirmed that 58 people had died from the coronavirus in Missouri.
The areas hit the hardest included St. Louis County, with 1,302 cases; St. Louis with 444; St. Charles with 254; Kansas City with 249; and Jackson County with 167.
The number of hospitalized patients was 519, an increase of 11 from Tuesday (April 7).
The difference in confirmed cases between Kansas and Missouri has been attributed to the fact that Missouri has conducted more than three times as many tests as Kansas.
Nationwide, there were at least 423,100 confirmed cases of COVID-19. The number of deaths rose to 14,495 as of Wednesday afternoon, according to the Johns Hopkins University & Medicine Coronavirus Resource Center. Worldwide, there were more than 1,390,500 cases and nearly 79,100 deaths as of Tuesday.
_______________________________________________________________________________
Casos de COVID-19 llegan a más de 1,100 en Kansas y a más de 3,300 en Missouri
Se han confirmado 1,046 casos de COVID-19 en Kansas, según confirmaron los oficiales de salud del estado el miércoles (8 de abril).
Hasta el miércoles, los condados de Wyandotte y Johnson tenían el mayor número de casos en el estado, con 245 y 244, respectivamente. Otros condados que también reportaron una gran cantidad de casos incluyeron el condado de Sedgwick, donde se encuentra Wichita, con 134; el condado de Leavenworth con 59; y el condado de Shawnee, donde está Topeka, con 43.
Casi la mitad de los casos confirmados, alrededor del 45,6 por ciento, han terminado en la hospitalización, según datos estatales. El departamento de salud del estado reportó 38 muertes totales relacionadas con COVID-19.
El Dr. Sanmi Areola, director de salud pública del condado de Johnson, confirmó los números del condado en una conferencia de prensa virtual el miércoles mientras confirmaba una prueba de coronavirus al azar.
Los datos actuales que tienen, dijo Areola, muestran que 4 de cada 5 personas con COVID-19 están infectadas por personas sin síntomas.
Al otro lado de la línea estatal, los funcionarios de Missouri reportaron 3,327 casos positivos para COVID-19, hasta el martes. Las autoridades también confirmaron que 58 personas habían muerto por el coronavirus en Missouri.
Las áreas más afectadas fueron el condado de St. Louis, con 1,302 casos; San Luis con 444; St. Charles con 254; Kansas City con 249; y el condado de Jackson con 167.
El número de pacientes hospitalizados fue de 519, un aumento de 11 desde el martes (7 de abril).
La diferencia en casos confirmados entre Kansas y Missouri se ha atribuido al hecho de que Missouri ha realizado más de tres veces más pruebas que Kansas.
A nivel nacional, hubo al menos 423,100 casos confirmados de COVID-19. El número de muertes aumentó a 14,495 a partir del martes por la tarde, según el Centro de Recursos de Coronavirus de la Universidad y Medicina de Johns Hopkins. A nivel mundial, hubo más de 1,390,500 casos y casi 79,100 muertes hasta el martes.