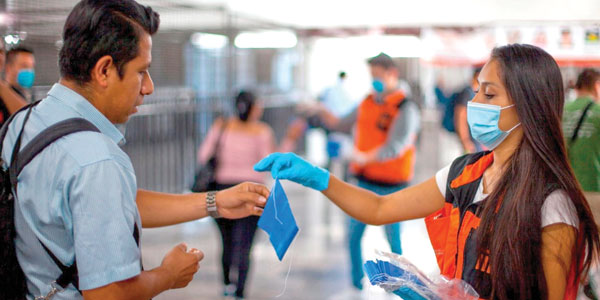 By Chara
On Tuesday (April 21), the Mexican government announced that Mexico had entered Phase 3, the most critical phase of the coronavirus pandemic (COVID-19).
The government announced that, during Phase 3, the transmission of the virus intensifies. Thus, it will be likely that more people will require hospitalization.
Deputy Health Minister Hugo Lopez-Gatell said the announcement of Phase 3 was to make people aware of the seriousness of the virus and to emphasize the need to follow the government's instructions.
"Today, Phase 3 of the COVID-19 epidemic is initiated," Lopez-Gatell said during a press conference. "We remind you, this is a phase of rapid ascent, with a great number (of) cases of contagion."
As of Tuesday, Mexico reported 9,501 confirmed cases and 857 deaths, with the number of cases expected to increase.
According to the newspaper Milenio, during Phase 3, more than 85% of the Mexican population is expected to get the virus. However, not all people will become ill. Health officials have predicted that about 300,000 people will become ill during this phase.
Lopez-Gatell said hospitals would increase their capacity during Phase 3. He also told reporters that infrastructure not initially destined for the treatment of coronavirus patients would be used. In addition, Lopez-Gatell mentioned that the government had reached an agreement with private institutions to have 3,000 additional beds to treat illnesses that are not related to COVID-19.
The Mexican government has extended its restrictions for non-essential activities until May 30. Those who do not follow the restrictions will be fined.
In other COVID-19 news, Mexico's social distancing guideline between people has been expanded from 1.5 meters to 2.25 meters apart outside the home. This is more than the guideline of 6 feet (about 1.8 meters) being used in various U.S. communities.
_______________________________________________________________________________________________________________
México entra a la fase 3 de la pandemia del COVID-19
El martes (21 de abril), el gobierno mexicano anunció que México había entrado a la fase 3, la fase más crítica de la pandemia del coronavirus (COVID-19).
El gobierno anunció que, durante la fase 3, la transmisión del virus se intensifica. Por lo tanto, es probable que más personas requieran hospitalización.
El viceministro de Salud, Hugo López-Gatell, dijo que el anuncio de la fase 3 era para que las personas conocieran la gravedad del virus y enfatizar la necesidad de seguir las instrucciones del gobierno.
"Hoy se inicia la Fase 3 de la epidemia de COVID-19", dijo López-Gatell durante una conferencia de prensa. "Les recordamos que esta es una fase de ascenso rápido, con una gran cantidad (de) casos de contagio".
Hasta el martes, México reportó 9,501 casos confirmados y 857 muertes, y se espera que el número de casos aumente.
De acuerdo al periódico Milenio, durante la fase 3, se espera que más del 85 por ciento de la población mexicana contraiga el virus. Sin embargo, no todas las personas se enfermarán. Los funcionarios de salud han pronosticado que alrededor de 300,000 personas se enfermarán durante esta fase.
López-Gatell dijo que los hospitales aumentarían su capacidad durante la fase 3. También dijo a los reporteros que se utilizaría una infraestructura no destinada inicialmente para el tratamiento de pacientes con coronavirus. Además, López-Gatell mencionó que el gobierno había llegado a un acuerdo con instituciones privadas para tener 3,000 camas adicionales para tratar enfermedades que no están relacionadas con COVID-19.
El gobierno mexicano ha extendido sus restricciones para actividades no esenciales hasta el 30 de mayo. Los que no cumplan las restricciones serán multados.
En otras noticias de COVID-19, la directriz de distanciamiento social de México entre personas se ha ampliado de 1,5 metros a 2,25 metros fuera de la casa. Esto es más que el consejo usual de 6 pies (aproximadamente 1,8 metros) que se usa en varias comunidades de Estados Unidos.