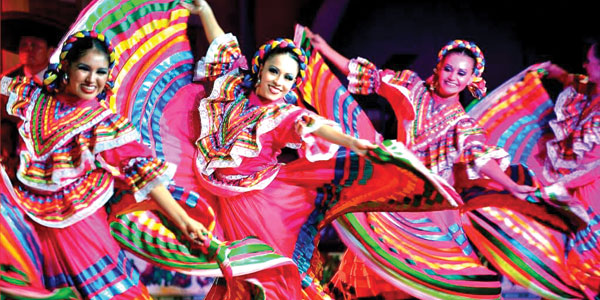 By Chara
September is a month of celebration for many countries in Latin America.
The reason: That is when they observe their Fiestas Patrias (Independence Days in English).
Some of the countries that celebrate Independence Day in September include Mexico, Guatemala, Brazil, Honduras, Costa Rica and El Salvador.
Fiestas Patrias are days for Latin American countries to celebrate not only their independence from Spanish or Portuguese colonization, but also their national heritage and culture, as Susana Gonzalez will attest.
"Whenever I think of Fiestas Patrias, I think of culture and celebration," said Gonzalez, a Lee's Summit, Missouri, resident. "I enjoy explaining to my friends how we celebrate Independence Day back in Mexico."
During the Fiestas Patrias, families get together with friends and celebrate with food, beverages and traditions that remind them of their heritage and traditions. Sometimes, there are special events involved. For example, on Sept. 15, Mexicans celebrate Mexican Independence Day by watching "El Grito" ("The Shout" in English), a ceremony hosted each in downtown Mexico City by the president from the balcony at Palacio Nacional, followed by fireworks, music and other festivities. Families that cannot go to Palacio Nacional often celebrate with a dinner at home and by watching "El Grito" on television.
Other countries that celebrate Independence Day on Sept. 15 are El Salvador, Guatemala and Honduras.
This year, however, observances of Fiestas Patrias may be different because of the pandemic. Many celebrations will be hosted virtually or in small groups.
___________________________________________________
Muchos países latinoamericanos se preparan para sus fiestas patrias
Septiembre es un mes de celebración para muchos países de Latinoamérica.
La razón: es entonces cuando celebran sus fiestas patrias.
Algunos de los países que celebran el Día de la Independencia en septiembre incluyen México, Guatemala, Brasil, Honduras, Costa Rica y El Salvador.
Las fiestas patrias son días para que los países latinoamericanos celebren no sólo su independencia de la colonización española o portuguesa, sino también su herencia y cultura nacional, como atestiguará Susana González.
"Cuando pienso en las fiestas patrias, pienso en la cultura y celebración", dijo González, residente de Lee's Summit, Missouri. "Disfruto explicarles a mis amigos cómo celebramos el Día de la Independencia en México".
Durante las fiestas patrias, las familias se reúnen con amigos y celebran con comidas, bebidas y tradiciones que les recuerdan su herencia y tradiciones. A veces, hay eventos especiales involucrados. Por ejemplo, el 15 de septiembre, los mexicanos celebran el Día de la Independencia de México viendo "El Grito", una ceremonia organizada por el presidente en el centro de la Ciudad de México desde el balcón del Palacio Nacional, seguida de fuegos artificiales, música y otras festividades. Las familias que no pueden ir al Palacio Nacional suelen celebrar con una cena en casa y viendo "El Grito" en la televisión.
Otros países que celebran el Día de la Independencia el 15 de septiembre son El Salvador, Guatemala y Honduras.
Este año, sin embargo, las celebraciones de fiestas patrias pueden ser diferentes debido a la pandemia. Muchas celebraciones se realizarán virtualmente o en pequeños grupos.