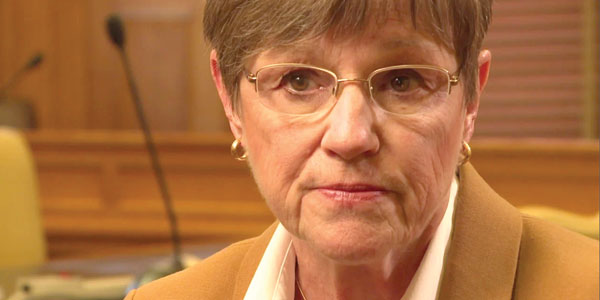 TOPEKA – Gov. Laura Kelly announced her administration's grant application for FEMA's Lost Wages Assistance program (LWA) received federal approval and an award of $63 million to assist Kansans who have lost their jobs due to the COVID-19 pandemic. 
 "I appreciate the Federal Emergency Management Agency for its quick response to my administration's application, and for making these funds available to those who need them throughout our state and nation," Kelly said. "We will work to distribute these dollars as quickly and efficiently as possible to keep Kansas families in their homes and food on their tables."
Acting Secretary of Labor Ryan Wright called on Congress to find a permanent solution.
"This program is not a permanent solution, and during these difficult times we implore Congress to come together and act to fund permanent unemployment solutions for all individuals and families in need across the country," he said. 
 The program is limited in scope and, due to federal restrictions, will only be available to those who are receiving at least $100 in unemployment benefits. The implementation of the LWA program will take several weeks to execute, and the Kansas Department of Labor (KDOL) estimates that claimants will begin receiving benefits no sooner than late September. 
 Unlike the $600 a week Pandemic Unemployment Assistance (PUA) program that expired in July, a claimant must self-certify her or his unemployment or partial unemployment is due to disruptions caused by COVID-19. For those who are eligible, payments will be retroactive to the week ending Aug. 1, and will remain in effect until FEMA terminates the program.
 On Aug. 8, President Donald Trump issued an executive memorandum authorizing the Federal Emergency Management Agency (FEMA) to expend up to $44 billion from its Disaster Relief Fund to provide lost wage assistance to Americans receiving unemployment benefits.
 Kelly proposed the $400 option for LWA as a way to get additional money into the hands of unemployed Kansans. On Sept. 2, the SPARK Taskforce agreed to the proposal and to spending $63 million in CARES Act funds to assist Kansans. On Sept. 3, legislative leaders on the State Finance Council (SFC) rejected the proposal. In response, Kelly ordered KDOL to apply for the $300 option. The reduced amount will not require SPARK or SFC approval to implement. 
 For more information, or to apply for unemployment benefits, go to www.GetKansasBenefits.gov. 
___________________________________________________
Gobernadora Kelly anuncia que Kansas recibirá $63 millones en fondos de desempleo de FEMA
Topeka—La gobernadora Kelly anunció que la solicitud de subvención de su administración para el programa de Asistencia para Salarios Perdidos (LWA, por sus siglas en inglés) de FEMA recibió la aprobación federal y una concesión de $63 millones para ayudar a los habitantes de Kansas que perdieron sus trabajos debido a la pandemia de COVID-19.
"Agradezco a la Agencia Federal para el Manejo de Emergencias por su rápida respuesta a la solicitud de mi administración y por poner estos fondos a disposición de quienes los necesitan en todo nuestro estado y nación", dijo Kelly. "Trabajaremos para distribuir estos dólares de la manera más rápida y eficiente posible para mantener a las familias de Kansas en sus hogares y comida en sus mesas".
El secretario de Trabajo interino, Ryan Wright, pidió al Congreso que encontrara una solución permanente.
"Este programa no es una solución permanente, y durante estos tiempos difíciles imploramos al Congreso que se una y actúe para financiar soluciones permanentes de desempleo para todas las personas y familias necesitadas en todo el país", dijo.
El programa tiene un alcance limitado y, debido a las restricciones federales, sólo estará disponible para quienes reciben al menos $100 en beneficios de desempleo. La implementación del programa LWA tardará varias semanas en ejecutarse, y el Departamento de Trabajo de Kansas (KDOL) estima que los reclamantes comenzarán a recibir beneficios a más tardar a fines de septiembre.
A diferencia del programa de Asistencia por Desempleo Pandémico (PUA, por sus siglas en inglés) de $600 por semana que expiró en julio, un reclamante debe autocertificar que su desempleo o desempleo parcial se debe a interrupciones causadas por COVID-19. Para aquellos que son elegibles, los pagos serán retroactivos a la semana que finaliza el 1 de agosto y permanecerán vigentes hasta que FEMA cancele el programa.
El 8 de agosto, el presidente Donald Trump emitió un memorando ejecutivo autorizando a la Agencia Federal para el Manejo de Emergencias (FEMA, por sus siglas en inglés) a gastar hasta $44 mil millones de su Fondo de Ayuda para Desastres para brindar asistencia salarial perdida a los estadounidenses que reciben beneficios de desempleo.
Kelly propuso la opción de $400 para LWA como una forma de poner dinero adicional en manos de los habitantes de Kansas desempleados. El 2 de septiembre, el Grupo de Trabajo SPARK estuvo de acuerdo con la propuesta y con el gasto de $63 millones en fondos de la Ley CARES para ayudar a los habitantes de Kansas. El 3 de septiembre, los líderes legislativos del Consejo de Finanzas del Estado (SFC) rechazaron la propuesta. En respuesta, Kelly ordenó a KDOL que solicitara la opción de $300. La cantidad reducida no requerirá la aprobación de SPARK o SFC para su implementación.
Para obtener más información o para solicitar beneficios por desempleo, visite www.GetKansasBenefits.gov