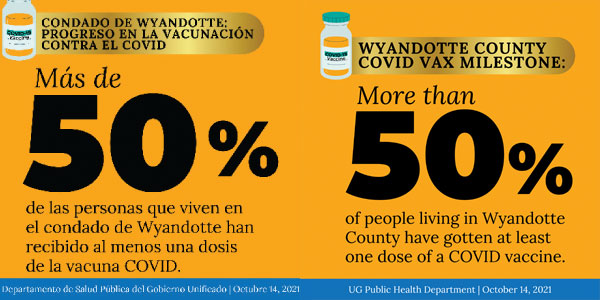 More than 50 % of People in Wyco Have Received a COVID Vaccination
Officials at the Unified Government Public Health Department made a big announcement last week – more than 50 % of people living in Wyandotte County have received at least one COVID-19 vaccination, according to data from the Kansas Department of Health and Environment (KDHE).
UGPHD leaders also announced that COVID-19 numbers have improved after a surge in COVID-19 cases this summer and early fall. Most of those cases were caused by the Delta variant, according to sequencing testing:
*29 new COVID-19 cases per day is the current 7-day rolling average number of cases, down from more than 100 new cases per day in August
*18% positivity of COVID-19 tests is the current 7-day rolling average, down from nearly 40% in August
Because of the improvement in COVID numbers in the County, UGPHD leaders also announced they are loosening guidance on social gatherings that was initially issued on August 25. That guidance urged people to limit the number of people in gatherings. This more cautious guidance has been withdrawn in light of the recent reduction in COVID-19 cases and hospitalizations.
While this is good news, UGPHD officials continue to encourage caution when gathering with people outside of one's household. When gathering with people outside of your immediate household, the UGPHD encourages you to keep the following in mind:
*Gatherings are safest when everyone present is fully vaccinated.
*Outdoor gatherings are safer than indoor gatherings, as COVID spreads more easily indoors.
*Masks can make gatherings safer, especially indoor gatherings. This is particularly important if some people present are not vaccinated. Please note that Kansas City, KS remains under a mask mandate for public indoor spaces.
If a business, organization, or group is planning a large event and would like guidance from the UGPHD on COVID-19 safety for the event, they can email epidemiology@wycokck.org or call 913-573-6712 for assistance.
Free Vaccinations and Testing
The UGPHD continues to offer free COVID-19 vaccines for people who live in Wyandotte County age 12 and older, at the former Kmart site at 7836 State Avenue. Hours for COVID-19 vaccinations and testing are as follows (NOTE: All of these services are free of charge!):
*COVID Vaccines: Wednesday – Friday 10 am – 6 pm
*COVID Testing: Monday – Friday 9 am – 3 pm
For more information on where to get vaccinated in Wyandotte County, visit WycoVaccines.org or call
3-1-1. To learn more about upcoming UGPHD mobile vaccination events visit their Facebook page at facebook.com/UGHealthDept
To search for additional vaccine providers by location and type of vaccine, go to vaccines.gov.
Community Calendar
Here are details about some upcoming community events where anyone living in Wyandotte County age 12 and over can get free COVID vaccinations:
*This Wednesday (October 20), there will be a COVID-19 vaccination clinic at the Keeler Women's Center at 759 Vermont Avenue in Kansas City, KS. The event runs from 10 a.m. to noon. Anyone interested in getting vaccinated is asked to call (913) 689-9375 to make a reservation. The clinic will offer both Pfizer and Johnson & Johnson vaccines. In addition, Pfizer booster shots will be available for anyone who is eligible for them.
*On Saturday, October 30, faith leaders from across Wyandotte County will come together to host a "Vax Fall Fest" at the Oak Ridge Missionary Baptist Church, located at 9301 Parallel Parkway in Kansas City, KS. The event runs from noon to 3 p.m. and includes several activities:
–Raffle: Everyone vaccinated at the event will be entered into a raffle to win one of ten $100 gift cards
–Instant prizes: Those who get their first, free COVID vaccine at the event can choose to receive either a licensed NFL KC Chiefs zippered hoodie or a $50 gift card.
–Plus other fun, food and fellowship!
---
Condado de Wyandotte alcanza un hito en la vacunación
Más del 50% de las personas en Wyco han recibido una vacuna contra el COVID
Funcionarios del Departamento de Salud Pública del Gobierno Unificado hicieron un gran anuncio la semana pasada: más del 50% de las personas que viven en el condado de Wyandotte han recibido al menos una vacuna contra el COVID-19, según datos del Departamento de Salud y Medio Ambiente de Kansas (KDHE, por sus siglas en inglés).
Los líderes del UGPHD también anunciaron que los números de COVID-19 han mejorado después de un aumento en los casos de COVID-19 este verano y principios del otoño. La mayoría de esos casos fueron causados por la variante Delta, según las pruebas de secuenciación:
*29 casos nuevos de COVID-19 por día es el número promedio móvil actual de casos de 7 días, por debajo de los más de 100 casos nuevos por día en agosto/
*El 18% de positividad de las pruebas de COVID-19 es el promedio móvil actual de 7 días, por debajo de casi el 40% en agosto.
Debido a la mejora en los números de COVID en el condado, los líderes del UGPHD también anunciaron que están aflojando la guía sobre reuniones sociales que se emitió inicialmente el 25 de agosto. Esa guía instó a las personas a limitar la cantidad de personas en las reuniones. Esta guía más cautelosa se ha retirado ante la reciente reducción de casos de COVID-19 y hospitalizaciones.
Si bien esta es una buena noticia, los funcionarios del UGPHD continúan alentando la precaución cuando se reúnen con personas fuera del hogar. Cuando se reúna con personas fuera de su hogar inmediato, el UGPHD lo alienta a tener en cuenta lo siguiente:
*Las reuniones son más seguras cuando todos los presentes están completamente vacunados.
*Las reuniones al aire libre son más seguras que las reuniones en el interior, ya que el COVID se propaga más fácilmente en el interior.
*Las máscaras pueden hacer que las reuniones sean más seguras, especialmente las reuniones en interiores. Esto es particularmente importante si algunas de las personas presentes no están vacunadas. Tenga en cuenta que Kansas City, KS permanece bajo un mandato de máscara para espacios públicos interiores.
Si una empresa, organización o grupo está planeando un evento grande y desea recibir orientación del UGPHD sobre la seguridad de COVID-19 para el evento, pueden enviar un correo electrónico a epidemiology@wycokck.org o llamar al 913-573-6712 para obtener ayuda.
Vacunas y pruebas gratuitas
El UGPHD continúa ofreciendo vacunas contra el COVID-19 gratuitas para las personas que viven en el condado de Wyandotte de 12 años o más, en el antiguo sitio de Kmart en 7836 State Avenue. El horario para las vacunas y pruebas de COVID-19 es el siguiente (NOTA: ¡Todos estos servicios son gratuitos!):
*Vacunas contra el COVID: miércoles a viernes de 10 a.m. a 6 p.m.
*Pruebas de COVID: de lunes a viernes de 9 a.m. a 3 p.m.
Para obtener más información sobre dónde vacunarse en el condado de Wyandotte, visite WycoVaccines.org o llame al 3-1-1. Para obtener más información sobre los próximos eventos de vacunación móvil de UGPHD, visite su página de Facebook en facebook.com/UGHealthDept.
Para buscar proveedores de vacunas adicionales por ubicación y tipo de vacuna, vaya a vaccines.gov.
Calendario de la comunidad
A continuación se detallan algunos de los próximos eventos comunitarios en los que cualquier persona que viva en el condado de Wyandotte de 12 años o más puede recibir vacunas contra el COVID gratuitas:
*Este miércoles (20 de octubre), habrá una clínica de vacunación COVID-19 en el Keeler Women's Center en 759 Vermont Avenue en Kansas City, KS. El evento se lleva a cabo desde las 10 a.m. hasta el mediodía. Cualquier persona interesada en vacunarse debe llamar al (913) 689-9375 para hacer una reserva. La clínica ofrecerá vacunas de Pfizer y Johnson & Johnson. Además, las vacunas de refuerzo de Pfizer estarán disponibles para cualquier persona que sea elegible para recibirlas.
*El sábado 30 de octubre, los líderes religiosos de todo el condado de Wyandotte se reunirán para organizar un "Vax Fall Fest" en la Iglesia Bautista Misionera de Oak Ridge, ubicada en 9301 Parallel Parkway en Kansas City, KS. El evento se extiende desde el mediodía hasta las 3 p.m. e incluye varias actividades:
–Rifa: Todos los vacunados en el evento participarán en un sorteo para ganar una de las diez tarjetas de regalo de $100.
–Premios instantáneos: Aquellos que obtengan su primera vacuna contra el COVID gratuita en el evento pueden optar por recibir una sudadera con cremallera con licencia de NFL KC Chiefs o una tarjeta de regalo de $50.
–¡Más diversión, comida y compañerismo!