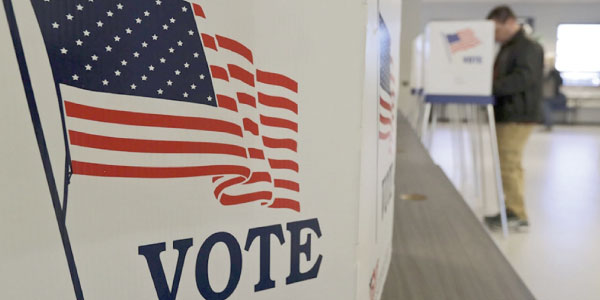 Crime. Gang activity. Drug and human trafficking. Broken sidewalks and crumbling curbs. Blighted properties. Lack of affordable housing. All are problems bedeviling Kansas Citians. All are the city council's responsibility to address. And yet, only 14% of Kansas Citians turned out to vote in the April 4 primary election.
Democracy works best when residents make their voice heard in local elections that directly impact their day-to-day life, say political scientists. So what accounts for nearly non-existent voter turnout? Researchers in a 2018 Johns Hopkins University study cited insufficient media coverage and a lack of civic knowledge about the functions of the various levels of government.
To redress the situation, here's a primer. The Kansas City, Mo., Municipal Election for mayor and city council is June 6. Now is the time to register; the deadline is May 24. The mayor and city council make up Kansas City's 13-member "legislative and policy-making body." They're elected to four-year terms, which begin in August, and may serve two terms. Mayor Quinton Lucas and six council members are running for re-election; the other seats are being contested.
To qualify for mayor or council, a candidate must be at least 25 years-old; a resident of the city and district for five years and six months, respectively; and have paid city and county taxes.
Kansas City's got six council districts whose boundaries are revised periodically according to population. They were last redrawn in 2021. Each district elects one council member from within the district and an at-large member.
Kansas City's National Public Radio station, KCUR has on its website (https://www.kcur.org/politics-elections-and-government/2023-04-04/kansas-city-primary-results-here-are-the-candidates-moving-on-to-the-general-election-in-june) a list of the candidates.
It's worth mentioning that District 4, which boasts the highest number of Hispanics, has a prominent Hispanic candidate. Crispin Rea, a prosecutor in the Jackson County Prosecutor's Special Victims Unit and a former KC school board member is vying with Justin Short for the 4th District at-large seat. (We plan to publish candidate profiles on them in an upcoming edition.)
The mayor and city council set the city's overall tone, policy and direction; make appropriations; approve department budgets; craft resolutions and ordinances; and conduct public hearings. The candidates Kansas Citians elect will affect them for years – in the quality of drinking water, the state of infrastructure and more.
Learn about the candidates; confirm voter registration before May 24; and cast a ballot June 6. Kansas City can't afford voter apathy.
---
Receta para la ruina: la indiferencia política
El crimen. Las pandillas. El narcotráfico y la trata de personas. Aceras rotas y bordillos desmoronados. Propiedades deterioradas. Falta de viviendas asequibles. Todas son problemas que aquejan a los residentes de Kansas City. Todas son responsabilidad del ayuntamiento. Y, sin embargo, sólo el 14% de los ciudadanos de Kansas City acudieron a votar en las elecciones primarias del 4 de abril.
La democracia funciona mejor cuando los residentes hacen oír su voz en las elecciones locales que impactan directamente en su vida cotidiana, dicen los politólogos. Entonces, ¿qué explica la participación electoral casi inexistente? Los investigadores en un estudio de la Universidad Johns Hopkins de 2018 citaron una cobertura mediática insuficiente y una falta de conocimiento cívico sobre las funciones de los distintos niveles de gobierno.
Para corregir la situación, aquí hay una cartilla. La Elección Municipal de Kansas City, Mo., para alcalde y concejo municipal es el 6 de junio. Ahora es el momento de registrarse; la fecha límite es el 24 de mayo. El alcalde y el concejo municipal conforman el "cuerpo legislativo y normativo" de 13 miembros de Kansas City. Son elegidos para mandatos de cuatro años, que comienzan en agosto, y pueden cumplir dos mandatos. El alcalde Quinton Lucas y seis concejales se postulan para la reelección; los otros escaños están en disputa.
Para postularse para alcalde o concejal, un candidato debe tener al menos 25 años; ser residente de la ciudad y el distrito por cinco años y seis meses, respectivamente; y haber pagado los impuestos de la ciudad y del condado.
Kansas City tiene seis distritos municipales cuyos límites se revisan periódicamente según la población. Se rediseñaron por última vez en 2021. Cada distrito elige un miembro del consejo dentro del distrito y un miembro general.
La estación de radio pública nacional de Kansas City, KCUR, tiene en su sitio web (https://www.kcur.org/politics-elections-and-government/2023-04-04/kansas-city-primary-results-here-are-the -candidatos-pasando-a-las-elecciones-generales-de-junio) una lista de los candidatos.
Vale la pena mencionar que el Distrito 4, que cuenta con el mayor número de hispanos, tiene un destacado candidato hispano. Crispin Rea, fiscal de la Unidad de Víctimas Especiales del Fiscal del condado de Jackson y ex miembro de la junta escolar de KC está compitiendo con Justin Short por el escaño general del 4to Distrito. (Planeamos publicar perfiles de candidatos sobre ellos en una próxima edición).
El alcalde y el concejo municipal establecen el tono, la política y la dirección general de la ciudad; hacen asignaciones; aprueban los presupuestos departamentales; crean resoluciones y ordenanzas; y realizan audiencias públicas. Los candidatos que elijan los residentes de Kansas City los afectarán durante años: en la calidad del agua potable, el estado de la infraestructura y más.
Infórmese sobre los candidatos; confirme el registro de votantes antes del 24 de mayo; y emita su voto el 6 de junio. Kansas City no puede permitirse la apatía de los votantes.