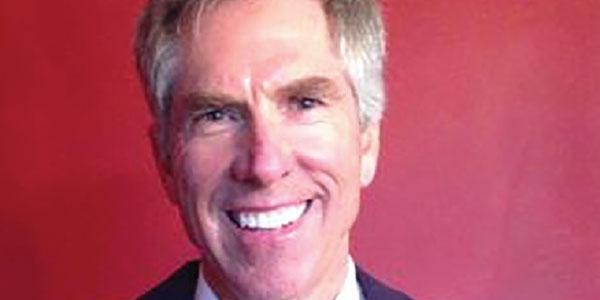 By Angie Bal
Clay Chastain is throwing his hat back into the political ring in Kansas City, Missouri.
For the fourth time, Chastain is running for mayor of "The City of Fountains." He unsuccessfully ran in 1999, 2015 and 2019. This time, he's running against incumbent Quinton Lucas, who's seeking his second term.
With the June 20 general elections approaching, Chastain talked with Dos Mundos to share his reasons behind running for office and discuss his platform.
Chastain arrived in Kansas City in 1979 after graduating from the University of Arkansas with a degree in electrical engineering. He has worked for multiple area engineering companies, including Black & Veatch. He never intended to enter politics, but circumstances forced him down that path, he said.
Specifically, public transportation pushed him in that direction.
"What got me into politics was the fact that they tried to stop (me) from saving the train station. They wouldn't put my petitions on the ballot," he recalled.
For Chastain, who has gone back and forth between Missouri and Virginia in recent years because of his family, the answer to many of the city's problems, including homelessness and crime, can be addressed through improving public transportation. His main project — the KC Revitalization Plan — shows how this can be accomplished, he said. The main initiative includes the construction of a monorail to join Kansas City International Airport with downtown Kansas City and other major parts of town.
Regardless of the election outcome, Chastain plans to continue sharing his ideas on improving the city.
"I don't have to be the mayor," he said. "My duty is to shine all the light I have and the ideas and vision that I have to improve the city. If my ideas (like) the monorail get built later, then that's great."
Chastain believes in the importance of getting involved, he said. Because one of the best ways to do that is by voting, he encourages people to go out and vote on June 20.
"If we don't vote, it shows that we don't care," he said. "And if we don't care, we're gonna lose the city, our country, everything."
For more information on Chastain's platform, visit http://www.chastain4mayor.com/.
---
Candidato a alcalde comparte visión para KCMO
Por Angie Bal
Clay Chastain está regresando al ruedo político en Kansas City, Missouri.
Por cuarta vez, Chastain se postula para alcalde de "La Ciudad de las Fuentes". Se postuló sin éxito en 1999, 2015 y 2019. Esta vez, se postula contra el titular alcalde Quinton Lucas, quien busca su segundo mandato.
Con las elecciones del 20 de junio a la vuelta de la esquina, Chastain habló con Dos Mundos para compartir sus razones para postularse para el cargo y hablar sobre sus objetivos si es elegido alcalde.
Chastain llegó a Kansas City en 1979 después de graduarse de la Universidad de Arkansas con un título en ingeniería eléctrica. Ha trabajado para varias empresas de ingeniería del área, incluida Black & Veatch. Nunca tuvo la intención de ingresar a la política, pero las circunstancias lo obligaron a tomar ese camino, dijo.
Específicamente, el transporte público lo empujó en esa dirección.
"Lo que me metió en la política fue el hecho de que trataron de evitar que salvara la estación de tren. No pusieron mis peticiones en la boleta", recordó.
Para Chastain, quien ha ido y venido entre Missouri y Virginia en los últimos años debido a su familia, la respuesta a muchos de los problemas de la ciudad, incluida la falta de vivienda y el crimen, puede abordarse mejorando el transporte público. Su proyecto principal, el Plan de Revitalización de KC, muestra cómo se puede lograr esto, dijo. La principal iniciativa incluye la construcción de un monorriel para unir el Aeropuerto Internacional de Kansas City con el centro de Kansas City y otras partes importantes de la ciudad.
Independientemente del resultado de las elecciones, Chastain planea continuar compartiendo sus ideas para mejorar la ciudad.
"No tengo que ser el alcalde", dijo. "Mi deber es sacar toda la luz que tengo y las ideas y visión que tengo para mejorar la ciudad. Si mis ideas, (como) el monorriel, se construyen más adelante, entonces genial".
Chastain cree en la importancia de involucrarse, dijo. Como una de las mejores formas de hacerlo es votando, anima a la gente a salir a votar el 20 de junio.
"Si no votamos, muestra que no nos importa", dijo. "Y si no nos importa, vamos a perder la ciudad, nuestro país, todo".
Para obtener más información sobre la plataforma de Chastain, visite http://www.chastain4mayor.com/.