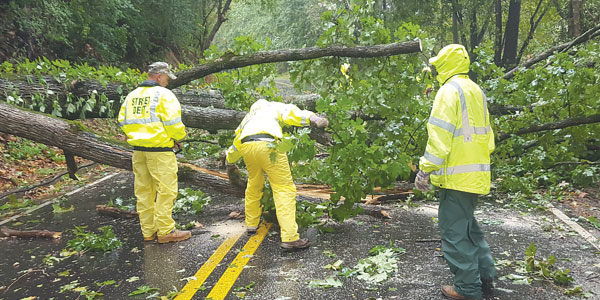 By Tere Siqueira
Disposal programs implemented to assist with clearing storm debris
Local and county governments are implementing disposal programs to help residents dispose of storm debris caused by the recent severe thunderstorms that hit the Kansas City area, multiple media outlets have reported.
In Kansas, for example, Wyandotte County and the city of Lenexa have organized curbside pickup services and designated drop-off locations to help with removing fallen branches, damaged gardens and other storm-related waste. And on Sunday (July 16), the Wyandotte County Recycling and Yard Waste Center in Kansas City, Kansas, extended its hours to 10 a.m.-3 p.m. for county residents to dispose of storm-related yard waste, Fox 4 and other outlets reported.
Kansas City, Kansas, residents also may place yard debris curbside on their regular trash day, following specific guidelines for leaves, grass and tree limbs. And as Fox 4 reported, the Johnson County Landfill, located at 17955 Holliday Drive in Shawnee, is accepting landscape waste from Wyandotte Countians, free of charge, under certain conditions.
In other news, Lenexa announced on its city website that it is organizing citywide storm debris collection following a July 14 thunderstorm. At press time, curbside pickup was scheduled for Wednesday (July 19). The city advised residents to stack their storm-damaged branches and limbs "in piles along the right-of-way." The city also stated it'll collect "vegetative debris" 8 a.m.-4 p.m. Saturday and Sunday (July 22 and 23) at the Lenexa Municipal Services Center, located at 7700 Cottonwood St.
For more information about Wyandotte County's cleanup efforts, visit wycokck.org/waste. For more information about Lenexa's cleanup efforts, visit https://www.lenexa.com/news/what_s_new/citywide_storm_debris_collection_planned.
---
Programas para limpiar los escombros de las tormentas
Los gobiernos locales y del condado están implementando programas de eliminación para ayudar a los residentes a deshacerse de los escombros de la tormenta causados por las recientes tormentas severas que azotaron el área de Kansas City, según han informado varios medios de comunicación.
En Kansas, por ejemplo, el Condado de Wyandotte y la ciudad de Lenexa han organizado servicios de recogida en la acera y lugares designados de entrega para ayudar a eliminar las ramas caídas, los jardines dañados y otros desechos relacionados con la tormenta. Y el domingo (16 de julio), el Centro de Reciclaje y Residuos de Jardín del Condado de Wyandotte en Kansas City, Kansas, extendió sus horarios a 10 a.m.-3 p.m. para que los residentes del condado puedan deshacerse de los desechos de jardín relacionados con la tormenta, informaron Fox 4 y otros medios.
Los residentes de Kansas City, Kansas, también pueden colocar los escombros del jardín en la banqueta en el día regular de recogida de basura, siguiendo pautas específicas para hojas, césped y ramas de árboles. Y como informó Fox 4, el Johnson County Landfill, ubicado en 17955 Holliday Drive en Shawnee, está aceptando residuos de jardinería de los residentes de Wyandotte, de forma gratuita, bajo ciertas condiciones.
En otras noticias, Lenexa anunció en su sitio web de la ciudad que está organizando la recolección de escombros de la tormenta en toda la ciudad tras una tormenta eléctrica el 14 de julio. Al cierre de la edición, la recolección en banquetas estaba programada para el miércoles (19 de julio). La ciudad aconsejó a los residentes que apilaran sus ramas y troncos dañados por la tormenta "en pilas a lo largo del derecho de paso". La ciudad también afirmó que recogerá "desechos naturales" de 8 a.m. a 4 p.m. el sábado y domingo (22 y 23 de julio) en el Centro de Servicios Municipales de Lenexa, ubicado en 7700 Cottonwood St.
Para obtener más información sobre los esfuerzos de limpieza del Condado de Wyandotte, visite wycokck.org/waste. Para obtener más información sobre los esfuerzos de limpieza de Lenexa, visite https://www.lenexa.com/news/what_s_new/citywide_storm_debris_collection_planned.