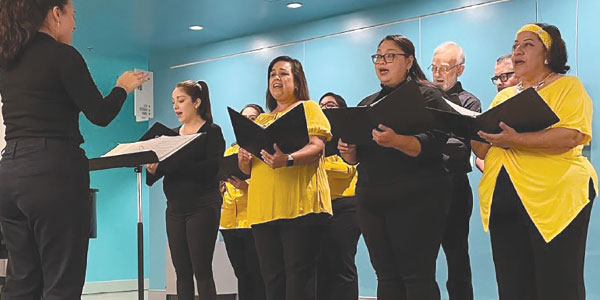 By Tere Siqueira
A Kansas City area vocal ensemble is celebrating Hispanic music by highlighting traditional music from multiple Spanish-speaking countries.
And it's on the lookout for additional singers.
Called Voces Festivas (Festive Voices in English), the group was launched in 2021 by the William Baker Choral Foundation. Performing music ranging from Cuban boleros to Venezuelan joropos and Mexican folk songs, the ensemble merges the classical strains of choral singing with the beats of Spanish-language music and the accompaniment of traditional instruments.
Voces Festivas was born from a shared dream of Baker and Leilani Velasco Vaughn, a young Latina music director from Kansas City, Kansas' Armourdale-Argentine neighborhood. Recognizing the area's growing Hispanic population and the absence of choral representation for the community, the duo began creating a choir to celebrate the musical heritage of Spanish-speaking countries.
"I think Kansas City has been waiting for a Spanish choir for some time," Velasco Vaughn said. "William Baker had always dreamed of having a choir for the unrepresented and fastest growing community in Kansas City – the Hispanic population. After I auditioned for the William Baker Festival Singers in 2020, he asked if I would be interested in working with him and I was ecstatic! I was so excited at the possibilities that this could hold. My two passions in one place – choral music and my heritage. I, of course, said yes and the planning began."
Part of the planning included finding music to perform. Choosing the right music for the choir hasn't been easy, Velasco Vaughn acknowledged. She spent countless hours finding pieces that aligned with the choir's identity and mission, she said.
Those hours of searching for material and the choir's hours of rehearsal have resulted in performances like an attention-getting one given during a Cinco de Mayo celebration at the Guadalupe Centers Inc. in Kansas City, Missouri. For music-lovers who want to hear what the hype was about, Voces Festivas will perform for the JOCO Hispanic Heritage Month Celebration on Oct. 4 at the Johnson County (Kansas) Arts and Heritage Center. Velasco Vaughn promises a medley of songs from Hispanic countries, giving audiences a taste of everything.
The choir is not only focused on musical diversity but also community diversity. The ensemble wants singers from all walks of life, as it seeks to carve out a space for Spanish-speakers and singers in the community.
On a related note, Velasco Vaughn encourages all musicians to own their stories and believe in their gifts.
"The world needs you. … It needs us," she said. "It needs our music, and no one else can play it like we can. This is our story to tell and our history to write. Don't let anyone tell you (that) you are not good enough or you do not fit in. You are a powerful musician and the world should one day know your name. ¡Si se puede!"
For those who want to utilize Voces Festivas to own their stories, the choir holds rehearsals 7-8:30 p.m. Wednesdays at Countryside Christian Church in Mission, Kansas. The latest rehearsals are set to begin on Sept. 6. No auditions or experience are necessary. Rehearsals, communications and other operations are conducted in Spanish.
For more details and to sign up, visit festivalsingers.org/vocesfestivas.
---
Coro local da vida a la música de Latinoamérica  
Un conjunto vocal del área de Kansas City celebra la música hispana destacando música tradicional de varios países de habla hispana.
Y están en búsqueda de más cantantes.
Llamado Voces Festivas, el grupo fue lanzado en 2021 por la Fundación Coral William Baker. Interpretando música que varía desde boleros cubanos hasta joropos venezolanos y canciones folklóricas mexicanas, el ensamble combina las melodías clásicas del canto coral con los ritmos de la música en español y el acompañamiento de instrumentos tradicionales.
Voces Festivas nació del sueño compartido de Baker y Leilani Velasco Vaughn, una joven directora musical latina de Armourdale-Argentine, un barrio de Kansas City, Kansas. Reconociendo la creciente población hispana en el área y la ausencia de representación de coros para la comunidad, ambos comenzaron a crear un coro para celebrar la herencia musical de los países de habla hispana.
"Creo que Kansas City ha estado esperando un coro en español desde hace tiempo", dijo Velasco Vaughn. "William Baker siempre soñó con tener un coro para la comunidad más grande y menos representada en Kansas City: la población hispana. Después de que audicioné para los Festival Singers de William Baker en 2020, él me preguntó si estaría interesada en trabajar con él ¡y estaba emocionada! Estaba muy entusiasmada con las posibilidades que esto podría ofrecer. Mis dos pasiones en un solo lugar: la música de coro y mi herencia. ¡Por supuesto, dije que sí y comenzamos a planear!"
Parte de la planificación incluyó encontrar música para interpretar. Escoger la música adecuada para el coro no fue fácil, reconoció Velasco Vaughn. Pasó incontables horas buscando piezas que se alinearan con la identidad y misión del coro.
Esas horas de búsqueda y las horas de ensayo resultaron en presentaciones destacadas, como una que tuvo lugar durante una celebración del Cinco de Mayo en Guadalupe Centers Inc. en Kansas City, Misuri. Para los amantes de la música que quieran escuchar de qué se trató todo ese revuelo, Voces Festivas se presentará en la Celebración del Mes de la Herencia Hispana de JOCO el 4 de octubre en el Johnson County (Kansas) Arts and Heritage Center. Velasco Vaughn promete un repertorio de canciones de países hispanos, ofreciendo al público una muestra de todo.
El coro no solo se enfoca en la diversidad musical, sino también en la diversidad comunitaria. El conjunto busca cantantes de todos los ámbitos de la vida, ya que tiene el objetivo de crear un espacio para los hispanohablantes y cantantes en la comunidad.
De igual manera, Velasco Vaughn anima a todos los músicos a ser dueños de sus historias y creer en sus talentos.
"El mundo te necesita… nos necesita a nosotros", dijo. "Necesita nuestra música y nadie más puede tocarla como nosotros. Esta es nuestra historia para contar y nuestra historia para escribir. No dejes que nadie te diga que no eres lo suficientemente bueno o que no encajas. Eres un músico poderoso y el mundo debería conocer tu nombre algún día. ¡Sí se puede!"
Para aquellos que quieran unirse a Voces Festivas y ser dueños de sus historias, el coro ensaya de 7 a 8:30 p.m. los miércoles en la iglesia Countryside Christian Church en Mission, Kansas. Los próximos ensayos comenzarán el 6 de septiembre. No se requieren audiciones ni experiencia previa. Los ensayos, comunicaciones y otras operaciones se llevan a cabo en español.
Para más detalles y para inscribirse, visiten festivalsingers.org/vocesfestivas.