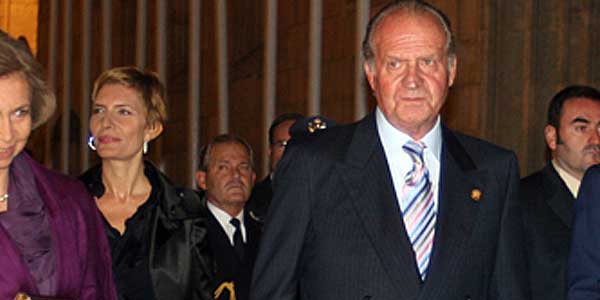 [tabs type="horizontal"][tabs_head][tab_title]English[/tab_title][tab_title]Español[/tab_title][/tabs_head][tab]On Monday (June 2), Spanish King Juan Carlos I announced on Spanish national television that he was abdicating his throne.
Juan Carlos has been Spain's king for four decades. During his reign, the country established a constitutional monarchy.
"Today, I feel … proud (of you) and gratitude toward you," he said. "I feel proud for all the great things we have worked on together and gratitude for all your support."
During his address, the king stated it was "time to hand over (my leadership) to a new generation, younger, with a lot of energy – (a generation) that can, with determination, take on and carry out the changes that the current situation demands and … face with intensity and determination the challenges of tomorrow."
Juan Carlos' son, Felipe de Asturias, is succeeding him. The king said Prince Felipe is capable of leading the country because of his stability, maturity and preparation.
On social media sites, Spaniards have expressed mixed feelings about the king's decision. Some have stated it was the best thing for him to do. Others have disagreed.[/tab][tab]El lunes, 2 de junio, el rey español Juan Carlos I anunció en la televisión nacional española que estaba abdicando al trono.
Juan Carlos ha sido rey por cuatro décadas. Durante su reinado, el país estableció una monarquía constitucional.
"Hoy, me siento … orgulloso (de ustedes) y agradecido con ustedes", dijo. "Me siento orgulloso por todas las cosas grandiosas en que hemos trabajado juntos y gratitud por todo su apoyo".
Durante su discurso, el Rey señaló que era "hora de entregar (mi liderazgo) a una nueva generación, más joven, con mucha energía – (una generación) que pueda, con determinación, asumir y llevar a cabo los cambios que demanda la situación actual y … enfrentar con intensidad y determinación los retos del mañana".
Felipe de Asturias, hijo de Juan Carlos, lo sucederá en el trono. El Rey dijo que el príncipe Felipe es capaz de dirigir al país gracias a su estabilidad, madurez y preparación.
En los sitios de medios sociales, los españoles han expresado sentimientos encontrados acerca de la decisión del rey. Algunos han señalado que era lo mejor que podía hacer. Otros estaban en desacuerdo.[/tab][/tabs]