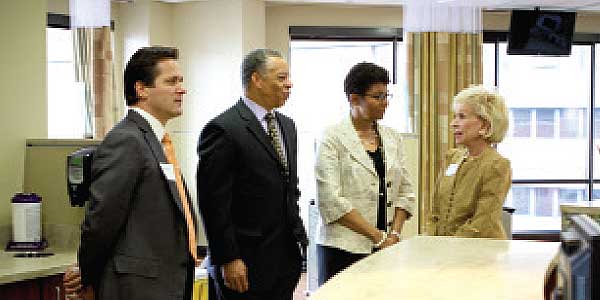 [tabs type="horizontal"][tabs_head][tab_title]English[/tab_title][tab_title]Español[/tab_title][/tabs_head][tab]On May 15, Truman Medical Centers (TMC) hosted the grand opening of the Richard and Annette Bloch Cancer Center in Kansas City, Mo.
The center, a $6 million project, opened for patients at the end of February. According to Shane Kovac, media relations manager, the center received a $2.3 million gift from the R.A. Bloch Cancer Foundation. Completion of the project took seven-and-a-half months.
The center's facilities are 17,000 square feet. Its services include exams and treatment for cancer patients. 
"The Richard and Annette Bloch Cancer Center at TMC will focus on state-of-the-art quality care, comfort, safety and providing a healing environment for patients and their families," Kovac said.
The center has 10 examination rooms, 
16 chemotherapy infusion rooms and one on-site pharmacy.
"(The pharmacy will have) specially-trained oncological pharmacists, patient navigator staff available for consultations, education and a social worker to help address patients' ongoing medical and home-life needs," Kovac said. "A special 'boutique' also will be available that provides consultations and private fittings for wigs and prosthetics for patients during advanced cancer treatment."
In addition, the center provides clinical trials; teleoncology, which consists of a televideo based system for patient consultations; outreach programs and events; continuing professional education; and networking events and conferences.
The center will serve patients with or without healthcare coverage.
The center's hours of operation are 
8 a.m.-4:30 p.m. Monday-Friday. For more information about the center, visit it at
2310 Holmes St. on the fifth floor of the TMC Hospital Hill Center Building.[/tab][tab]El 15 de mayo, los Centro Médicos Truman (TMC) realizaron la gran inauguración del Centro Oncológico Richard y Annette Bloch en Kansas City, Mo.
El centro —un proyecto de $6 millones— abrió para los pacientes a finales de febrero. Según Shane Kovac, Gerente de Relaciones con los Medios, el centro recibió un regalo de $2.3 millones de la Fundación de Cáncer R.A. Bloch. La terminación del proyecto se llevó siete meses y medio.
Las instalaciones del centro son 17,000 pies cuadrados. Sus servicios incluyen exámenes y tratamientos para pacientes con cáncer.
"El Centro Oncológico Richard y Annette Bloch en TMC se centrará en el cuidado de calidad de vanguardia, en la comodidad, en la seguridad y en brindar una atmósfera armoniosa para los pacientes y sus familias", dijo Kovac.
El centro cuenta con 10 salas de exploración,
16 salas para quimioterapia y una farmacia en el lugar.
"(La farmacia tendrá) farmacéuticos oncológicos especialmente capacitados y personal de navegación de pacientes disponibles para consultas, educación y un trabajador social para ayudar a abordar las necesidades en curso tanto médicas como para la vida en el hogar", informó. "Una 'boutique' especializada también estará disponible y brindará consultas y pruebas privadas para pelucas y prótesis para pacientes durante el tratamiento de cáncer avanzado".
Además, el centro brinda ensayos clínicos; teleoncología, que consiste en un sistema basado en televideo para consultas de los pacientes; programas de divulgación y eventos; educación profesional continua; y evento para relacionarse y conferencias.
El centro atenderá pacientes con o sin cobertura de salud.
Su horario de operación es de lunes a viernes de 8 a.m. a 4:30 p.m. Para más información sobre el centro, visítelo en
2310 Holmes St. en el quinto piso del edificio TMC Hospital Hill Center.[/tab][/tabs]