Comentario por Sara Charita
En unas cuantas semanas, los niños del área de Kansas City regresarán a la escuela.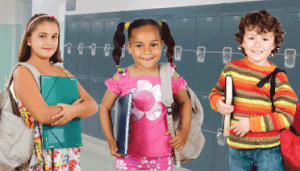 El nuevo ciclo escolar puede ser emocionante y divertido; pero para los padres y alumnos que no son organizados, puede ser estresante y caótico.
Para evitar la desorganización y tener que hacer malabares para tener todo listo en el último minuto, debe considerar lo siguiente:
*Revise la información recibida:  Generalmente, las escuelas envían información sobre el nuevo ciclo escolar poco antes de que empiece. A menudo, se refiere a los artículos escolares de los niños, los requisitos de vacunación, el calendario escolar y la información de salud y emergencia. Revise todo el material.
*Organice su calendario: Escriba todas las fechas importantes para el ciclo escolar —por ejemplo, el primer día de clases. Marque todo tan pronto como sea posible, para que así tenga todo listo.
*Verifique todas las vacunas y exámenes físicos: Asegúrese que sus hijos están al día en sus vacunas. Si quieren participar en deportes escolares, verifique que se realicen sus exámenes físicos y cumplan con todos los requisitos de salud de la escuela.
Para ayudarle a organizarse, hay muchos eventos de regreso a clases en el área, incluyendo los siguientes:
*Festival Familiar Touchdown, Extravaganza de Salud y Bienestar: Organizado por el Centro Médico Truman, el evento se realizará el sábado, 19 de julio, de 9 a.m. a 3 p.m. en el estadio Arrowhead. Habrán muchos servicios de salud gratuitos, incluyendo exámenes físicos para niños y adultos, exámenes de la vista para niños y revisiones dentales. No se pierda este festival divertido – y la oportunidad de cumplir con sus requisitos de salud regreso a clases.
*Puente de Regreso a Clases sin impuestos de venta de Missouri: Del 1 al 3 de agosto, varios negocios en Missouri ofrecerán diversos artículos libres del impuesto de ventas, incluyendo ropa, computadoras personales y útiles escolares. Las empresas anunciarán si están participando, o no. Lo bueno de este evento es que no tiene que ser residente de Missouri para aprovecharlo. En otras palabras, si vive en Kansas —que no tiene un fin de semana libre de impuestos— usted puede cruzar la línea estatal y sacar provecho de éste.  Así que disfrute esta oportunidad y ahorre un poco de dinero en ropa y otros artículos para la escuela que pudiera necesitar su hijo durante el año.
*Rifas de Regreso a Clases del grupo Reyes Media: Para ayudar a la comunidad, La Gran D (1340AM) y La X (1250AM) estarán rifando iPads y otros artículos escolares. Para ganar, escuche los shows de ambas estaciones y participe en sus promociones.
*Feria de Regreso a Clases de Wyandotte (Kan.): Este evento es para todos los estudiantes que viven y asisten a las escuelas del condado Wyandotte. Para participar, se requiere que los padres muestren prueba de residencia en el condado Wyandotte. Los niños recibirán gratuitamente útiles escolares, vacunas y exámenes físicos. El evento se realizará el 9 de agosto de 8 a.m. a 1 p.m. en el Colegio Comunitario de Kansas City Kansas y Boys & Girls club (ver artículo en esta edición).
*Exámenes físicos e inmunizaciones para niños en el Centro de Salud Samuel U. Rodgers y el Centro de Salud Pública del condado Clay (Mo.): Estos serán ofrecidos en horarios especiales durante finales de julio y la primera semana de agosto en 800 Haines Drive en Liberty. Para programar una cita, llame al (816) 413-0662.
Para encontrar más ferias de regreso a clases, verifique el paquete de información de su escuela.
Buena suerte organizando su tiempo. Ojalá que sus esfuerzos hagan que sus hijos estén listos para el nuevo ciclo escolar y libres de problemas.
[divider]
Get ready to go back to school!
Commentary by Chara
In a few weeks, Kansas City area children will return to school.
A new school year can be exciting and joyful. But for parents and students who aren't organized, it can be stressful and chaotic.
To prevent disorganization and having to scramble to get things done at the last minute, you should consider doing the following:
*Review the information you receive:  Generally, schools send out information about the new school year shortly before it starts. Often, it's regarding children's school supplies, vaccination requirements, school calendars, and health and emergency information. Review all the material.
*Organize your calendar: Write down all the important dates for the school year – for example, the first day of school. Mark everything as soon as possible, so you have everything ready.
*Check on all vaccinations and physicals: Make sure your children are current on their vaccinations. If they want to participate in school sports, make sure they've had their physical exam and comply with all the school's health requirements.
To help you get organized, there are many area back-to-school events, including the following:
*Touchdown Family Fest Health & Wellness Extravaganza: Hosted by Truman Medical Center, the event will run 9 a.m.-3 p.m. on Saturday (July 19) at Arrowhead Stadium. There'll be many free health services, including adult and children's physicals, sports physicals, vision screenings for children and dental exams. Don't miss this fun festival – and this opportunity to get your back-to-school health requirements met.
*Missouri Back-to-School Sales Tax Holiday: From Aug. 1 to Aug. 3, several businesses in Missouri will offer several items free of sales tax, including articles of clothing, personal computers and school supplies. Participating businesses will advertise if they're participating or not. What's great about this event is that you don't have to be a Missouri resident to take advantage of it. In other words, if you live in Kansas, which doesn't have a free tax weekend, you can cross the state line and capitalize on it. So take advantage of this opportunity and save some money on back-to-school clothing and other items your child might need during the school year.
*Reyes Media Group Back-to-School Giveaways: To help the community, La Gran D (1340 AM) and La X (1250 AM) will give away iPads and other back-to-school supplies. To win the items, you must listen to the stations' shows and participate in their promotional giveaways.
*Wyandotte (Kan.) Back-to-School Fair: This event is for all students living and attending Wyandotte County schools. To attend, parents are required to show proof of residence in the Wyandotte County. Children will receive free school supplies, immunizations and school physicals. The event will run 8 a.m.-1 p.m. on Aug. 4 at KCK Community College.
*Samuel U. Rodgers Health Center and Clay County (Mo.) Public Health Center Children's Physicals and Immunizations: These will be offered at special times during the end of July and the first week of August at 800 Haines Drive in Liberty. To schedule an appointment, call (816) 413-0662.
To find more back-to-school fairs, check out the packet of information from your school.
Good luck organizing your time. May your efforts to get your children ready for the new school year be trouble-free.