Commentary by Chara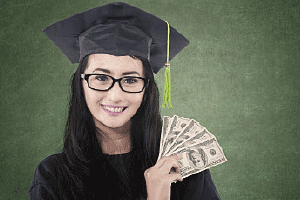 La vida universitaria puede ser costosa —incluso para los estudiantes que tienen becas. Hay artículos escolares que hay que comprar y libros costosos. Vivir en los dormitorios de la escuela o en apartamentos fuera del campus puede ser caro, también.
Para bajar sus gastos, intenta algunos de los siguientes consejos:
*Investiga: Si eres un estudiante universitario nuevo, asegúrate de saber lo que necesitarás para empezar tu carrera universitaria. Por ejemplo, haz una lista de lo que necesitarás para tu dormitorio. Una vez que decidas lo que vas a requerir, marca lo que ya tienes y puedes reutilizar y luego ve a comprar lo que te hace falta. Además, la búsqueda podría ayudarte a encontrar ofertas en los artículos que no tienes.
*Crea tus propias decoraciones para tu cuarto: No necesitas gastar mucho dinero para darle a tu cuarto tu toque personal.
*Ten pequeños refrigerios en tu dormitorio: Ya que quizá no tengas una cocina, es aconsejable que tengas a mano algunas barras de granola, alguna fruta y vegetales frescos. Después de todo, tener antojos y tener algo para comer en tu cuarto evitará que salgas y cojas alguna comida rápida, la cual resulta costosa con el tiempo.
*Renta libros en línea: Muchos sitios web ofrecen libros usados a mitad de precio.
*Recicla tu mochila de preparatoria: Evita el gasto innecesario de comprar una mochila nueva.
*Carga tus libros y cuadernos a mano: Muchas veces en la universidad, no necesitas una mochila.
[divider]
How to save money at college
College life can be expensive – even for students who have scholarships. There are school supplies to buy and expensive books. Living in a college dorm or an off-campus apartment can be costly, too.
To lower your college expenses, try the following tips:
*Research: If you're a new college student, make sure you know what you'll need to start your college career. For example, make a checklist of what you'll need for your room. Once you've decided on what you need, check off what you already have and can reuse and then go shopping for what you don't have. In addition, research might help you find sales on the items you don't have.
*Create your own room decorations: You don't need to spend a lot of money to give your dorm room a signature look.
*Keep small snacks in your room: Because you might not have a kitchen, it's advisable to keep some granola bars – and some fresh fruits and vegetables – in your room. After all, you might get cravings and having something to eat in your dorm will prevent you from going out and grabbing some fast food, which can prove costly over time. 
*Rent books online: Many Web sites offer used books at half-price.
*Recycle your high school back pack: Avoid the unnecessary expense of shopping for a new back pack.

*Carry books or notepads by hand: Many times in college, you don't need a backpack.