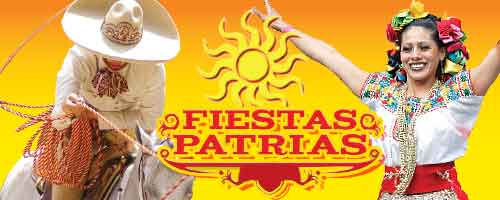 Septiembre es un mes para celebrar la independencia en varios países latinoamericanos.
México, Guatemala, Brasil, Honduras, Costa Rica, Chile y El Salvador celebran su autonomía en este mes. Cada uno tiene sus propios rituales para festejar. Cada 15 de Sept., por ejemplo, México celebra más de 200 años de su liberación de España haciendo que el Presidente mexicano participe en una ceremonia llamada "El Grito" en el Palacio Nacional. Durante ésta, el Mandatario ayuda a  recrear los acontecimientos de 1810 cuando el cura Don Miguel Hidalgo y Costilla inició la lucha por la independencia mexicana.
Para conmemorar sus independencias, muchos latinoamericanos se reúnen con sus familiares y amigos para disfrutar de los platillos tradicionales como tostadas, pozole y tacos. Además, algunas familias se visten con ropa tradicional de sus respectivos países de origen.
En Estados Unidos, muchos latinos organizan fiestas coloridas que ofrecen comida y música. A menudo, hacen eso para expresar orgullo por su herencia y para tratar de enseñar a otros acerca de su cultura.
"Yo simplemente creo que es un día importante en que estamos muy orgullosos de donde provenimos", comentó Jael Leon, residente de Missouri quien es de México. "En mi caso, yo trato de enseñar a mis amigos estadounidenses sobre las tradiciones de mi país de origen. Es un día para mostrar cuán orgullosos estoy de mi comida y folclor. Aunque me siento orgulloso de lo que soy y de donde vengo, pienso que el Día de la Independencia es simplemente algo muy especial al que le damos un significado más profundo cuando vivimos en el extranjero".
[divider]
Celebrating independence in Latin America
By Sara Charita
September is a month for celebrating independence in several Latin American countries.
Mexico, Guatemala, Brazil, Honduras, Costa Rica, Chile and El Salvador celebrate their independence in September. Each country has its own celebration rituals. Every Sept. 15, for example, Mexico celebrates more than 200 years of independence from Spain by having the Mexican president participate in a ceremony called "El Grito" at the National Palace. During the ceremony, the president helps to reenact the events of 1810 when Miguel Hidalgo y Costilla started the battle for Mexican independence. 
To commemorate their independence, many Latin Americans have get-togethers with family and friends and enjoy traditional dishes, including tostadas, pozole and tacos. In addition, some families dress up in the traditional clothing of their respective home countries.
In the United States, many Latinos organize colorful parties featuring food and music. Often, they do so to express pride in their heritage and to try to teach others about their culture.
"I just think it is an important day where we are very proud of where we are coming from," said Missouri resident Jael Leon, who's from México. "In my case, I try to teach my American friends about the traditions of my home country. It is a day to show how proud I am of my food and folklore. Even though I'm proud of who I am and where I come from, I think that Independence Day is just something very special that we give a deeper meaning when we live abroad."