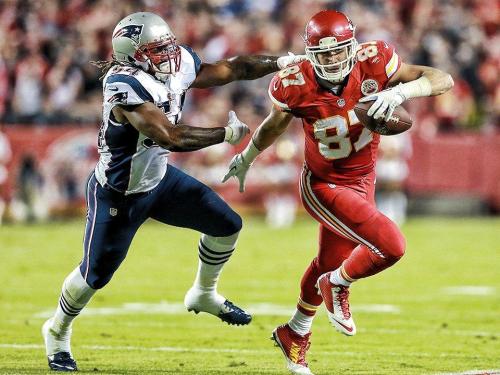 The Kansas City Chiefs stunned the New England Patriots as well as the capacity crowd at Arrowhead stadium with a decisive win 41-14 on Monday night.  Coming off their win against Miami, the Chiefs seemed to be running on adrenaline as they moved the ball down the field with each possession.
Jamal Charles returned to the field from a recent injury and proved he was in shape to play. Scoring 3 touchdowns and rushing for 92 yards on 18 carries.
Tom Brady was not in his typical mode of play and left the game after 3 quarters and 2 interceptions.
The Kansas City defense held the Patriots scoreless in the first half, marking the first time New England has been held scoreless in the first half of a regular season contest since the Denver Broncos accomplished the feat on Dec. 8, 2013.
During the 41-14 victory, Chiefs fans set a new Guinness World Record for Loudest Crowd Roar at a Sports Stadium (Outdoors). Chiefs fans reached a peak decibel reading of 142.2 as Guinness Book of World Records adjudicator Philip Robertson monitored the sound levels. The mark was set on a third-down defensive stand between the end of the first quarter and beginning of the second quarter. The Arrowhead Stadium record passed the old mark of 137.6 decibels set on Dec. 2, 2013 at CenturyLink Field in Seattle.
Their next game is October 5th at San Francisco at 3:25pm CST.