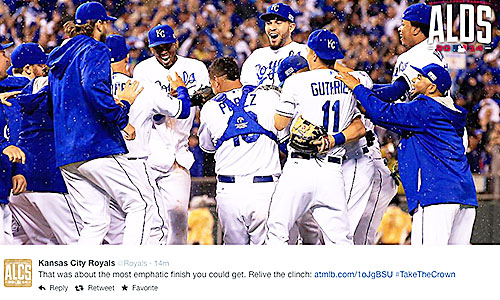 The Royal finished the series a with a decisive game against the Los Angeles Angels in their 3rd and final division games.
After 2 exciting games that lead to extra innings the 3rd game which took place in Kansas City, ended in regular time and the Royals where very confident in front of an electrified crowd.
"What's so impressive to me is they all look like they're enjoying it, and that's fun to see – that we get to this type of atmosphere and they're flourishing," Manager Ned Yost said before the game. "They've just been waiting for it to happen, and they're taking advantage of it."
All elements of the game seemed to be firing but defense was a big part of the game.
"The crowd really gave us the energy we needed to finish and this was a great atmosphere.." – Alex Gordon
Interesting postseason facts for the Royals included:
1. They stole 12 bases in 4 games where as the other 9 teams combined only stole 10 total.
2. They are the first team to win 3 straight with extra inning games.
3. Won the last 7 postseason games dating back to the 1985 World Series.
The next game is against the Baltimore Orioles who they beat 4 of 7 during the regular season.