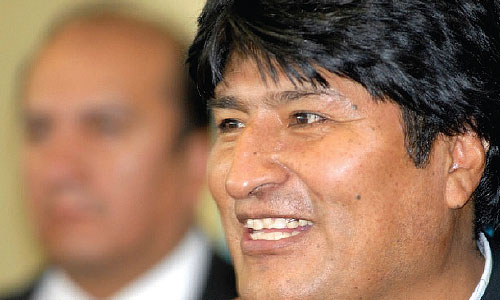 El 19 de Oct., Evo Morales fue declarado ganador de las elecciones presidenciales de Bolivia.
El Tribunal Supremo Electoral anunció que él había recibido 61% de los votos, seguido por Samuel Doria con 24.49% y Jorge Quiroga con 9.07%.
"Agradecemos al pueblo boliviano por este nuevo triunfo", dijo Morales según lo citó CNN. "Este triunfo democrático del pueblo boliviano está dedicado a todas las personas de Latinoamérica y del mundo que luchan en contra del capitalismo y contra el imperialismo. Este triunfo, hermanos y hermanas, está dedicado a Fidel Castro (y) dedicado a Hugo Chávez, que descanse en paz".
Éste será el tercer período presidencial de Morales. Él fue electo por primera vez en 2006. Durante su presidencia, se ha vuelto muy conocido por ayudar a establecer el socialismo en Bolivia.
Él ha ganado partidarios debido a las mejoras económicas que ha experimentado su país bajo su liderazgo. Las estadísticas bolivianas indican que la nación ha visto un crecimiento del 6.5% del producto interno bruto durante su mandato.
Pero Morales, quien es reconocido como el primer Presidente indígena de Bolivia, también ha generado controversia. Las opiniones en los medios sociales sobre su administración son mixtas. Por ejemplo, el usuario de Twitter @MDDuranC expresó su descontento con la victoria de Morales diciendo: "Ahora … #EvoMorales no honra su apellido. Él aprende lo que no debería aprenderse y gana las elecciones en #Bolivia". Por otro lado, el usuario de Twitter @Marion1871 declaró: "Feliz, súper feliz! #EvoMorales ha ganado las elecciones en #BoliviaDecide con una diferencia de 40 puntos".
Morales seguirá como presidente de su país hasta el 2020.
[divider]
Morales wins Bolivian presidency
On Oct. 19, Evo Morales was declared the winner of Bolivia's presidential election.
The Tribunal Supremo Electoral (Supreme Elections Committee) announced that Morales received 61 percent of the vote, followed by Samuel Doria with 24.49 percent and Jorge Quiroga with 9.07 percent.
"We thank the Bolivian people for this new triumph," Morales was quoted by CNN as saying. "This democratic triumph of the Bolivian people is dedicated to all the people of Latin America and of the world who fight against capitalism and against imperialism. This triumph, brothers and sisters, is dedicated to Fidel Castro (and) dedicated to Hugo Chavez, may he rest in peace."
This will be Morales' third presidential term. He was first elected in 2006. During his presidency, he has become well-known for helping to establish socialism in Bolivia.
Morales has gained supporters because of the economic improvement Bolivia has experienced under his leadership. Bolivian statistics indicate the country has seen a 6.5 percent gross domestic product growth during his presidency.
But Morales, who is recognized as being Bolivia's first indigenous president, has generated controversy, too. Opinions on social media about his administration have been mixed. For example, Twitter user @MDDuranC expressed his discontent with Morales' victory by stating: "Now … #EvoMorales doesn't honor his last name. He learns what he shouldn't be learning and he wins the elections in #Bolivia." On the other hand, Twitter user @Marion1871 stated: "Happy, superhappy! #EvoMorales has won the elections in #BoliviaDecide with a difference of 40 points."
Morales will be Bolivia's president until 2020.